Witness, Bedurulanka 2012, Her, Mukhachitram, Matti Kusthi, Khedda: New trailers, teasers and posters from South
Here's a quick recap of the week that was for the Tamil, Kannada and Malayalam film industries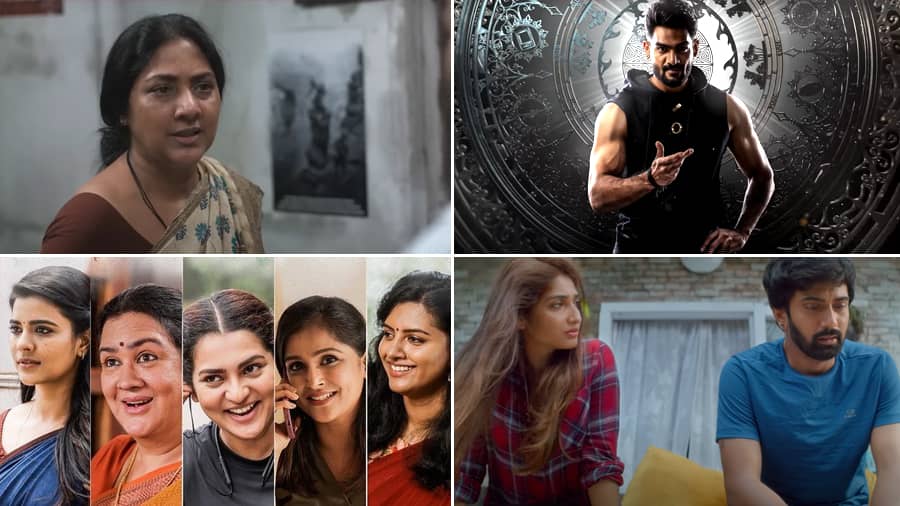 Stills from Witness, Bedurulanka 2012, Her, Mukhachitram and Matti Kusthi teasers, trailers and posters.
YouTube
---
Calcutta
|
Published 05.12.22, 12:44 PM
|
---
Following the trailer launch of Daali Dhananjaya's Once Upon a Time in Jamaaligudda and Vinay Fort's Vaathil, the makers of other upcoming movies from the Tamil, Kannada and Malayalam film industries dropped new trailers and teasers last week. Here's a look at some of them. 
Witness (Tamil)
The trailer of Sony Liv's upcoming Malayalam-language political drama film Witness has come out. Directed by Deepak, the movie includes Shraddha Srinath, Rohini, Subatra Robert, Shanmuga Raja, Azhagam Perumal, G Selva, Rajeev Anand, Tamilarasan and Srinath. 
Highlighting the cruel realities of manual scavenging, the two-minute-long trailer follows a mother's journey to get justice for her son, who was killed while doing the job. Shraddha Srinath plays a woman willing to stand up for the truth. It looks like a hard-hitting social drama with an important message. 
Witness will be streaming on Sony Liv from December 9. Bedurulanka 2012 (Telugu)
The motion poster of Telugu star Kartikeya's upcoming film Bedurulanka 2012 has been released by the makers. Helmed by Clax, the film also stars Neha Sshetty in the lead role. The film is said to be inspired by Japanese master filmmaker Akira Kurosawa's 1954 epic samurai film Seven Samurai.
The film also stars Ajay Ghosh, Satya, Raj Kumar Kasireddy, Srikanth Ayyengar, 'Auto' Ram Prasad, Goparaju Ramana, LB Sriram, Surabhi Prabhavathi, Kittayya, Anithanath, Divya Narni in crucial roles. The poster shows Kartikeya in an all-black avatar and with two rings on the fingers of his right hand. The tagline of the poster is "The biggest hoax ever played." Her (Malayalam)
Actress Parvathy Thiruvothu has shared the first official poster of the upcoming Malayalam film Her on Instagram. Directed by Lijin Jose, who previously directed Friday and Low Point, the film is written by Archana Vasudev.
The poster features five actresses — Urvashi, Aishwarya Rajesh, Parvathy, Lijomol Jose and Ramya Nambessan. Govind Vasantha composed music for the film.
Mukhachitram
The official trailer of upcoming Telugu-language romantic thriller Mukhachitram is now out. Helmed by Gangadhar and written by Sandeep Raj, the film features Vishwaksen, Vikas Vasista, Priya Vadlamani, Ayesha Khan, Chaitanya Rao and Ravishankar.
In the trailer, we see a plastic surgeon narrating his love story during a TEDx speech. There is also an ongoing court case involving the surgeon. The trailer promises a complex story of love, identity crisis and acceptance.
Mukhachitram will hit the cinemas on December 9. Khedda (Malayalam)
The trailer of the upcoming Malayalam language psychological family drama Khedda has been released. Written and directed by Manoj Kana, the film features the real-life mother-daughter duo Asha Sharath and Uthara Sharath as mother and daughter. It also features Sudev Nair, Sudheer Karamana, Jolly Chirayath and Sarayu Mohan.
The trailer chronicles a middle-class mother and daughter who are facing some hiccups in their love lives. The mother is stuck in a loveless marriage, while the daughter is confused about her feelings.