Audrey Diwan's L'Événement (Happening) won the Golden Lion for Best Film at the 78th Venice International Film Festival last week. Playing among the 21 other films in the official competition, Happening is adapted from a novel of the same name by Annie Ernaux and tells the story of an university student named Anne Duchesne (Anamaria Vartolomei) who pulls out all the stops to undergo an abortion in 1963's France.
Last year, the Golden Lion went to Chloe Zhao's Nomadland. Zhao was a part of the main jury this year, headed by Bong Joon-ho, along with Cynthia Erivo, Saverio Costanzo, Virginie Efira, Sarah Gadon and Alexander Nanau. While announcing the winner, Bong Joon-ho said that the decision of the jury was unanimous.
"I did this movie with anger. I did the movie with desire also. I did it with my belly, my guts, my heart, my head," said Diwan in her speech. "I wanted Happening to be an experience," she added. The French director, visibly overwhelmed, paused in the middle of her speech to call Vartolomei on stage. "She is the film!" she said of her lead actress. Relatively low-key in the line-up that had more buzzed-up titles like Pedro Almodovar's Madres Parallelas, Pablo Larrain's Spencer and Paul Schrader's The Card Counter, Diwan's sophomore directorial was praised by critics for its capacity to hold suspense with nuance.
WOW WOMEN
This win rounds up an extraordinary year for women in film, receiving recognition for telling stories that are specifically centred on women and their bodies. Diwan's win comes a few months after Julia Ducournau's revenge thriller Titane, which earned the coveted Palme d'Or at the Cannes Film Festival in July. The 37-year-old Ducournau became the second woman ever to claim the award, for a film that caused shock waves in the festival. Like Happening, Titane deals with a woman's body, where Alexia (Agathe Rousselle), a dancer, model, and serial killer has a sexual attraction to cars and gets impregnated by a vintage Cadillac.
In April this year, Chloe Zhao won the Academy Award for Best Director for Nomadland, which also clinched the honour for Best Picture. She is the first woman of colour to win the award. Recently included in Time's 100 Most Influential People in the World, where Ang Lee describes her as a "true gem of an artiste", Zhao's Nomadland focuses on Frances Mcdormand's Fern, a woman in her 60s who seeks life as a nomad in the American West.
And finally, it was Siân Heder's CODA which made history at the Sundance Film Festival earlier this year in January, winning the most number of awards by a single film, including the Grand Jury Prize for US Drama, the Audience Award, the directors' award for Heder and a Special Jury award. A coming-of-age drama, Heder's film revolves around Ruby (Emilia Jones), the sole hearing person in her deaf family, who has to make a tough decision when the family's fishing business is threatened.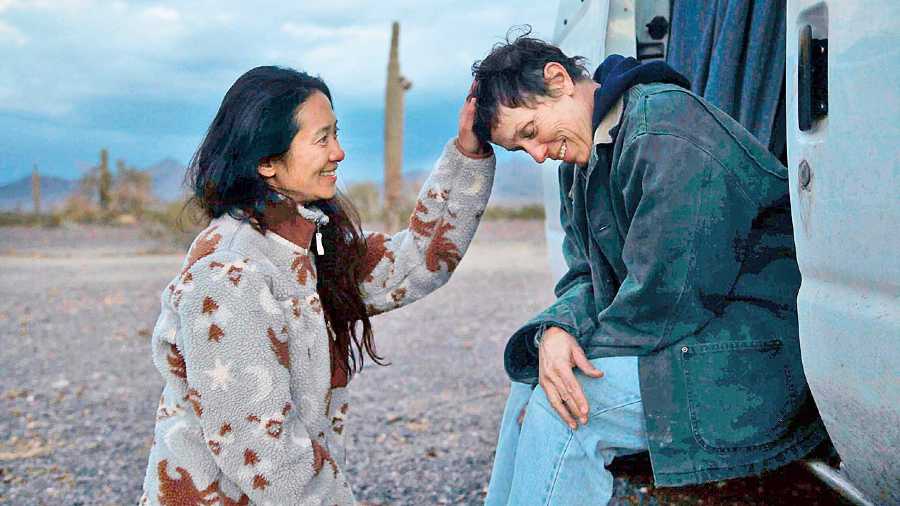 Chloe Zhao and Frances McDormand on the sets of Nomadland
MAKING A MARK
These films, made by women, telling stories about women, and receiving this level of recognition is a considerable, pronounced feat. It is certainly miraculous that all of this is happening in this year, when theatres worldwide have barely survived the pandemic and the release of some of the biggest films have been delayed. Watching these films arrive at this threshold of change in an industry which has not been comprehensive in its share of telling stories about women is a significant high.
What is so extraordinary is how the conflicts of these characters are not observed through action, but through a complexity that bares open a psychology seldom discovered on screen. Now is the time to take a step forward and reflect that these are stories frontlined by women which were always there, waiting to be heard. Diwan, Ducournau, Seger and Zhao are telling stories that are tonally distinguishable, yet share a spiritual kinship in placing stories centred on women at the forefront of perception. It is but natural that the world is taking note. The shift is happening.