More than a 100 films later, Shabana Azmi's passion in front of the camera remains the same. In Kaali Khuhi, a supernatural thriller, the 70-year-old actor plays a matriarch with a secret in a village that's haunted. With Kaali Khuhi streaming on Netflix from October 30, The Telegraph caught up with Azmi for a video chat.
Is the fact that Kaali Khuhi not just simple horror but is imbued with powerful social commentary, that made you sign on?
Absolutely! You have hit the nail on the head. However, I would refrain from calling it a horror film. That's because when you call it a horror film, then there are certain expectations. You expect prosthetics, you expect jump shots, you expect to be scared at every step. This film is not really like that... I would rather call it a dark thriller.
The fact that it carries with it such a strong social message is something that I feel deeply about. It talks about how we as a modern society accept female infanticide in today's times. We all say, 'Oh, it's bad' and then get on with our daily lives. This is pure murder and it's a pity that we allow it to happen in our country. I feel very, very strongly about this. Terrie Samundra, the director, could have made this as a documentary. But I think a film format makes it impactful and enables it to reach out to many more people. If at the end of it one feels, 'No, this has to stop', then the film has served its purpose.
You've said that Kaali Khuhi is a story of fear, love, joy and perseverence. You've also said 'it's been quite the journey'. Has this film taken you down a path that you haven't taken as an actor before?
For this part, I really let go of my vanity. Actors, whatever they do on screen, have a certain vanity. I wanted this character of mine to look like a history of pain. I didn't want it to be made-up history... it had to look as something that's been internalised within her. I joined my eyebrows, which was entirely my contribution. Everyone asked me why I wanted to do this, but I felt it would make me look completely different. I did the simplest things just to look different and inhabit the world of this woman who has been tortured for so many years. In order to do that, I just delved deep inside myself and let go.
You've already watched the film and so I can now tell you that the very first scene I shot for was the one in which I am trying to exorcise the spirit. It's a close-up and I am chanting and I was like, 'Come on, this is really unfair!' (Laughs) But the fact that I started with that scene really helped me. That's the high point of the film, and the fact that I started with the high point helped me steer the performance for the rest of the film. So though the idea of doing your most intense scene right at the beginning is scary, sometimes it also works.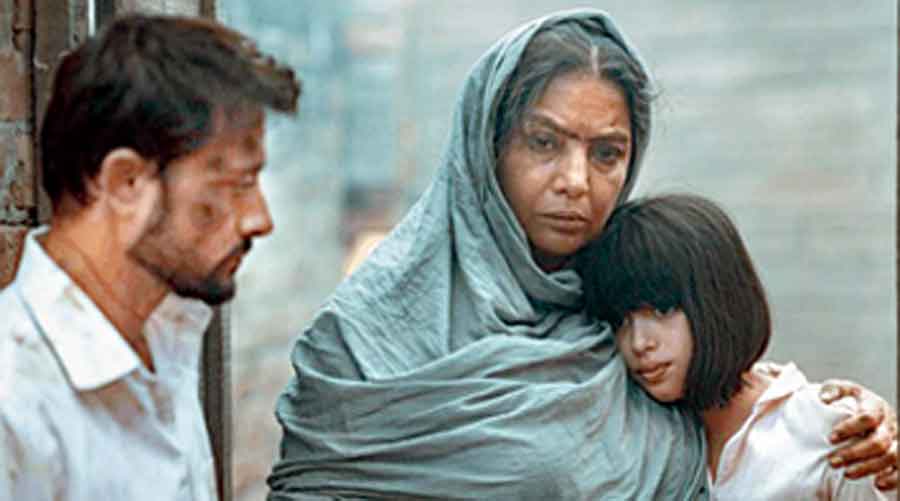 Shabana Azmi with Satyadeep Misra and Riva Arora in Kaali Khuhi, streaming on Netflix from October 30
Why do you think the horror/ dark thriller space, barring a few exceptions, hasn't met with much success in Hindi cinema?
We've had horror and that has elements that I was talking about, like prosthetics and stuff, which I don't think we have done very well. But I feel now, with the OTT platforms, this will happen more and will happen better.
The OTT platforms overrule the considerations that cinema has to keep in mind, which is catering to the lowest common denominator in the hope that the largest number of people will watch it by going into the theatre. Now one is completely freed from that when it comes to the OTT platforms. I think what it has done is that it's led to understanding completely that it is content which is king. It cannot be the star who is king. Stardom is transient, one cannot be a star forever. Content has the ability to last longer, thus making every kind of project, whatever its genre may be, viable.
The fact that audiences in 190 countries can watch your content at the click of a button is vastly empowering. And when you don't have to cater to the lowest common denominator, then the kind of roles that are being written for actors of all ages is varied. Mainstream cinema has ageism. But OTT platforms have changed that, not only in India, but internationally as well. Now you see so many older women playing protagonists.
Also, I think the advent of the casting director has been very special. The casting director is now looking for faces in the back of beyond, from small towns and from theatre, and so there is a freshness and an authenticity that was lacking earlier. So it's a good phase.
You just spoke about ageism. Isn't that something that female actors in India have to face more than the men?
I think the men also do. Of course it's something that women actors have to face a lot more, but the men do too. The moment an actor is over 50, everyone starts talking about how you are now a certain age and what kind of roles you can do and cannot do. Now why should that be the biggest qualification of an actor?! Ageism exists, most certainly, much more for the women. But I also see things changing now.
Having achieved all that you have achieved, what is it that makes you plunge into work with the same passion and zeal as you first did so many decades ago?
I think acting is a very special profession because it gives you the opportunity to inhabit the world of characters that you otherwise wouldn't have met in life, and it thereby enriches your own life experiences. Similarly, the experience that I have as Shabana Azmi gets added to the depth of the characters that I play. That, I think, is the most enriching thing about being an actor.
I know you will say that I am being modest (laughs), but I mean it when I say, and say quite genuinely, that where I have reached is just about enough to qualify as an actor. There's much more that needs to be done. If you are a writer, one would expect that you know the alphabet. So, I just know the alphabet of being an actor (smiles).
The world is changing completely. I recently shot for a web series (Halo, executive produced by Steven Spielberg) where everything was the green screen. I was acting without any co-stars, without a background and I had to imagine everything! That's a huge challenge and a completely different experience. The whole thing was left to imagination and yet I had to be technically perfect... you have to take the light, you have to hit the mark, you have to express when there is nobody in front of you. This kind of change that technology has brought in keeps you on your toes, and makes it exciting.
Asian actors have been talking about colourblind casting forever. We have kept asking that why should our ethnicity decide the kind of roles offered to us? In Halo, my name is Margaret Paragonsky. I haven't been asked to put on an accent, I don't have to have blonde hair.... I just go in and speak English exactly as I am speaking to you. And all the other actors too — there are people from Korea, Canada — are doing what I am doing. So this whole thing of colourblind casting is very, very exciting.
You've also gone back to shooting after the break...
Yes, I started shooting in early September. In the beginning, it felt very strange because I felt I was in a sci-fi film where everyone was in PPE suits (laughs). But it's amazing how quickly we have adapted, because ultimately, the adrenaline that hits when one is facing the camera after months gives you a kind of high. I am shooting again from tomorrow and I am looking forward to it.