With 'Joyland', Pakistani filmmaker Saim Sadiq bags two Cannes awards
Misogyny is a worldwide phenomenon, says the director whose marvellously scripted first film explores patriarchy and gender prejudice with insight, empathy and subtlety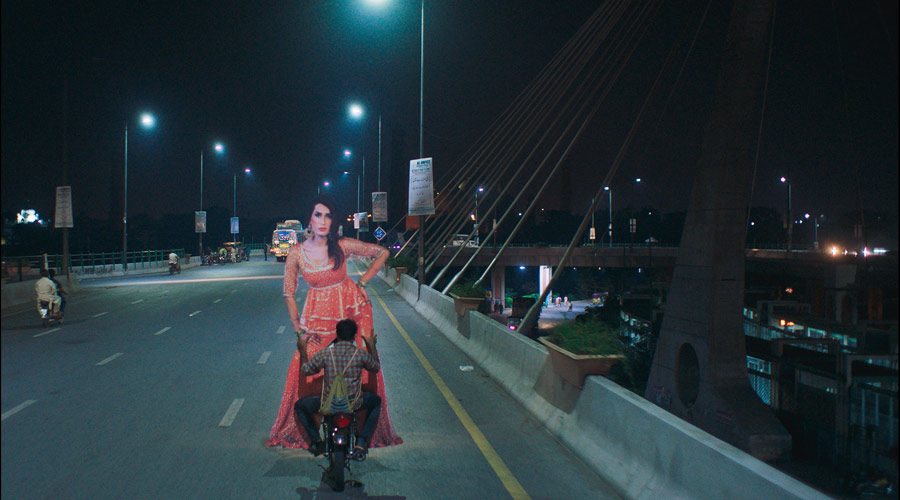 A scene from Saim Sadiq's 'Joyland' which won two awards at Cannes, the Jury Prize of the Un Certain Regard section and the Prix Queer Palm
---
Cannes
|
Published 28.05.22, 05:54 PM
|
---
Saim Sadiq, 31, has been on a history-making spree ever since his second short film, Darling, made it to the 76th Venice Film Festival and won an award. In both respects, it was a first for Pakistan.
The rise and rise of the Lahore-based Saim Sadiq, who has an MFA from Columbia University, has continued through the 75th Cannes Film Festival. His first feature, Joyland, which expands the theme that Darling worked with, is not only the first-ever Pakistani film to premiere in the official selection, it, on Friday night, won two awards – the Jury Prize of the Un Certain Regard section and the Prix Queer Palm – an unprecedented feat for a Pakistani filmmaker.
The marvellously scripted and acted Joyland explores patriarchy and gender prejudice in a middle-class Pakistani family with insight, empathy and, above all, subtlety. "South Asian audiences," says Sadiq, "will obviously see the film in a way that western audiences might not because the feeling there would be that sexism is a subcontinental problem. The truth it, it isn't. Misogyny is a worldwide phenomenon."
How does he see Joyland faring in his home country? "The intent is to commercially release the film in Pakistan, albeit with some deletions," Sadiq says. Joyland, he asserts, should only be seen as projecting Pakistan in a positive light. "The country is its people. The film deals with its characters with compassion. I think it is as positive as it gets."
"The most powerful character in the film," he says, "is the transwoman. She isn't a victim. She is somebody who gives as good as she gets." Joyland, written by Sadiq himself, revolves around a family that is desperate for a male heir. Elder son Saleem's wife is a mother of three girls. Younger son Haider and his wife Mumtaz are childless. Unbeknownst to the family, Haider, not given to masculine pursuits, takes a job in an erotic theatre troupe, where he develops a bond with a transgender starlet Biba (played by Alina Khan, who was also the lead in Darling). The Haider-Biba relationship triggers a series of acts of rebellion that send the family into turmoil.
Was Alina Khan on board before the film was scripted? "No," replies Sadiq. "I found Alina, a non-pro, five days before the shoot of the short film, which obviously had already been scripted."
Her being involved with the feature project from the outset, Sadiq says, was a huge help. "I would call her and engage with her in the process of developing the character of Biba. Her inputs enhanced the authenticity of the part," he says.
"During the shoot, Alina would often change her lines. She would say it in the way that she was comfortable with. Sometimes it did not have anything to do with gender or sexuality. It was simply about her comfort level," says Sadiq.
That was most apparent in one big scene in which Biba had an outburst against one of the boys in the theatre and grabs him by the collar. "Out of the ten lines she spoke in the scene, 6 to 7 were written, 3 to 4 she added on her own in the moment," says the writer-director.
On a subcontinent where directors are notoriously averse to casting transgender actors, Sadiq's decision is of special significance. Does he expect Joyland to change the way people view transgenders in south Asia? "You can never make a prediction about any film, let alone your first film," says Sadiq. "I just hope people see the film and recognise that Alina Khan has done a better job than another actor would have done."
The Prix Queer Palm, decided by a jury headed by French filmmaker Catherine Corsini, is a well-deserved recognition for the sensitive and sharp portrayal of a person from the transgender community. One big Indian actress whom Sadiq had approached for the role of one of the daughters-in-law expressed a desire to play Biba, "clearly the flashiest role in the film".
Sadiq stuck to Alina Khan despite being aware of the crowd-pulling power of the Indian star he was in talks with. "It wasn't some PC act. I honestly believed Alina would be the best for the role because it would come naturally to her. I would not have to do much work with her to get the behavioural nuances right," Sadiq explains.
All the other actors in Joyland are theatre and screen professionals. The role of Haider was the trickiest," says Sadiq. Ali Junejo, an actor with substantial theatre experience, absolutely nailed it. "There is always one such person in every home," says Sadiq. "He is a man who fits in better in the kitchen than in the drawing room with his uncles and male cousins."
"Nobody has any expectations from them. They are not masculine in an obvious sort of way. I had thought I would probably end up like one. There is a bit of me in there in terms of feeling uncomfortable in spaces that are very masculine. It has nothing to do with one's sexuality. Certain people just do not fit in where men are supposed to fit in naturally. That was one of the starting points of Joyland," says Sadiq.
Another theatre actor, Rasti Farooq, essays the role of Haider's beautician wife Mumtaz with such phenomenal power and intuition that she all but steals the whole show. The elder daughter-in-law's character is played by film and television actress Sarwat Gilani, while veteran actor Salman Peerzada is the patriarch Amanullah Rana.
For the actors, the technicians and, of course, the young writer-director, Joyland is an achievement of phenomenal proportions. No film could have been more deserving of the 2022 Un Certain Regard Jury Prize.
Saibal Chatterjee is a cinephile who has been writing on films for over three decades.