'With every film I feel like I should be learning something new'— Sanya Malhotra
Badhaai Ho made a difference in how the audience sees me, says Sanya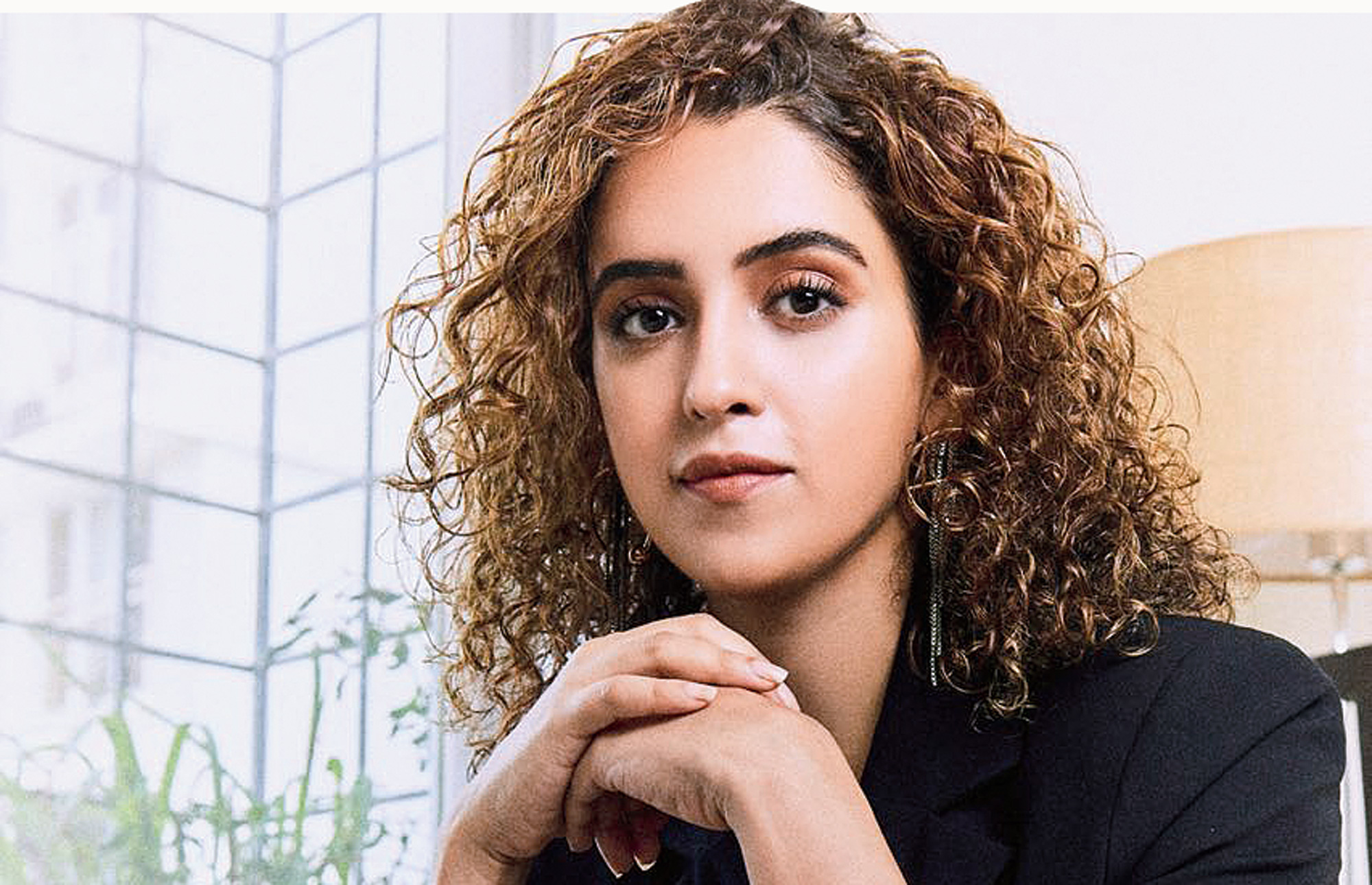 Sanya Malhotra
The Telegraph picture
---
Published 17.03.19, 01:54 PM
|
---
The first film Sanya Malhotra signed after the mega success of Dangal was Ritesh Batra's Photograph. An intimate story about an unlikely pair finding each other in the mad bustle of Mumbai, the film premiered to rave reviews at the Sundance Film Festival. In the film, Sanya, 27, plays Miloni, a quiet girl from a conservative Gujarati family who comes across Rafi (Nawazuddin Siddiqui), a photographer on the streets of Mumbai. If the Hollywood Reporter is to be believed, this film 'could be her chance to crossover internationally'. t2 met Sanya days before the film's release to chat about working with Nawaz, what she's still learning about acting and the film she's itching to do.
Ayushmann Khurrana was really confident about Badhaai Ho doing well. Were you just as confident?
Yes. When I first heard the script, I knew it was going to be really good. It was an instant 'Yes' from me, and that was the case with every actor who was in the film. We all knew it was going to be special, but the kind of love we got from the audience was very surreal. I knew it would do well, but never expected it to do this well. 
It was also your first big film playing the lead role. Did that mean something slightly more?
Though Ayushmann and I were there, Gajrajji (Rao) and Neenaji (Gupta) are the pillars of the story and it's their film. They are the leads of Badhaai Ho. I don't look at a film or role from that lens.
Fair enough, but the trade and the industry does. Has the industry's perspective of you changed?
I'm still very new and don't understand the trade and how it makes a difference to an actor's career. It's obviously important for the film to make money. For me, as an actor, my primary concern is that the audience should like the film. Though I can tell you that Badhaai Ho made a difference in how the audience sees me. People started recognising me as Sanya. In Dangal, I looked very different with short hair and as long as my hair was short, people recognised me and called me 'Dangal girl'. But once my hair grew back, people would do a double take. In Pataakha as well, I was looking very different. Badhaai Ho really made a difference, in that people got to know what I looked like as Sanya.
The success of Badhaai Ho was followed by the positive reviews of Photograph after the screening at Sundance and The Hollywood Reporter calling you one of the five breakout talents to watch out for at the Berlin Film Festival.
I got to know about that Hollywood Reporter article as soon as I got back from Sundance. Radhika (Madan, Sanya's Pataakha co-star) sent me a cutting of that article. I didn't think it was such a big deal until other people started posting it on social media saying that it's a big deal. When I finally saw the article, it made sense. My family was really happy, my mother was really proud. I'm glad I've got all this appreciation for this film because it's very close to my heart. It's my second film and I can totally relate to my character. I'm very much like Miloni.
The true mark of success today is when a meme is made on you. And there is one of you…
And it's a such a funny one! When the Koffee with Karan episode came out, I remember randomly thinking, 'I look like Ratan' (the character played by Mamik Singh in Jo Jeeta Wohi Sikandar). About two weeks after that, I saw the meme on my Instagram feed. I was really spooked. It was like someone had plugged into my head or had a camera in my house. It was weird, but it's a hilarious meme. And I love memes, I have so many friends who are just meme friends on social media! We don't talk to each other but keep sending each other memes.
On the surface, it seems like you've figured out your career because things are going quite smoothly for you. Are there things that you still struggle with?
Yeah, I do. As an actor, there are so many things that I still don't know. I'm very new to acting and with every film I feel like I should be learning something new. I remember when I was shooting for Photograph, on Day I there was a scene where I had to eat. That was my first eating scene for a film ever. So I didn't know that a lot of actors didn't really eat. Ritesh does 30-35 takes for almost every scene, with different improvisations. I ended up eating so much that I got sick. When I went back home, I Googled how actors do eating scenes. That's when I learnt they eat and spit out the food, they have a spit bucket. I have a lot of eating scenes in this film so that's what I did for the rest of the film.
Photograph was the second film you shot for and I believe you were scared to work with Nawaz.
I was shitting bricks, to be honest! (Laughs) It didn't help that Ritesh didn't want us to meet before the shoot. He wanted that feel of being strangers, that we're actually meeting for the first time on set. But I did my research, watched all his interviews, literally stalked him on the Internet and tried to understand how he prepared for his characters. So, I at least wouldn't faint on set in front of him (laughs). But he's such a wonderful co-actor; I never saw 'Nawazuddin Siddiqui' on set. And that's what I've been saying... when you're working with great actors, you don't see them while shooting, they bring their characters. I was always at ease shooting with him, we had a lot of fun and he's very much like his character. In fact, Ritesh kept saying that he's playing himself for the first time in a film. 
You're not from Mumbai and it's a city you don't know very well. In a lot of ways, Ritesh calls the film a love letter to the city. Did you discover anything about the city, a new corner perhaps, that surprised you?
So many things. As a Delhiite and a newcomer in the city, my bank balance was always too low to be going out and exploring places. I'm glad that through this film, I got a free Bombay darshan for which I got paid as well. I saw Bandra Fort, where I had never been before. We shot a very special scene there but it's not in the film anymore. I also saw slums in Dharavi, Andheri west, Andheri east. On Sundays, we would shoot at Ballard Estate. It's a beautiful area. 
You've already started shooting for Anurag Basu's film...
It's going good and I'm having a lot of fun. He's a genius. I'm always anxious before a shoot starts and stressing about getting the character right. But this one was so chilled-out because he told me to come on set and then we would decide what to do with the character.
We never did any workshops or readings. I just met him and we did a couple of costume trials. That's it. On set, he just creates magic. Everything is impromptu — scenes, dialogues. It's always fun to improvise as an actor, you're always on your toes. It's not mechanical where you know your lines and have to go on set and deliver them. Here, you're always thinking about your character, the scene, your co-stars, the film in general. I'm really glad to be working with him.
I hear you're still itching to dance in a movie?
Yes (laughs). I'm really hoping someone makes a dance film and casts me. I'm done with those Instagram videos that I keep posting, I want to do a dance film now.