Why the decade turned out to be special for Prosenjit
Changing with the times, reinventing himself and collaborating with a new wave of directors with fresh ideas — the actor talks about his success mantra and more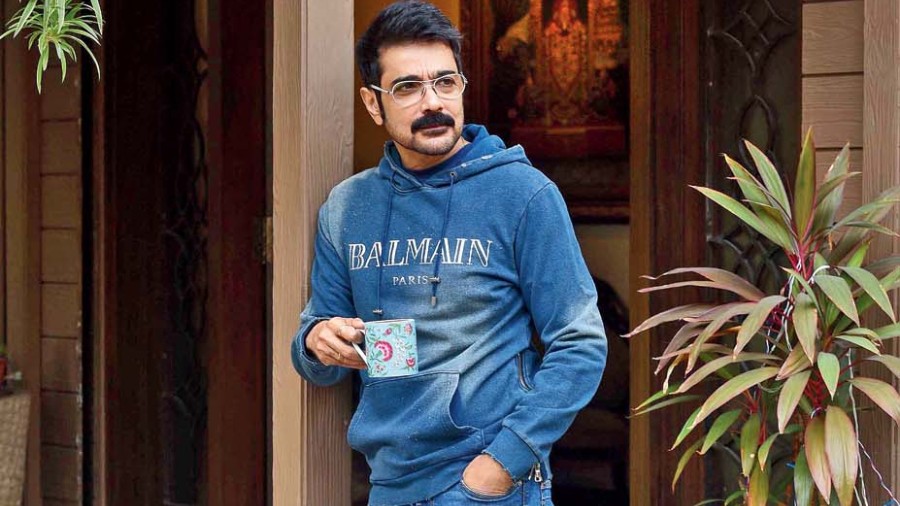 ---
---
Having ruled the box office for decades and achieving so much in the mainstream cinema space, earning accolades in serious cinema and winning awards, what were your plans going into 2010?
I was thinking of how to position Bengali films at multiplexes and bring in the huge numbers. But to fully understand this situation, we have to go back a bit. I have always done my homework thoroughly... even during the pre-Google days. What I had from Day One was this immense desire to work hard and my sixth sense. One has to understand the pulse of the audience and change. Cinemascope was introduced with Sasurbari Zindabad and that changed the economy of Bangla cinema. Also, when I heard about CGI (computer-generated imagery) for the first time, I immediately started learning about it. It is always very important to keep up with the technological developments and change with the times. Twenty years ago we could only think of watching films in the theatres. But now things have completely changed. You can watch films, shows, and so many different things at the click of a button from your home. Entertainment has come to your home. And now, for any celebrity, one has to be true and honest. Be who you are. The world has changed.
See, I have always tried to fulfill the needs of Bengali commercial cinema. I have always tried to look into its various aspects and tried to make it better and grow. As an actor, I also try to gauge the mindset of the younger ones and learn from them. They are also bringing in a new chapter in acting. With Ritu's (Rituparno Ghosh) films, I had started acting in serious cinema and gradually wanted to make my presence felt on the international film festival circuit.
You went on to act in films by Buddhadeb Dasgupta and Goutam Ghose...
And those films travelled the festival circuit and won awards and laurels. Chokher Bali did wonders at the box office, it did really well at the multiplexes. But after Chokher Bali, Bengali films were not really scoring that big at the multiplexes... yes, there were big hits like The Bong Connection (by Anjan Dutt) or Tony's (Aniruddha Roy Chowdhury) films... but overall those big hits were not coming on a regular basis... and that's where my challenge lay. How to crack this? How to position Bengali films at multiplexes? And like an angel Srijit Mukherji arrived on the scene and scored a huge hit with Autograph (starring Prosenjit) in 2010. And then it was followed up by another huge hit, 22shey Srabon. That really changed the scene.
In 2010, your Moner Manush directed by Goutam Ghose also came out...
I got to work with someone who is such a highly acclaimed, award-winning, internationally reputed director. I had never imagined that I would get to play Lalon. Meanwhile, Autograph connected with the youth. Autograph and 22shey... brought in a new generation of audiences to the theatres and multiplexes once again in large numbers. This was a throwback to the days when people would come with their families in cars and drive to theatres like Minar, Bijoli, Chhabighar. Autograph opened a new chapter in Bengali cinema.
See, as a senior one must acknowledge and embrace the promise, ingenuity and brilliance of the younger generation. And I am still doing that... reinventing myself and working with new, young talent. For example, my film Nirontor came out this year. The film industry got a new talented director. One must try out new things.
The Bengali film industry got a shot in the arm with you and Srijit coming together, and making one film after another...
And think of the character that I did in 22shey Srabon... this expletive-spouting guy... and I had this extremely good-natured, do-gooder, romantic image on screen. I had built that image of the good person for many, many years. And then I did 22shey Srabon, and played a character so different from my screen persona. But then one must remember I had also produced a film called Teen Yaari Kotha, much before Autograph. So I have always tried to take risks and make Bengali cinema grow and evolve.
Let's talk about Chalo Paltai, another important film for you in the decade, with Haranath Chakraborty, a director with whom who have delivered many superhits...
Yes, and the film had a young team. Kaushik Ganguly told me that he watched the film later, and found it to be a very special film. Anupam Roy's Bariye dao tomar haath is one of my fave songs. And Hara is so flexible... he knew that a new generation of directors has come and that he has to say something else, in a new way.
What is the secret to staying relevant as a star?
It is about changing with the times, be it in terms of story selection, execution or adapting to new technology. A senior person has to embrace and endorse the new and innovate. With Autograph, I also understood the value of large-scale film promotions. Things were different for me before that. I changed myself for the Autograph promotions. I realised one needs to be creative, have a proper plan in place to reach out to the audience... and the promotion has to be designed. The promotion for Autograph cannot be the same as Moner Manush. One has to understand that. The same kind of promotion cannot happen for every film.
The soul or the essence of a film drives the promotions and one has to do it accordingly. You have to innovate with promotions too. I remember posing for photographs separately for the posters of Sasurbari Zindabad. That's how the trend of poster shoots started in Bengali films. One realised you need to do a separate photoshoot only for posters. The quality of posters changed from then on.
What was your toughest shoot of the decade?
I prepped for nine months to play Lalon and Moner Manush is so close to my heart. The shoot was so difficult, one of the toughest of my career. We shot in bone-chilling cold in December... and I remember being in a boat all alone wrapped in fog at 4am, not knowing where I was headed... I could not see a thing. I had gone into a trance by then. Of course it felt amazing when the film won awards. Mrinal jethu (Sen), Soumitra kaku (Chatterjee) came for the premiere. Soumitra kaku hugged me after the show and Mrinal jethu said my performance was of international standard. After watching Autograph, Soumitra kaku told me to carry on performing like this. Incidentally, Jyeshthoputro is very close to my heart and there also I play a superstar. I feel I gave one of my best performances in that film. Fun trivia... I had finished the shoot of Moner Manush and then started the shoot of Autograph. And the irony is Lalon was tyagi and Arun Chatterjee was bhogi — two characters on the opposite end of the spectrum!
Also, you came together on screen with Rituparna Sengupta after 15 years in Praktan...
Praktan opened a new chapter, in terms of box-office collection and the magic of our pairing. This decade gave me that opportunity to work with all these amazing directors (Goutam Ghose, Srijit, Shiboprosad Mukhopadhyay-Nandita Roy, Kaushik Ganguly, Atanu Ghosh, Aniruddha, Kamaleswar Mukherjee). Among them, Shibu feels that I am the last romantic hero and he wants to see me larger than life, as the superstar, always. And he wants to explore that side of Prosenjit.
Going into the next decade, we have to think about the new generation... and understand them. With the OTT boom, the language of cinema is changing, the stories are being told in a new way. I am getting a script (for a thriller) re-written and now it will be more edgy, dark and realistic. I felt the change was necessary to stay true to the time and cinema now.
When are you directing a film next?
If all goes well, I'll direct a Hindi film in 2022. It'll be a realistic film, and I might direct a Bengali film in 2021. And I'll probably start shooting from January-end for a Bengali film and for a web series directed by Vikramaditya Motwane around March or April.
Some of Prosenjit's key films of the decade
Autograph
Moner Manush
22shey Srabon
Praktan
Mayurakshi
Jyeshthoputro