Why Kareena Kapoor Khan is the one and only Koffee With Karan legend
We pick the special moments from Kareena's journey from Season 1 to 7 on the chat show hosted by Karan Johar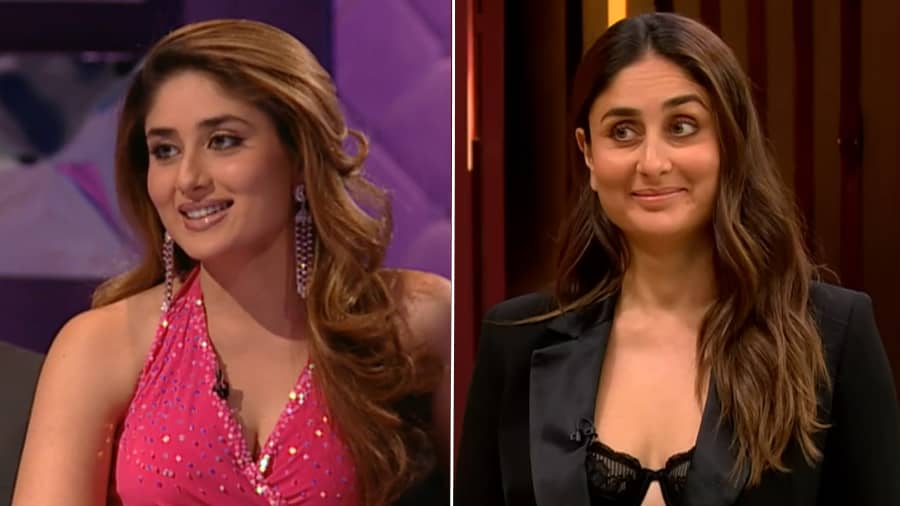 Many moods of Kareena Kapoor Khan
Instagram
---
Calcutta
|
Published 21.09.22, 03:23 PM
|
---
'She can be anything that you want her onscreen' – that's how Karan Johar introduced Kareena Kapoor Khan when she took the couch on Koffee With Karan in Season 2. Over the past 18 years, from Season 1 to Season 7, and amid many Koffee With Karan debutants and veterans, Kareena is a 'legend' in her own words. On her 42nd birthday, we look back at her journey on the celebrity talk show, hosted by her friend and filmmaker Karan Johar. 
Season 1 (2004), with Rani Mukerji
Kareena appeared with her Mujhse Dosti Karoge! co-star for whom she had genuine affection. In this episode, Kareena accepted for the first time that her then-boyfriend Shahid Kapoor was 'a special part' of her life. 
Also, Preity Zinta had revealed that Kareena would ignore her in public, after Kal Ho Na Ho's success, as Kareena has been the filmmaker's first choice to play Naina. To this, Kareena said, 'She (Preity) is my senior, so I will go and say hi to her next time.' 
Interestingly, Saif Ali Khan featured at the bottom of Kareena's list of favourite male actors. Saif had picked Kareena in terms of better sex appeal over Rani but gave more points to Rani on acting ability.  
Season 2 (2007), with Shahid Kapoor and Karisma Kapoor 
Kareena came to the show with her then-boyfriend Shahid Kapoor, who she had been dating for three years and for whom she had turned vegetarian. What did Shahid give up for her? 'I don't want him to give up anything for me,' Kareena had said. 
Shahid sat a bit far from Kareena on the couch and there was a kind of awkwardness in him. He opened up about being 'lucky' to have Kareena in his life. We also got to know that it was Kareena who had chased him for two months and made the first move. 'If anything goes wrong, it will be something between the two of us,' Shahid said. The couple proved 'compatible' in Karan's game. 
Among the other people Kareena famously commented on was Aishwarya Rai Bachchan, whose 'turquoise-coloured blue boots' she called a fashion faux pas. Kareena also said she felt she would have done a better job in the role Aishwarya played in Dhoom 2. 
She said her 'genuine best friends' had always been Amrita Arora, and called John Abraham 'expressionless'. Karisma Kapoor, who came at the tail-end of the episode, revealed how Kareena's vegetarianism was a huge problem to her family as she was a hardcore non-vegetarian. Karisma added that Kareena had made Shahid a bit 'chilled' out.  
Season 3 (2010), with Saif Ali Khan
Kareena came with beau Saif Ali Khan, declaring that their wedding would be held in 2012 and that they had decided to not kiss co-stars in a film to avoid complications in the relationship. Kareena and Saif sat closer, and we loved how they greeted each other with a peck. 
In the compatibility round, Saif goofed up a bit but there was a fair amount of chemistry to make them the hottest pair on the Koffee couch. Saif revealed Kareena's 'odd traits' such as her 'entertainingly' wrong English words; 
Kareena revealed how she had never been 'happier'. She also made it clear that 'ex-boyfriends can't be friends'. When Karan asked Kareena, if she was the no. 1 actress in the industry who would be no. 2, she replied, 'Priyanka Chopra. I am a PeeCee fan.' Well, it was the same episode where she asked about Priyanka: 'Why does she have an accent?'
Season 4 (2013), with Ranbir Kapoor 
Kareena turned up with her cousin brother and actor Ranbir Kapoor. The focus was more on Ranbir and Katrina Kaif's relationship, with Kareena playing the catalyst. Kareena went on to say that her outfit for Ranbir's wedding was ready and that she was ready to perform all of Katrina's hit item numbers. She also mentioned how she and Katrina had a coffee date in Beirut while Katrina was shooting with Saif. 
Kareena also talked about Saif's children, Sara Ali Khan and Ibrahim Ali Khan — that they had been 'brought up well' and she was like a friend over a 'champagne' to Sara. 
She said that she never had problems being 'papped'. Wasn't it the first time we heard the word? Even Karan took a pause. In the rapid-fire round, she had expressed her desire to have a gay encounter at gunpoint with 'sister-in-law' Katrina Kaif and said that Sonakshi Sinha gave her the vibe of a 'housewife'.  
Season 5 (2017), with Sonam Kapoor
It was a glowing soon-to-be-mother Kareena with her Veere Di Wedding co-star Sonam Kapoor. Quizzed about whether she would bring her child to the limelight from an early age, Kareena replied, 'I think, I will go with the moment.' 
We also got to know from Karan that she was one of the last people to switch from BlackBerry Messenger (BBM) to WhatsApp. She also declared that her only interest lay in 'rewards' and not awards. Here, too, Kareena was all praise for Priyanka Chopra and called her 'extremely talented'. About the leading men in Bollywood, Kareena quipped that they have a lot of money but no brains.  
Season 6 (2019), with Priyanka Chopra 
This time, Kareena came with none other than newly-wed Priyanka Chopra, with whom she had a hot-and-cold friendship but thorough mutual admiration. Both had dated the same man (Shahid Kapoor) but Priyanka wasn't ready to accept or deny it, unlike Kareena. 
We also got to know that Kareena was part of multiple WhatsApp groups where all she did was fashion policing. Among these was a group called 'Guts' where Kareena was the most active, despite not being on social media. 
Kareena spoke about the media frenzy around her son Taimur and hinted at having 'a lovely morning' with Saif when she spoke about life and marriage with Priyanka and Karan. 
She also took Priyanka to task for not following Bollywood gossip. 'Don't forget your roots,' she admonished. Regarding Sara Ali Khan's interest in dating Kartik Aaryan, Kareena said that the duo would look good in a film as Sara was classy and Kartik was mass-y. She also preferred to be addressed as 'chhoti begum' than 'chhoti maa'. Asked about which male actor would look good with her, she replied cheekily, 'I make everyone look good.' We can't agree more. 
Season 7 (2022), with Aamir Khan 
In the ongoing Season 7, Kareena accompanied Aamir Khan to promote their film Laal Singh Chaddha. Kareena revealed that she had to screen-test for the first time in her life to play Rupa in Laal Singh Chaddha. Aamir said nobody could play Rupa other than Kareena. He also added that Poo's character was the only thing that he liked in Karan Johar's Kabhi Khushi Kabhie Gham. 
Kareena accepted that over the years she had gained a certain 'amount of calm and zen'. The rapid-fire round had less fire. The only time it flickered was when Kareena had to answer who wouldn't be invited to Shahid Kapoor's party, to which she said, 'Me'.