When I look back, I say wow!: Juhi Chawla
Juhi Chawla on films, co-stars and Diwali memories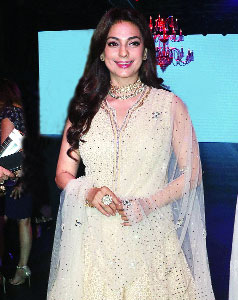 ---
---
Our tete-e-tete with Juhi Chawla has become an annual affair. We love catching up with the bubbly actress every time she is in town for the IPL. This year though, we met Juhi again when she breezed through the city for a Kolkata Knight Riders and Meer Foundation initiative just before Durga Puja. When we entered her suite at ITC Sonar, Juhi was tucking into a thali. Adda and much laughter followed, with Juhi's wit cracking us up.
Is that a special meal?
I think this is rajgira ki roti and jeera aloo. I am eating what I am allowed to, for Navaratri. Actually how it happened was also quite funny. Two days ago I just opened the newspaper and there was this one page of all the young TV actresses talking about what they are doing for Navaratri. One said she was fasting and was only on a green juice diet, the other one said she was eating whatever was allowed…. I was like, 'Arre, I am not doing anything.' I have never done it. I was like, 'Nahin nahin, ab mujhe bhi karna chahiye'. Then I called my maharajji and said, 'Chalo, hum log bhi karenge kuch'.
Diwali is just round the corner. Tell us about your Diwali memories.
I always loved Diwali... dressing up in new clothes in the morning. When we were kids, we used to live in an apartment. Either mom or dad would go down to the phoolwallah to buy toran for the house. I loved doing rangoli. But if that's the only day you did it, it would take hours! My flower petals would be all crooked. I would be like, 'What, ya... why don't I know this?' I think my mother would find it quite amusing that I would be sitting hours outside the apartment door, trying to decorate.
My mom used to do the puja in the evening. She'd sing the aarti. We would all join in with her, but I don't think we knew the words properly. It was all very small, sweet, homely.
Then of course it would be with friends and firecrackers in the evening. All the kids would come down. Now, of course, I feel that there is no need for firecrackers… bandh karo yeh sab.
So you have banned your kids from lighting firecrackers?
Luckily, they never liked it. Maybe because when they were babies, the noise was disturbing. They were like, 'We are okay without it'. I was like 'Fine, paise bhi bach gaye'. There is no need to foul up the air any more.
Did Diwali change after you became a star?
No, it changed after I got married because now we don't do puja in the house. It's only in the office where the panditji comes and does it... more properly laid out, a big affair where the whole office comes together. In the evening, some friends throw card parties and we join them.
What about your kids?
Oh, how much I have pulled their ears and made them light diyas all around the house. My biggest joy is of course decorating. Now I don't try rangoli, but I decorate the house. We light lots of glasses where we put water and oil and the little wick. We light them and place them all around the house.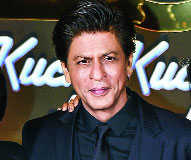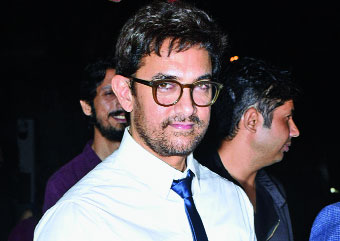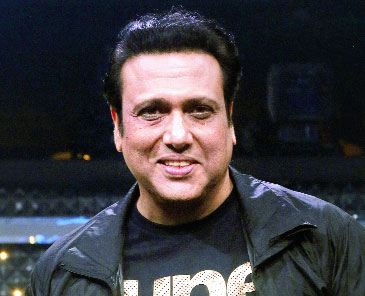 I was never in awe of Aamir (Khan) and Shah Rukh (Khan). We literally started out together and we became friends. If we made mistakes, we were not embarrassed. If you gave retakes, you were not dying ke 'yeh kya sochenge mere baare mein'.... Govinda was fantastic... he was one person with whom I felt you need to be on your toes, think and come up with more
- Juhi Chawla
You always appear content. What's the secret to a content Juhi?
Just trying to practise what all the gurus say. Be grateful. It's not happy people that are grateful, but grateful people that are happy. I try to practise it. Then it becomes a habit. Then it becomes you. I am hoping it'll become me. After all, when I look back, whatever I am or whatever's come my way is not my doing. Maine kuch nahin kiya tha. I was lucky ke bhagwan ne kara diya. I am trying to remain in that space.
You have been in the Hindi film industry for 30 years. You must have put in some effort!
I don't know what it is. That it is 30 years is amazing. I didn't know I would last for 30 days. God has been so kind... seen you through thick and thin. Ever grateful!
How would you look back at the three decades?
Everything has happened. Success, failure… gradual… sometimes heady, too heady… I couldn't handle it… I went mad! I thought the industry would shut down if I said 'no' to a film. Nothing happened! I lost out on films. (Laughs) I have been through all kinds of phases… some really dumb, stupid phases, some very happy phases, some very sad phases because of my personal losses. But it's been an incredible journey. When I look back, I say, wow!
What are your favourites from your own films?
Many. I don't want to talk about the big films like Darr and Hum Hain Rahi Pyar Ke. I want to speak of those where I put my heart and soul and they weren't the biggest successes. I was like, 'yeh kaise ho gaya… it's a damn good film… why aren't people seeing it?' The latest one being Chalk N Duster. If you see the film, it's gripping, it's got a lovely story, wonderful moments…. Then Phir Bhi Dil Hai Hindustani, which we made with a lot of heart. At that time it wasn't a big success, but there are amazing messages in the film and it was amazingly ahead of its time because five years later, the world had become like that. TRPs, channels, yeh, woh… but thoda late logon ko samajh mein aaya ke hum ne already picture bana li thi. Or say a film like Daraar, which was with Chintuji (Rishi Kapoor). I thought it was one of my best performances… kya kam kiya maine! Arjun Pandit... I was the villain for the first time. Gulaab Gang... I loved myself in it.
And of course Qayamat Se Qayamat Tak, Hum Hain Rahi Pyar Ke…
I think magic just happens. When you are making it, you don't know that you are creating magic.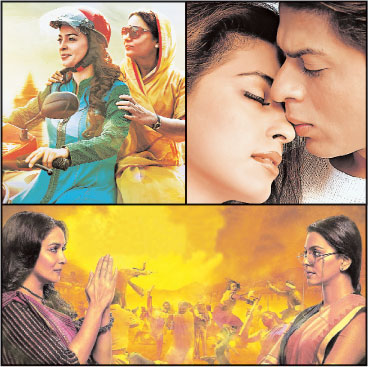 Who were some of your favourite co-stars?
I should not say favourites, but I'll just name the people I was never in awe of. They were Aamir (Khan) and Shah Rukh (Khan). We literally started out together and we became friends. If we made mistakes, we were not embarrassed. If you gave retakes, you were not dying ke 'yeh kya sochenge mere baare mein'.
Among the seniors, whether it was Chintuji or Anil Kapoor or Sunny Deol, they were wonderful, even Jackie Shroff. I was a little in awe of all of them. Govinda was fantastic, I would get scared to work with him because I didn't know what he would do... he would improvise within the shot. He would rehearse one thing and in the take he would have a better idea. He was one person with whom I felt you need to be on your toes, think and come up with more.
Which films of yours do your kids love?
I have to ask them! They must have watched three films of mine in their whole life. I don't even know if they have caught anything on TV. I don't see them watching Hindi films or any film. Not my films definitely! (Laughs) They are so embarrassed watching me....
(Juhi has to go and she leaves us with a bowl of rosogolla with strict instructions: 'Finish it!')