When DJ Vicky made Rajkummar-Patralekha dance to his beats
In a candid chat with The Telegraph, he shares his experience about playing at the celeb-couple's wedding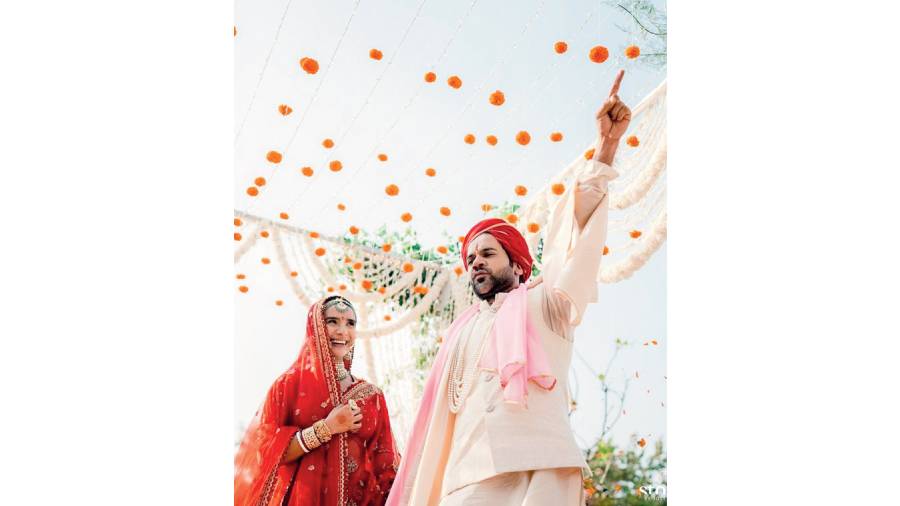 ---
Published 22.11.21, 11:17 PM
|
---
If 2018 was all about getting the Amabanis and NickYanka grooving to his tunes on their respective wedding days, it was Rajkummar Rao's wedding to his long-term sweetheart Patralekha Paul this year. Yes, Calcutta's veteran DJ Vicky Metharamani is back to the city after playing at the couple's wedding and chatted with t2 about bagging the opportunity and being a part of the event.
You recently played at Rajkummar Rao and Patralekha Paul's wedding. Tell us how the opportunity came to you...
My work had been suggested to them and then they looked up my Instagram profile where I share a lot of my videos. They liked my style of music and it matched their preferences. Plus they knew that I have done many celebrity weddings earlier like Priyanka Chopra-Nick Jonas, Akash-Shloka (Ambani), Isha Ambani, Armaan Jain, and the Bachchans so they knew that I would be capable enough to handle this one too. The wedding planners were A New Knot from Mumbai, who are one of the top planners in the country. They confirmed the booking and things took off from there.
How would you sum up the experience?
Very exciting. In fact it's been a while that any celebrity wedding has happened during the pandemic so it was quite a hyped one on all social media platforms. 
What was the brief for the playlist from the couple?
Since they are both actors, Bollywood ruled as a genre. There was literally nothing that I did not play over the three days and nights. The '80s, '90s, 2000s to all the current hits. The couple and all the guests from the film fraternity knew their music and were raging to whatever was being played.
Which of the functions that you played at would be your favourite? Any memory that you will cherish from this wedding?
Difficult to choose... the pool party on day two was the best one and so was the pyjama party that night. There was non-stop dancing from noon to 3am with just a short changeover gap between the two events. Everyone was dressed as per the theme on all occasions and the involvement of all the guests was completely evident. The mood that set in was fabulous.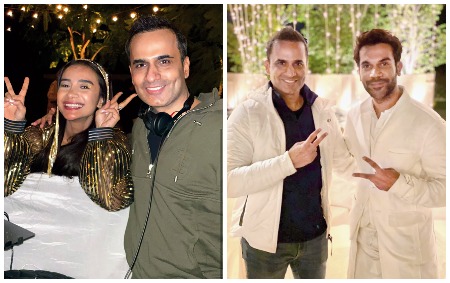 The memory that I will cherish for a long time is the engagement night on day one when Rajkummar went down on his knees to propose to Patralekha and we immediately played Perfect by Ed Sheeran. This was absolutely impromptu and they went with the flow of music and sportingly performed a ball dance, which was actually not rehearsed. The first most widely circulated video on social media where the rings are being exchanged, shows Raj giving a pleasantly surprised look at the DJ console as soon as the song began.
What were the top songs for all the three days? Were there any requests dedicated by the couple and for the couple?
The couple love the song Lover by Diljit Dosanjh. It was requested and played at every session. This track is anyway a current chartbuster and a favourite amongst most of the celebs as seen on social media platforms. Apart from this they loved tracks like Bijlee bijlee by Hardy Sandhu and Jugnu by Badshah. Rajkummar told me that since Patralekha is Bengali and I am from Calcutta, could I play a Bengali track for the bride.  I played Sadher lau by Runa Laila as it is an all-time classic. I could see the non-Bengali guests having a great time and enjoying this track too. Also, at the pool party, Farah Khan asked me to play the song Muskarane ki wajah from their first movie together (Citylights) that was released back in 2014. The couple danced to that too.
How would you sum up the couple as host or otherwise?
Rajkummar and Patralekha have been together for 11 years and after so many years of being together, they decided to take it a step forward. In this industry where marriages don't last for that many years, these two have tied the knot after being together for more than a decade. This shows how strong this bonding is. They are both fun-loving, friendly and extremely grounded. The wedding was very intimate where just close family and friends from the industry were present. I wish them all happiness and a great life together!
One thing you always keep in mind when you are playing at a celeb wedding/private event?
I always play for the crowd. Celeb or not, the music should be as per the crowd on your dance floor and not as per the mood and choice of the DJ. If you feel the crowd is ready for an experiment, then play around with different genres. I play really long sets, anything between five to eight hours at a party. I have to play mixed genres of music otherwise it becomes too monotonous.
It is great that weddings are not about just Bollywood music any more. Most of my clients are ones who have studied in the UK and US and come back home for an Indian wedding. They have guests from all over the globe and it is super fun to play RnB, international commercial hits, Latino, Arabic and house music. These guys have been around the world and have experienced all genres so it makes it easy for the DJ. The after-parties at these destinations are major ragers, which go on till sunrise!
Having played at celeb weddings, what tip would you give to a budding DJ who aspires to be like you?
Oh... it's been quite a journey to get here. I started when I was 19 years old and I completed 25 years of being in the industry. It takes years of hard work and dedication to get there. One thing I learnt is that if you want to go a long way, you need to stay away from all wrong habits (no smoking and drinking) especially at work, eat healthy, work out and stay fit so that you have the energy to play long sets and remain mentally focussed. This looks easy from the other side but trust me, those non-stop sleepless nights and travelling do no good to your body and mind.
Success does not come to you, it has to be achieved. Also, I have been fortunate to get things my way and get the right opportunities at the right time and I grabbed them with open arms. This new generation of DJs in Calcutta are super talented and when compared to DJs from other cities, they are not behind anybody.
Pictures: DJ Vicky and Instagram