Definitely, Four More Shots Please!
Season 2 carries on with its 'made-for-guilty-pleasure' template but also gives its protagonists solidly built character arcs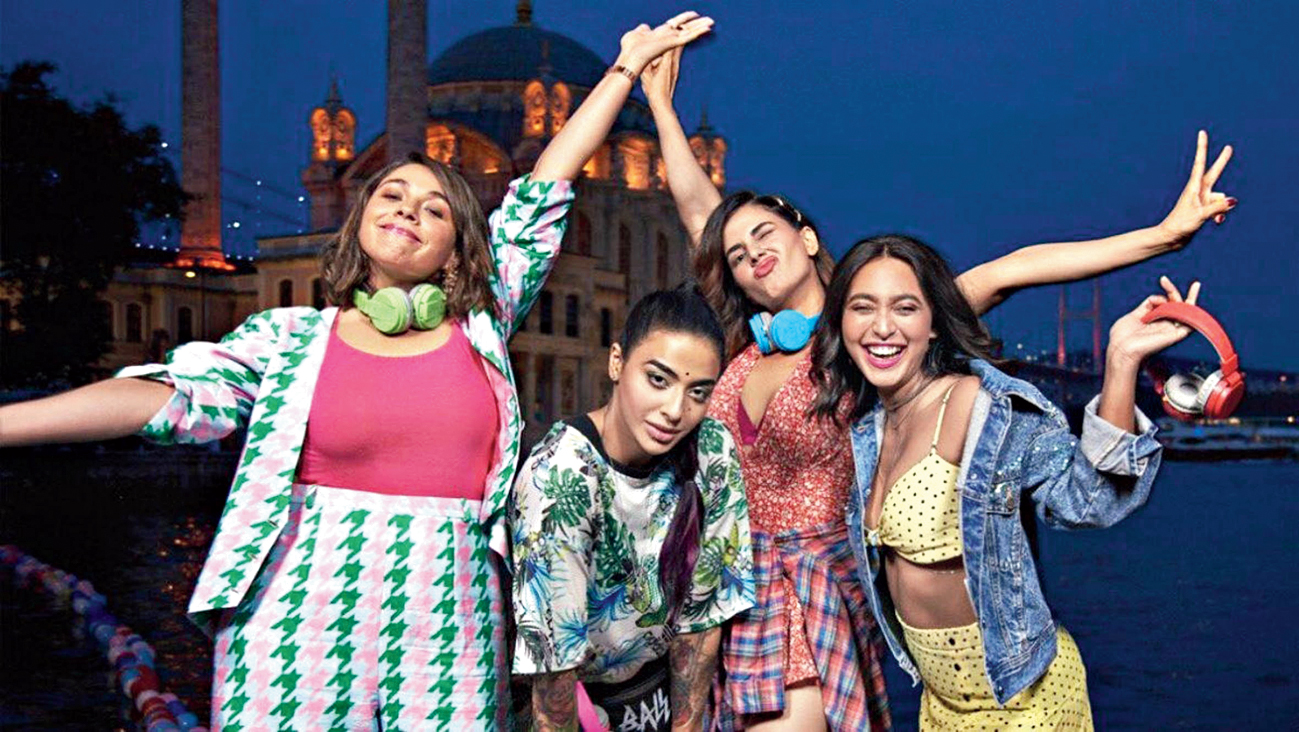 ---
---
The girls are back. And so is angst and heartbreak, love and loss, moments of joyous pride and extreme mortification, and all that which goes into defining and redefining a woman's needs and wants. Four More Shots Please!, an Amazon Prime Video Original that dropped on the streaming platform a little more than a year ago, is back with Season 2, largely continuing with the 'made-for-guilty-pleasure' template that made the first season a runaway hit, but also scoring a #win in taking forward the stories of its protagonists through solidly built character arcs.
This desi take on Sex and the City — the similarities are too many to list — refocuses on the lives of the four besties, reuniting in the first episode this season after the last season ended with the hithero unseparable friends being torn apart by chaos in their personal lives.
A bigger budget post the success of Season 1 means locations as exotic as Istanbul and Udaipur, but it's their regular neighbourhood watering hole, Truck Bar, that is witness to the everyday highs and lows of the protagonists. Damini Rizvi Roy (Sayani Gupta), unceremoniously thrown out of the news portal she founded because of her decision to stand by the truth, is prepping to write a controversial, tell-all book; Anjana Menon (Kirti Kulhari) continues to power on in her job as a top-notch lawyer but faces sexism at work, an emptiness in her love life and an uncomfortable equation with her former husband; Umang Singh (Bani J) finds focus once more when she takes on the responsibility of physically and mentally healing her former girlfriend Samara; Siddhi Patel (Maanvi Gagroo) starts off being her usual goalless self, buried under the weight of expectation and prejudice, but comes into her own when she discovers her talent to go up on stage and make people laugh by laying bare stories from her own life.
Much like Season 1, it's the individual and collective journeys of the four pals navigating through the tricky terrains of men and career, sex and relationships that defines the tone and texture of this season. They are the wind beneath each others' wings and it's when the four get together, crying on each others' shoulders or giving each other a pat on the back, that Four More Shots Please! is most watchable.
Continuing to be a breezy and entertaining watch, Season 2 touches upon everything from no-strings-attached relationships to unplanned pregnancies, even as it lays bare the issues that plague women on a daily basis — from facing discrimination at work to being unfairly judged at face value. The bouts of uncertainty and confusion the four go through in their individual lives finds resonance among its female audience, even as we root for them to find their place in the world.
While the journeys of all the protagonists take a significant leap forward, it's Siddhi who gets much more to play with, her transition from a babe in the woods to a woman who uses her so-called drawbacks to her advantage creating the biggest impression. Maanvi, who inhabits Siddhi like second skin, brings a certain relatability to the character. Umang, who wears her sexuality on her sleeve, is another character that shows a massive arc this season, with the show taking forward its bold take on same-sex love through Umang's burgeoning relationship with Samara. Bani and Lisa Ray, who plays Samara, share great chemistry that comes through in the show's intimate moments, acted and filmed organically. Both Sayani and Kirti, who did much of the heavy lifting in the first season, do well in bringing out the flaws in their characters, their moods and motivations driven by both head and heart, as it is for all of us.
Four More Shots Please! continues its refreshingly bold walk and talk, with the women conversing on everything from sexual kinks to body fluids, even as the show deep-dives into more serious issues like gender dynamics, polyamory and anti-natalism. Most of it is woven seamlessly into the show's larger narrative, but a few instances — like a debate on nationalism vs patriotism set against the country's current political climate — stick out like a sore thumb.
No such complaints about the men though, whose screen time and presence may be driven by the actions and reactions of the women on the show, but who are integral to the plot. Prateik Babbar's Jeh has the meatiest part, while Neil Bhoopalam flits in and out as the man-child Varun. New entrants Prabal Punjabi as Amit and Samir Kochhar as Shashank do well in their parts, while Milind Soman as the boho-at-heart Aamir Warsi continues to be his dishy self, with or without a towel draped loosely around his waist.
Like Season 1, Four More Shots Please! S2 ends with the four facing some degree of personal loss, but hugging it out in a way that brings on a smile. The stage is well and truly set for Season 3. After all, is there any end to girls just wanting to have fun? Bring on the shots!