We were feeding off Irrfan's strength: 'Angrezi Medium' director Homi Adajania
'His resilience and his spirit is so unbreakable'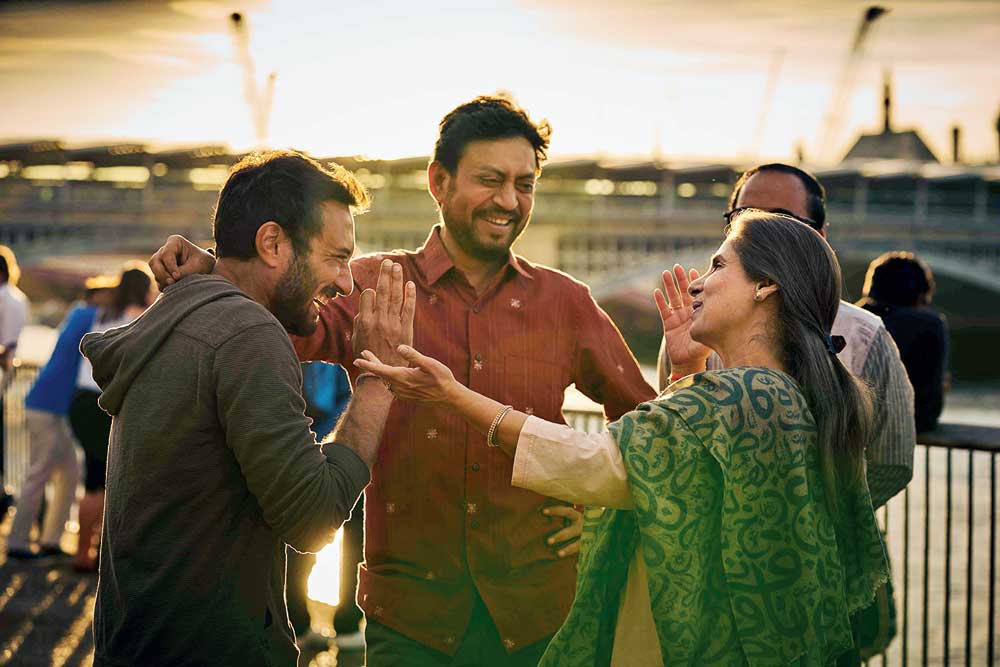 Homi Adajania (left) with Irrfan Khan and Dimple Kapadia on the sets of 'Angrezi Medium', releasing this Friday
(Sourced by the correspondent)
---
Published 11.03.20, 01:51 PM
|
---
Homi Adajania is a bit of an anomaly in Bollywood. The adventure sports fiend turned filmmaker with the dark comedy Being Cyrus in 2006. Six years later, he delivered a big-budget, A-list love triangle with Cocktail before going back to his comfort zone — an English language films with eccentric characters — in Finding Fanny. His latest is Friday film Angrezi Medium, a spin-off of the 2017 hit Hindi Medium, starring Irrfan Khan, Radhika Madan and Kareena Kapoor Khan. Set in Rajasthan, the film is a father-daughter story and marks Irrfan's return to screen after his cancer diagnosis in 2018. A chat with Homi.
After Finding Fanny, there was a bunch of projects you were supposed to do, including the Bolly adaptation of The Fault In Our Stars. But you disappeared for six years. What happened?
We were supposed to do The Fault In Our Stars and then it fell through. I think it was some studio production house thing. I was in New York when I got a message saying it's not happening. So that was that. But living life is also a full-time job, you can't just keep making movies. It's something very simple actually... if I don't get the cast I want, I don't make a movie. If I get the cast, and the script is not getting there, then I don't make a movie. If you talk to my producer, I'm the most expensive resource he has doing nothing! (Laughs)
When one talks to other filmmakers and actors, they're always itching to get on to the next film.
I'm itching to go diving, to go snowboarding, to hang out with my kids. There are many other itches I need to scratch and among those, one of them is to make a film.
What was it about Angrezi Medium that convinced you to get back on a film set?
I was actually working with this writer on a very dark topic and Dinoo (Dinesh Vijan), the producer, called me saying he's hearing the narration of Angrezi Medium. He asked me to give feedback and pitch in ideas. So I heard it and was rolling on the floor laughing, and I cried as well. I suddenly realised that I don't take my life seriously, so why am I getting into these dark spaces? It's such a joy to laugh, especially when you look at the world around us. It's time to start laughing and make people laugh.
So I told Dinoo I wanted to direct this. He asked me if I was sure and I was. That's exactly how it happened. Irrfan and I had met at the premiere of The Namesake years ago and had wanted to collaborate ever since, but nothing ever materialised. So when I was hearing this script, I was only thinking of Irrfan in it and that made me laugh even more. I needed to do this... it was a no-brainer.
Would it be fair to assume that the milieu this film is set in is completely unfamiliar to you?
Yes, completely…
So how do you go about telling a story about characters that you don't really know or understand?
There's a universal thing with all human beings... in that our emotional core is the same, be it pain, happiness or sorrow. So, if I'm told to make a Japanese movie tomorrow, I can do that... it's not about the language. Once I get the script under my skin, I go to those spaces and I really delve into it. I meet lots of people, I try to figure out if there are any false notes in the story.
I met a pretty wealthy guy in Udaipur who was so much like Irrfan's character. Not that this character is wealthy but he's well-to-do. When I asked that guy whether he had ever travelled abroad, he said he hadn't. So I asked him if he ever felt the need to be more exposed and travel and he said 'No'. And I realised it was a very pure, truthful answer. If he didn't feel the need, why would he go anywhere? And I totally understood that Irrfan's character is exactly like that. He can't understand what his daughter's aspirations are really about, why does she want to bounce and go abroad? She's obsessed about travelling because she's seen tourists around Udaipur and is fascinated —maybe it's a grass-is-greener-on-the-other-side kind of thing. And the father just doesn't understand.
I also spent a lot of time with school kids and children from there who have now started going to Thailand because daddy is allowing them to take some cheap Udaipur-Bangkok direct flight. And some of these kids were from Hindi-medium schools but they'd be chatting about the latest Gossip Girl episode that they'd watched. So the world is a bizarre space but you need to understand that. Once I get the script under my skin, then I go into the space. My only concern is that they can't be any false notes. And if I don't believe what I'm making, then nobody will.
Considering you had wanted to work with Irrfan for a long time, what was it like to direct him?
It was magical. I've never had that experience in my life. I've had the privilege of working with a lot of high-calibre actors, but this guy is a different beast. What he brings to the table is way beyond your expectations and then more. You're so happy with your take and all you're doing is just keeping him on the path, so that he doesn't steer off from where the graph would be. But the fact is that when you see the footage, you see a hundred more things that he's done. Irrfan just does so much even when he's doing nothing. I've not seen anything like it before.
This was the first film he did after a long period of illness. What were the first few days like?
We have a very good relationship. He thinks I'm some eccentric, mad Parsi and that I have absolutely no filter. That's also I think what he loved. We didn't tiptoe around what the issue was... he was doing treatment while we were shooting. We tried to keep the shifts a little shorter than the usual duration. I wanted him to be comfortable. We laughed, cried and got frustrated about his illness but there was never any pussyfooting around it. There was a truth which made him comfortable at some level, and kept it all very real. I think that filtered down the whole crew as well. Irrfan's spirit and resilience is so unbreakable that bizarrely we were feeding off his strength rather than the other way around.
It was just such a special experience and such a special journey for everyone involved. I know what he was sometimes going through between takes but when that camera comes on, there is not a false note. It's just like watching magic happen.
He also told me that he's seen a different way to live. We get so caught up with these identities, where we identify as this kind of person or that, as Irrfan Khan the actor or Irrfan Khan the person. He said that he's just Irrfan Khan the human being who's now realised how beautiful life is. And how we waste time on such trivial things and complicate our lives while thinking we're doing such great things. All that started becoming the whole atmosphere, the whole journey started becoming that. We realised that when we can laugh, when we can have a good time regardless of the circumstances, why wouldn't we do that? And that's exactly what we did and we had just the best time ever.
We believe this film is a huge departure from your previous films. How?
Just in terms of how I approached it. I used to be extremely anal and finicky about aesthetics and I'd get frustrated if an actor couldn't draw out a certain performance. I'd bother about things that weren't in my control... if the sun was setting and I was losing light. And I suddenly realised that we're just telling a story, we're just making a movie. It'll come, it'll go. But let's make this the most beautiful memory we can have because that's all we'll have left of it. And that's how we went ahead with it. I don't know how this movie happened, it just did.
This movie changed you in some way, then?
Big time. It's made me a better human being; it's made me lighter in everything and in the way I just look at it all. And it's not like I ever took myself seriously, but now I think it's become even more frivolous... this whole existence. It's beautiful, it's a nice, light way of being.
The one constant through all your films has been the casting of Dimple Kapadia.
Just the other day, she had come to the Maddock office (the producer of the film) to meet some other director but she sat in my cabin and we chilled for about three hours and the bloody hog ate my lunch! (Laughs) And I told her about all these people who were asking me if Dimple Kapadia is my lucky mascot. How to tell them that she's not but if I don't cast her, she'll kick my arse and that it's purely out of fear that I put her in all my movies!
What's the story about shooting an audition video for her for Christopher Nolan's Tenet?
(Laughs) I had finished the schedule in Udaipur when she called and said I'm taking her for granted and that I had to tell her about the character she is playing in this film. I felt bad and went over to her home that evening thinking that I'll show her rushes from Udaipur and take her through her character. As soon as I opened my laptop, she slammed it shut and said she doesn't care about all that. She then said I needed to take her audition. And I'm like, 'For what?' From 4.30 till 10.30 at night, I was sitting like an assistant, shooting her for various versions of this audition. She even dragged (director) Rahul Dholakia in! I remember shooting in Mumbai when she called me and said, 'I got it, but don't tell anyone'. And I was over the moon for her.
Do we see you again in about six years?
No, you'll see me next month if you are willing to jump into the ocean! (Laughs) I don't know where but I'll definitely go because I've been learning free-diving, which is without tanks. And I definitely want to go chasing some whales now, before we screw that up also and there aren't any left.