We are family
t2 catches up with Swastika and Santu Mukherjee on a rare daughter-dad day out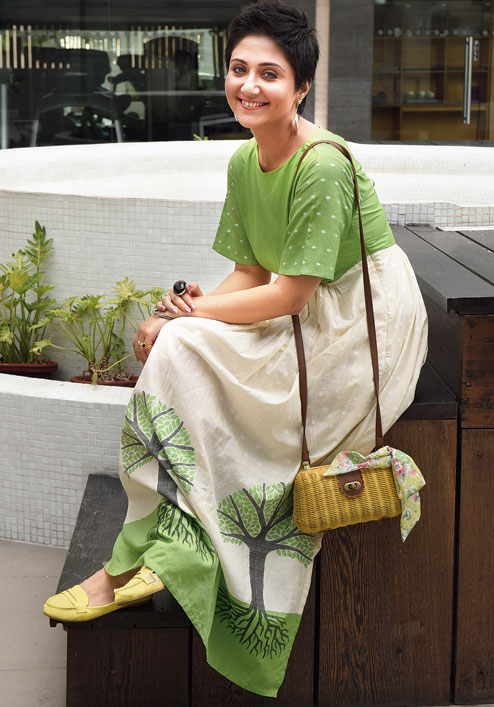 ---
Published 02.06.15, 12:00 AM
|
---
Th
eir common love is films... and food. On a hot Saturday afternoon, Swastika Mukherjee sat down for lunch with father Santu Mukherjee and sister Ajopa at The Bridge, The Park. Over fish fry, chicken steak, soup and salad, the trio talked about their recent release Family Album (directed by Mainak Bhaumik), being a close-knit family and coping with the loss of a loved one (Swastika's mother passed away on May 17).
This is the third time you are playing dad and daughter on screen...
Swastika: We had done Brakefail and Partner together.
Did you find any similarity between your family and the one in Family Album?
Santu: There's no resemblance because the kind of relationship I share with my screen wife (Anuradha Roy) in Family Album is very different from the relationship I had with my wife (Gopa).
Swastika: Yes. My character Moitreyee (Swastika) is neat and tidy and keeps everything in order and I am just the opposite. The biggest tragedy that Ma has left us with is that none of us can find anything in the house. She was the one who kept everything in place. Getting dressed and coming for this interview was a task because I couldn't find anything. I have seen today's generation, like some of my friends, don't share too much with their parents, as shown in Family Album. But Ma was a bigger friend than a mother. Whether it was men, break-ups, fights, anything peculiar or weird, she would be the first to know.
How different is it to play daughter to your dad on screen?
Swastika: I was a little more concerned about whether his lunch had arrived on time, whether the AC was working or whether he was made to wait for too long. There's a breakfast sequence in Family Album where Baba is screaming at Ronodeep (Bose), who plays my brother, to take off his headphones and I laughed at the way Baba said his dialogue because that's how he screams at Mani (Swastika's daughter)!
Half of the Mukherjee family is in the film...
Swastika: Ma was very upset. She would say, 'Mainak could've given me a small role of a friend's mother at least!' Because except Ma, Mainak has cast each one of us, even Mani in Take One.... Sad that she won't be able to see the film.
Which is your favourite dad-daughter scene from Family Album?
Swastika: There aren't too many. We must do a film based on dad-daughter dynamics and Mainak should direct it!
Santuda, which is your favourite Swastika film?
Take One (directed by Mainak Bhaumik). She has done exceptionally well. My younger daughter Ajopa is also there in Family Album and she doesn't act. She is what she is at home! (Laughs)
Swastika, how's your relationship with your father? Is he strict or lenient?
Swastika: He was very strict when we were in school. We had to be home by 6pm and he hated us in jeans! The first time I ever wore jeans was in 2002! But now he has become very chilled out.
Santu: They were under control till then. Now... (Everyone laughs)
Swastika: Baba freaked out one day when he saw me in a backless choli! He said, 'Have you lost it? You forgot to wear a blouse with the sari!' I said, 'Baba, I'm wearing one.' And he started cribbing... (Laughs) He is finicky about what we are wearing, but he is very professional too. When I did a bikini shoot for t2, my friends' parents called Ma and said, 'Hide the newspaper from Santu'. Ma used to react at times, but Baba was always okay with work-related stuff.
Ajopa: And whenever she goes through a break-up, she goes to Baba, hugs him and cries! Di is basically a bhonda (fool)! We are a cool family. We actually smoke and drink together.
Santuda, when was the last time you scolded Swastika?
Swastika: Ask him when was the last time he got a scolding from me!
Santu: Yes, now it's just the opposite. And now that my wife passed away suddenly, there's nobody to team up with me. (Smiles)
Swastika: But we are a very close-knit family. We hold on to each other during good times and bad times. It's not sinking in that Ma is not there. I have made myself believe that Ma has gone for a vacation and will come back one day. Maybe I will slowly step into Ma's shoes and take on more responsibilities and be less clumsy.
What's your favourite together-time like?
Swastika: We like watching cricket and news together. He is hooked to the daily soap Chakravartin Ashoka Samrat on Colors.
Santu: I just want her to be around. I like it when both my daughters are home.
What's your favourite drink?
Swastika: Baba loves whisky. I am all for red wine and beer.
Santuda, is there anything you want to change about Swastika?
Santu: No. Everybody should live life on their terms. I have lived my life the way I have wanted to. Why won't she?
Contrary to her image, is she a doting, dutiful daughter?
Santu: Definitely. She may be a bohemian, but she is very dutiful.
One thing you don't want Swastika to do on screen...
Santu: I wouldn't want her to go nude on screen or do bed scenes. I don't think Bengalis can take it.
Any advice that you would want to give her?
Santu: I have told her to keep calm. I have also told her to be shrewd in order to survive in our profession. You have to make people believe what you are not, otherwise you can't survive.
DAD-DAUGHTER DYNAMICS
One thing you like/dislike about each other?
Swastika: He is a no-nonsense man. I also admire the fact that he has been so loyal to Ma. He is always nice to people, something I dislike.
Santu: I like the fact that she does her work with so much sincerity. What I don't like about her is that she is a khepi! Not that I dislike it but it makes me worry about her. I won't be there for her always and I'm worried about what will happen to my daughters. I know such thoughts are baseless.
A memorable gift you've given each other...
Swastika: He's never bought anything for anyone ever! Ma used to do all his shopping. Only once did he pick up a sari for their anniversary which Ma could never wear because it was a shocking yellow! I wear it now.
Santu: Everything, even this shirt is a gift from her.
A question you want to ask each other?
Swastika: Why do you go on watching news all the time?
Santu: I have a question but I won't ask her because I know what her answer would be! And it's too emotional.
One thing you want to do for your dad that you haven't got the opportunity yet...
Swastika: I want to take him to Egypt. He has always wanted to go there.
Santu: Not anymore...
Which is your favourite dad-daughter film? Tell t2@abp.in