'We agree that people can disagree. But please watch the film first'
The Telegraph chatted with Janhvi, Pankaj and first-time director Sharan Sharma over a video call on why the story needed to be told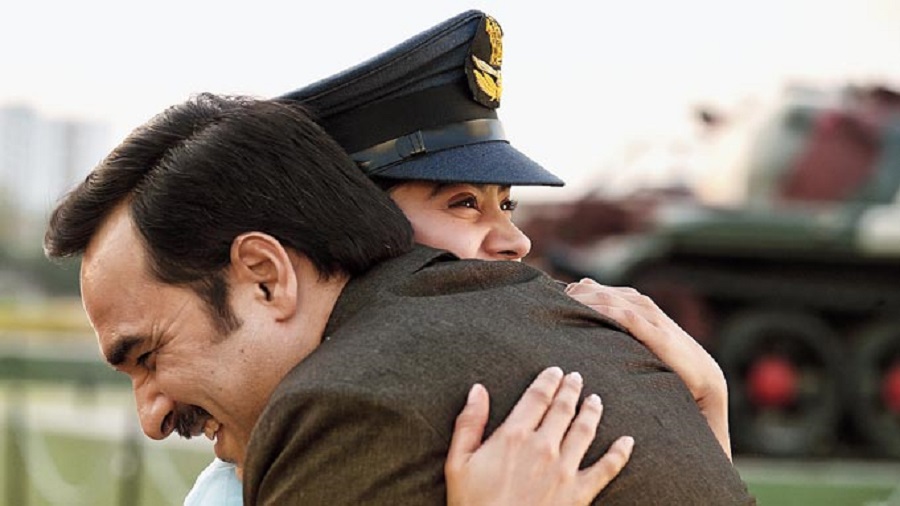 ---
---
Gunjan Saxena: The Kargil Girl chronicles the dedication, diligence and daredevilry of its eponymous shero, the first Indian female air-force pilot in combat who pulled off many heroic feats during the 1999 Kargil War. Bringing Gunjan Saxena's life story to the screen is Janhvi Kapoor, with Pankaj Tripathi, Angad Bedi, Vineet Kumar Singh and Manav Vij featuring in key roles.
The Telegraph chatted with Janhvi, Pankaj and first-time director Sharan Sharma over a video call on why the story of Gunjan Saxena (premiering on Netflix on August 12) needed to be told and how they are filtering out the unnecessary noise (cries of nepotism to Karan Johar being one of the producers) around the film.

Sharan, Gunjan Saxena is many films in one — a shero tale, an underdog triumph, a coming-of-age story, a film that depicts a beautiful father-daughter relationship. Did the life story of Gunjan Saxena naturally and organically lend itself to all these threads?
Sharan Sharma: Gunjan ma'am's life story naturally created the path that we needed to follow. Our brief, when I was writing this with Nikhil Mehrotra, was, 'Let's not be too creative with this film'. We've taken the beats, the journey and the soul of Gunjan ma'am's life and built the film around that. We were fortunate to have access to Gunjan ma'am who has been a big part of our writing and film-making journey. There was a lot of coordination with and dependence on her to build this story from her life.
We've obviously taken some cinematic liberties because we were clear from the beginning this is not a documentary but a commercial Hindi film. Ma'am really bought into what we were making. Intention is very important for a film-maker and she was on the same page with us in terms of the intention of what we wanted to do with her story. Gunjan ma'am's outlook towards life and her dynamics with her family really laid the path for us.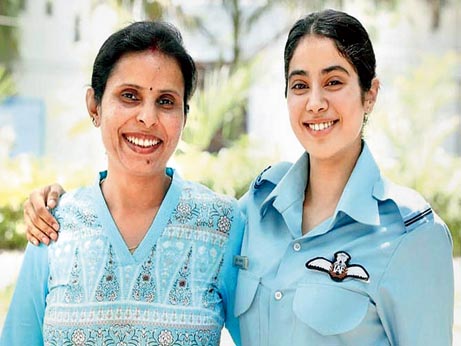 Janhvi and Pankaj, why do you think this is a story that needs to be told?
Janhvi Kapoor: I think it's a story that is extremely hopeful. I took away a lot from it and I think there is something for everyone to take from it, whether it's parents or daughters or men... even on a human level, you know. It teaches you the importance of hard work, of self-belief and of being hopeful. More than anything, the importance of not judging things and people by their cover and for accepting others for who and what they are.
Pankaj Tripathi: Mujhe lagta hain ki Anup Saxena jaisa baap aur Gunjan Saxena jaisi beti iss duniya mein hone chahiye. If we have more of their kind, then the world would be a much more beautiful place to live in. Main khud chahunga ki main Anup Saxena jaisa banoo and more or less, main hoon bhi waisa. Yeh ek zaroori kahaani hain, especially in the early '90s when it was an even tougher time for women to break into a male bastion.
Even today, we have people saying, 'Arre, ladkiyon ki tarah rota hain'... jaise ki rona sirf ladkiyon ka kaam hain. We need to get rid of these gender-driven blocks and this film, without being preachy, says it beautifully. It says, 'Plane ladka udaaye ya ladki... dono ko pilot hi kehte hain'.

The father-daughter relationship in the film is extremely relatable. How much of it did you draw from your own filial ties and how much came from the chemistry conjured on set?
Janhvi: I think it was a combination of both. I have been fortunate to have a very supportive father (Boney Kapoor) who believes in me more than I believe in myself, I think (smiles). I know what it feels like to have a progressive and supportive father. Apart from that, I idolise and admire Pankaj Sir a lot and it's been my dream to be able to work with him. I actually took a mannat so that he would say 'Yes' to the film... that's how obsessed I became with the idea of working with him! (Laughs) I really do look up to him and he's been an immense support on set. His confidence in me often made me feel, 'Okay, maybe I am not so bad... I will be fine, I think' (smiles).
Pankaj: The script apart, an actor will invariably draw on his life experiences. Whenever I play a father on screen, a lot of the elements of the relationship that I share with my daughter (Aashi) make their way into my portrayal. Ismein toh itna aaya hain ki shayad agli film jismein mujhe Janhvi ke saath kaam karna pada mujhe apne aap ko reboot karna padega. Agar kisi film ya scene mein mujhe usey dhamkaana ho toh main nahin kar paaunga... itna judaav ho gaya hain Janhvi se (Janhvi laughs). So yes, it's a combination of both.
After watching the film, Boneyji and I had a conversation... real pita aur reel pita ke beech. There was so much warmth in the conversation... I completely understood what he was saying and he totally got what I have done in this film. It was a beautiful moment.

Sharan, how involved was Gunjan Saxena in the making of the film? I just read somewhere that she was the one who taught Janhvi how to salute in the film...
Sharan: Gunjan ma'am was our creative supervisor on this film... she really gave us the time and guidance that we needed to bring in that authenticity and integrity to the writing. She was there at every step... when I had a 10-pager ready, the first half, the second half, everything. She helped us with the language needed in the cockpit, the technical jargon spoken. Sometimes, I would go on recces and send her pictures asking, 'Ma'am, does it look like what it needs to be?' She helped Janhvi a lot through the body language training.
You just brought up the salute and I do know that we have been getting a little bit of flak for it. I spoke to Gunjan ma'am about it this morning and she's the one who taught Janhvi that. Actually on March 7, 2006, the rule changed to the 45-degree salute and that's what we followed in the film. We've tried to be as authentic as possible, and she was totally involved... she saw the edit, she saw the trailer first and she's seen the film. I call her every other day and we constantly chat about the film. She's given us the courage to go out there and make the film fearlessly.
Janhvi, what went into playing Gunjan? Everything else apart, it's evident that there was quite a lot of physical prep involved...
Janhvi: For the first half, I had to put on some weight. That was a very fun process because I was eating everything! (Laughs) I had been on a diet for quite some time and when I started eating so much, I realised that I just wasn't putting on any weight. It became a problem because we were inching closer to shoot and I wasn't putting on weight as fast....

In the real world, that would be a good problem to have...
Janhvi: Yeah, I know, right?! (Laughs) I was very happy, but then Sharan started giving me stress! We somehow got to a safe place with my weight and after that, I had a month-and-a-half to lose that weight and to build my strength and stamina. We did the march-past, the weight training, the obstacle course training.... I had to run in a way which didn't look flimsy. I had to build on my core strength... learnt how to salute, doing saavdhaan-vishraam and all that.... I really enjoyed the whole process because the kind of person I am,
I would have otherwise never had the opportunity to learn these things or get to be in this kind of an environment. It was a very fun process.
Sharan, this must not have been an easy film to shoot, especially with the combat scenes in Half Two...
Sharan: To be honest, no film is easy to shoot. I have worked as an AD (assistant director) on romantic films and fun films and every film is tough to make. When one directs a first film, then everything is a challenge, everything is a fresh problem that's waiting to be solved (smiles). We had a set of challenges that we tried our best to overcome. For example, a film like this requires a certain scale within the film, but obviously, there is a tightness of budget and we had the immense faith of a producer like Karan Sir (Johar) who gave us the freedom and facilities to work with some of the best technicians in the world so that we could tell this story in the best possible way. We had the standard difficulties of film-making, but nothing exceptional as such.

Sharan, wouldn't you have liked to see your first film on the big screen?
Sharan: Janhvi and I have spoken about this in the past... things like why do we want to do what we do. And the joy of the process is the real reason to be here. Of course, we started off with the idea of making a theatrical film, but there's a pandemic out there and I only look at this as an opportunity that we have an amazing partner like Netflix to use its platform and tell this story in 190 countries. To watch it safely is of paramount importance now. To be honest, I am just a first-time film-maker who is excited that I got a chance to tell Gunjan ma'am's story.
Janhvi: I think it's a blessing, honestly, to have the film release on such a global platform. We are still reaching a wide audience and I am very happy.
Pankaj: Yeh toh bahut achhi baat hain. Bahut baar hamari filmein aati thi aur Jalpaiguri mein baithe huye mere phupha nahin dekh paate thhe. Woh mujhe bolte thhe, 'Aati hi nahin teri film pahaad mein' (laughs). Now with streaming platforms, a film is literally in your pocket. In terms of reach, it's huge. I have had releases on OTT platforms before.

There's been some noise and trolling around the film, calling for a boycott of sorts. Sharan, as a debutant director, how much does that dishearten you?
Sharan: To be honest, it is what it is. The choice is in my hands whether I want to get disturbed or not. I am no one to judge anyone else's opinion. Let everyone have their opinions. I am still very hopeful that people will watch the film and they will watch it with an open heart and an open mind (smiles).
Pankaj: In a democracy, even in order to have disagreement, there has to be agreement. People should watch the film first and then decide whether they agree or disagree with the film. Aapko pataa hi nahin hain ki film ke andar kya hain aur aap pehle se disagree kar rahe ho. We agree that people can disagree. But please watch the film first.

To end, we are at a time in our lives where we can't hop on a plane and fly off to wherever we like. When this ends, where would you like to catch a flight to?
Janhvi: I really want to go to Tirupati. I go there every year around this time.
Pankaj: Mujhe gaon (Belsand in Bihar) jaana hain. Main apne parents se chhay mahine se nahin mila hoon.
Sharan: For me, this was meant to be the year of travel! I had planned to go back to my college in LA, I wanted to go to Africa for a safari and I wanted to end the year and watch the T20 World Cup in Australia... but here I am! (Everyone laughs)

Which is your favourite shero story on the Bolly screen? Tell t2@abp.in
Chak de! India turns 13
Chak De! India turns 13 today and its writer Jaideep Sahni revisits the film that altered the paradigm of the underdog story in Bollywood and is often considered as both generation and genre defining.
"I had wanted to tell this story for a few years. So, when Adi (producer Aditya Chopra) asked me after Bunty Aur Babli what I wanted to do next, I told him that I wanted to do this film which could somehow form a bridge between the world of women athletes and the rest of the country. As I told him more about what I'd seen and felt, he agreed that it was a shame that not enough people knew about this world, and also that it could make a really great film if we got things right," says Jaideep about the Shimit Amin directorial that is considered one of Shah Rukh Khan's best films.
Jaideep is happy that Chak De! India became a milestone moment in Indian cinema. "Sometimes people say that Chak De! was ahead of its time, but I don't know how to judge that. It's just that as audiences, we get too busy in our daily lives and forget how happy something new can make us if we give it a chance, and as storytellers, we are always under pressure to be entertaining, which can impose an artificial ceiling on our choice of subjects. But subjects are always bigger than the storytellers and if we respect them, they gently show us the way," he says.

Finishing Unfinished
Priyanka Chopra has used the last few months to finish her memoir that's ironically titled Unfinished. A collection of personal essays, stories and observations, the memoir, according to sources, will make the 'desi girl' "open up like never before". So why is it called Unfinished? "Because there is so much I want to do with my life. And because I haven't written it yet. It's continuing to be finished," Priyanka had said sometime last year.
PC, who is set to star in a few Hollywood projects, has used the quarantine to also develop some shows and movies. "It's been a creatively sound time, besides being absolutely strange," she says.