Vidyut Jammwal's search for India's Ultimate Warrior
According to the actor, Discovery's new show will put contestants in situations where they are not comfortable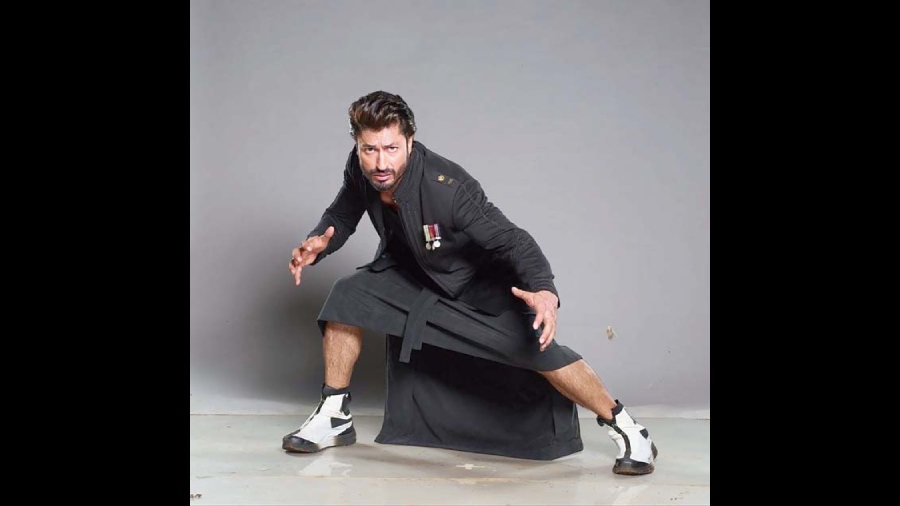 Vidyut Jammwal as the Dojo on India's Ultimate Warrior
---
Published 30.03.22, 05:12 AM
|
---
It's been about six years that I've been to Calcutta. I must go there to promote Khuda Haafiz (Chapter II — Agnipariksha). That's the best way to visit a city — you get to meet people," Vidyut Jammwal promises when The Telegraph asks him when his last visit to the city was. For now, he is a Dojo master looking for India's Ultimate Warrior in Discovery's new show, now streaming on Discovery+. On the show, Vidyut commands a fight camp along with four mentors, each of whom is training four students.
You look chiselled as ever on India's Ultimate Warrior. Did you stay in shape all through the lockdown?
Whatever shape I am in, I am happy. I try to maintain my discipline as much as I can and accept the results. You could be big or you could be trim, as long as you are happy that's what matters.
You use this #ITrainLikeVidyutJammwal on social media. What's that about?
There are two kinds of people — one full of fear and another wanting to get rid of fear. The second are the ones who get the tag. Anybody who has done something that he has never done before, like lose 30kg, I gift it to him. I have distributed 15 lakh T-shirts (printed with the hashtag) over six years. It's not something you can buy from the market. You have to earn it. I recntly met a girl who had a phobia of closed space. I asked her to spend some time to understand the phobia. She got out of it. Such achievements I think deserve appreciation.
How do you motivate your fans, the Jammwalians?
I keep surpassing my own limits so people see it can be done. For example, recently I went to Kashmir. On a hilltop, I buried myself in snow in old yogi parampara. That is what #ItrainlikeVidyutJammwal is about — put yourself in a situation and see how the body reacts to it. If you have a fear, confront it. There is something else I have — #ILiveLikeVidyutJammwal. In the morning, when I wake up, I don't know whether I will use my left hand or my right hand to brush my teeth. I have trained myself to use both equally. That is because for a month I had used only my left hand, and then for a month only my right hand.
Are challenging oneself and overcoming fears a part of your show India's Best Warrior too?
Yes. We put them (the contestants) in situations where they are not comfortable. For example, one of the strongest men was asked to climb 30km up the mountain in the quickest time. He realised being strong is not just about being big and being able to carry heavy loads. What kind of grind are you putting them through?
It is more mental than physical. We put people in situations which they have no idea if they can overcome or not. We make them face their fear, guide them through it and let them feel success. The competition is not about coming first, second or third but who overcomes the maximum number of fears.
How many participants are there?
There are 16 — four girls and the rest boys. This is possibly the first show in the world where girls were allowed to fight guys. And girls were supposed to fight like girls. These women believed that nothing could happen to them. Surprisingly in every such bout, whether it was a bodybuilder fighting a girl or a boxer fighting a girl, the girls won.
You also had Akshay Kumar coming on the show. How did that episode go?
He is one of the biggest exponents of martial art in India and there could be no one better than him to bring as a surprise guest. He was fun, inspirational and amazing with all the participants and mentors.
Had you watched Khatron ki Khiladi, the stunt-based reality show that he hosted for a couple of seasons?
I have watched every show that Akshay Kumar has done. I admire his skills.
You have four mentors, three from abroad and one Indian. Did you assign contestants to the mentors based on the former's English-speaking skills?
No. There is never a language barrier if one wants to learn and the other wants to teach. I was the master and I was supposed to give love to all 16 contestants. We got the best from across the world as mentors. We have one from India, who has got the title of Shifu from the famous Shaolin Temple of China, a retired US Army Special Forces officer, a girl from Texas trained in Muay Thai, one of the hardest martial arts, and an Australian former rugby player who was deployed in Iraq and Afghanistan as part of the army.
One of them, Mykel Hawke, also created the popular Discovery Channel survival reality series Man Woman Wild. Did you take help from the mentors in framing the tasks?
Yes. These guys have been involved in real wars. It was great to hear them talk about their ideologies to their students. They taught the participants about discipline, determinaton and focus other than fitness. They don't teach these things in school.
Where did you shoot?
In a jungle in Pune. We were there for 12 days.
The contestants must have come back battered and bruised!
...but full of knowledge. That price was nothing to pay for that gain. That's why the warriors were profuse in thanking everyone. They could see a change in themselves. We too saw that their limitations were in their head. Of course, because of the format, we had to choose a winner. And we chose the best in terms of focus, determination, discipline etc.
Will the show become an annual affair?
That's what the plan is. We have got eight lakh entries for the next season. People want to experience the process, they are messaging me or Discovery. It is not a regular reality show where you are asked to do some physical activities. It is more of a mental test than physical. It changes lives.
What comes next from you?
I have Khuda Haafiz (Chapter II) coming, for which we are looking for a release date. The first chapter released on Disney+Hotstar. This time we will release in the theatres. I am also shooting for my first home production IB 1971, the first movie in India about the secret service, that is the Intelligence Bureau. I am producing it also. It is set during the East Pakistan (Bangladesh liberation) war.
Why did you turn producer?
I have been working for 10 years now. Every time I am on a movie set, I feel I would like things to be better in certain ways. I could see the loopholes. So I thought why not produce content I believe in and with people I believe in. Many have not got a chance despite having talent. I was one of them. This is a good time to give back and to work with those who have potential.
Meet the Mentors SHIFU KANISHKA, 43 years
Bollywood action choreographer Shifu Kanishka spent 32 years training in various martial arts and created his own system called Shifu Kanishka Combatives. He is the first and the only Indian to have gained the title of 'Shifu' from Shaolin Temple China and the first Indian to introduce the Kali Tactical Combat System to the Law Enforcement Military and Special Forces. He is also the first Indian to bring the deadly combat system of Pekiti Tirisa Kali to the country.
MYKEL HAWKE, 55 years
A Former US Army Special Forces officer, the author and television presenter has been awarded black belts in Aikido and Judo. He is a combat veteran who has fought rebels and trained UN peacekeepers in war-torn Africa and did combat search and rescue missions during the drug war in Colombia
SHAUN KOBER, 35 years
Australian native Shaun is a Rugby player, who has represented his country in a defence-force world cup and has captained two states of Australia in national and international rugby competitions. He enlisted in the Australian army at the age of 20 and survived three deployments in Iraq, East Timor, and Afghanistan.
BI NGUYEN (Killer Bee), 31 years
Texas-based Killer Bee is trained in Muay Thai, a form of kickboxing, using fists, elbows, knees, and shins. In 2012, she took her first self-defence class and began to regain control of her life after being in a long, abusive relationship. She coaches at heavyweight champ Lou Savarese's gym.