Vidyut Jammwal plays a common man pulling out all the stops — and breaking a few bones along the way — to rescue his wife (played by Shivaleeka Oberoi) from a human trafficking racket in Khuda Haafiz, streaming on Disney+Hotstar from August 14. We chatted with Vidyut on the film and why he shouldn't be messed with!

What were the triggers to play Samir in Khuda Haafiz?
First, that it's a true story. I've never been offered a true story before. It's based on an episode that my director Faruk Kabir read in a newspaper. He also met the couple involved. It's the journey of a common man to get his love back. It will be a great change for the audience... they haven't seen me vulnerable in a film before.

Is Samir anything like you?
Samir will kill or die for love, and I would do the same. There are many dissimilarities too. It was difficult for me to play him because I had to completely unlearn everything I had trained for all these years. Samir couldn't fight like that. He's an engineer, has never got into a brawl. The only time he has to fight is when he has no other option left. So for me to journey from a trained martial artiste to a completely untrained fighter was quite difficult. There were times when the director had to say, 'Vidyut! Vidyut! Vidyut! You don't know how to fight!' (Laughs) And I was like, 'Dude, I forgot!' It was like trying to teach someone to balance, but through the method of complete unbalance. I know the Drunken Master style of fighting, prevalent in India and China, where if you fight with a drunkard, it's almost impossible to bring him down because you can't connect with his movements. That kind of training helped me in Khuda Haafiz. Though it was completely out of my zone, I really enjoyed it.

There's also a perceptible change in body language...
Everything, ya. The whole demeanour had to be changed. This guy has never even got into a fist fight, and those who don't fight at all, you will find that their whole body structure is different. Honestly, I had gone through the character so many times in my head
that I actually became him. I just had to understand the pain he's going through. If someone close to me was going through a situation like this, even if I didn't know martial arts, I would kill to save the person, right? That's what this is about. It's about, 'Dude, I will do anything to get my newly married wife back'.
It's about our natural instincts as human beings. I once read an article about a mother driving a car with her kid and it toppled. The mother actually picked up and turned the trawler around. Those are the emotions I experienced on this.

You've just become a part of a global list of 10 people in the world one shouldn't mess with...
Oh, dude! (Laughs) I saw the list on social media and it said, '10 Men In The World You Don't Mess With'. I saw the cover picture and it had a monstrosity of a human being and I was like, 'There must be some very crazy people on that list'. And I moved on, I didn't read it. Three days later, a fan tweeted saying I'm part of the list. I saw it and I was like, 'Wow, this is very cool'.
The funniest thing was that I sent the list to my mum. She went through it and she was like, 'You are the weakest in this list! You are so thin! You don't eat food! How come you are on this list?!' (Laughs)

Moms will be moms!
I know! Moms will never change, dude! I took a millisecond pause and I was also a little irritated. It always happens with her. There will be a picture of mine that the whole world will love and she will invariably be like, 'No! Your cheeks are too thin!' (Laughs out loud) Finally she did say she's proud of me, though (smiles).
I remember she watched Commando 3 and came out of the theatre and called me to say, 'You did a great job, you've proved to the world that you are better than everyone else. Now you should stop and do something else!' (Laughs) Moms, I tell you!

Who do you not want to mess with?
That's changed now! My friends can actually call up people and say, 'Don't mess with us! We know Vidyut Jammwal!' (Laughs)
Now the tables have turned.

What's commendable is that you engage with your fans on a regular basis on social media. Were you always like this or have you evolved to this stage?
I am very good with the human body, but not so much with technology (laughs). I started helping people with my healing sessions through my social media platforms — I helped with mobility and lung and liver cleansing — and when I would give 'Jammwalions' (that's what Vidyut's fans are called) a task on social media, I saw that people from even some of the smallest towns in India, some of which one wouldn't even have heard the names of, started responding with videos of things that they were doing exactly like me. That's when I realised, 'I need to tell these guys that they are awesome'. I realised that our country really has so much talent because the kind of things I normally do, very few people can. It was important for me to highlight and congratulate these guys because in the past, I have also been helped in a similar manner.

Doesn't that put a lot more responsibility on you?
If I start acting responsible, I will start pretending. This is my take. I do things that are very risky. But I haven't ever said, 'Please do so at your own risk'. You have to give these disclaimers, otherwise you can be sued. But I was like, 'I have done these things because I have been inspired to do so'. So those who do it, have the germ within them. Who am I to tell them not to do it? I started putting some videos out and then I got a few legal notices also. But I was like, 'I will not stop people from trying to do what they want to do'.
I did a bottle balancing stunt recently and I got videos in response from all over the world... easily a lakh videos. My responsibility is that everybody should be responsible, sensible, they have a choice and they should do whatever their brain feels. Otherwise you will be limiting yourself and also be limited by people.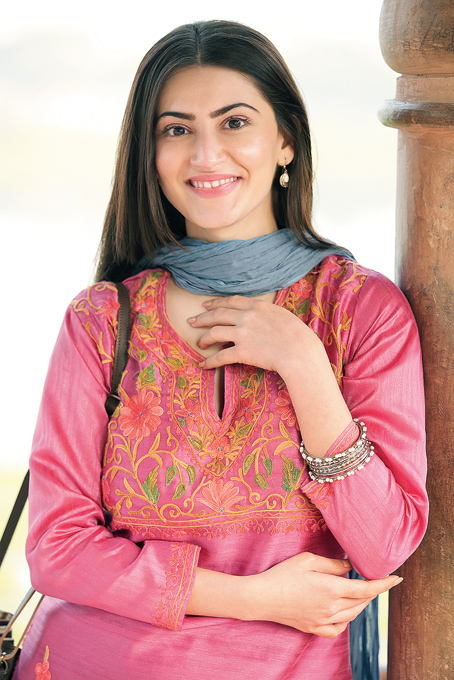 Shivaleeka Oberoi as Nargis in Khuda Haafiz Still from the film
Shivaleeka Oberoi, who debuted with Yeh Saali Aashiqui in 2019, stars opposite Vidyut Jammwal in Khuda Haafiz
The road to Khuda Haafiz
I've been an assistant director on films like Kick and Housefull 3. Right after my debut film (Yeh Saali Aashiqui) as actor, I started auditioning for roles. I came to know that the casting for Khuda Haafiz was happening. I got excited by the script because it's a real story and that's something I always wanted to do as an actor. I gave the audition and a couple of look tests. I bagged the role of Nargis and we did a couple of readings and went into shoot.

Being Nargis
Nargis is quite different from how I am. I am happy-go-lucky, very bubbly. She's very calm. Faruk Sir (Kabir, director) would keep throwing words like 'thehraav' and 'nazaakat' and say things that her eyes speak more than her words.... She's a girl next door and her family means a lot to her. My family, too, means everything to me. She's very relatable and I fell in love with her. She doesn't show her emotions easily, but when she does, it's dictated by the situation she's in... there's a very good emotional graph in the film.

Working with Vidyut
I was always in awe of his work. I always saw him as an action hero, he's very dedicated... he wakes up at 5am. My fitness has definitely improved after I worked with him. He suggested I do yoga and that's something I have incorporated into my life during the lockdown. He's also very funny... he will crack you up all the time. He's extremely humble. He's been a great friend to me.

The road ahead
I generally go with the flow. I hope to do one or two films a year. During the lockdown, not many people have a
release, but we do. So I feel blessed.
I want to push my limits as an actor.