Vidya Balan leads the female brigade — comprising Sonakshi Sinha, Taapsee Pannu, Kirti Kulhari and Nithya Menen — of scientists in Mission Mangal, the dramatised version of Mangalyaan or India's 2013 Mars Orbiter Mission. The film — riding high on a lot of buzz — also stars Akshay Kumar and releases today. t2 caught up with Vidya for a chat on the film, the relatability of her character Tara Shinde and what makes her do the films she does.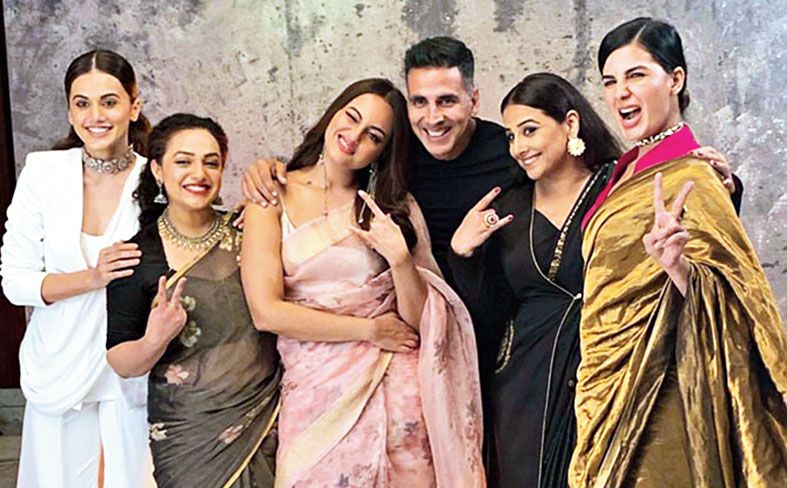 Vidya with her Mission Mangal co-stars — Taapsee Pannu, Nithya Menen, Sonakshi Sinha, Akshay Kumar and Kirti Kulhari (Promotion)
From the cast to the story to the pre-release hype, Mission Mangal has been making all the right noises. You must be on a high…
I have been really feeling the energy of this film. There is something about it. I've been feeling very good about this film from Day One. I am not thinking in terms of box office or numbers. There's some energy around it that's very strong… good energy, you know…. Even during the promotions, there's an easy, positive vibe that we all have been getting.
Those I have been speaking to, mostly non-industry people, have told me that this is the kind of film they want to go and watch in the theatre with an audience. Everyone's using the term 'goosebumps'… they say it's very 'goosebump-y!' (Laughs the Vidya laugh) It's such a historic achievement and there was a big hullabaloo around it when it happened, but like most things, after sometime the enthusiasm around it petered off. That's natural, given that there is so much happening globally on a day-to-day basis. I think this film will be a great way to remind people of this great achievement and the people who brought on this achievement and to celebrate them. And what better day than Independence Day to be releasing a film like this?
How aware were you of the Mangalyaan mission before you were offered the film?
This is the fourth film on this subject that I have been offered!
I was aware of Mangalyaan but the way it's been fleshed out in this film is wonderful. I realised what kind of insurmountable challenges the people engaged in this mission had to face. They overcame all odds and accomplished it on a ridiculously low budget for a space mission of this scale. On top of it, they were successful at the first attempt. This script details all of that beautifully. What really struck me the most regarding the script were two things — that it very successfully fictionalises the lives of these scientists to add drama to the film. Most importantly, the science in this film is simplified and has been made accessible. Honestly, I am one of those who gets bogged down when I walk in to watch sci-fi films. I am like, 'Whoa! I don't understand jack shit of this!' (Laughs) Sometimes, I walk out feeling so dumb! But this was the first time when I understood it all. That's because the theory in this film has been interpreted in a layman sort of way. I also like the fact that it's a human story told with humour. The scientists haven't been treated as unidimensional robots just working towards the mission. I think, all in all, this script really grabbed me, ya. It's one of those rare instances in my career when I said 'yes' as soon as the narration got over.
The trailer puts across your Tara Shinde as a goofy genius who could well be the girl next door. Was it also the relatability factor that hooked you?
Absolutely! The extraordinary emerges from the ordinary and that's why today you see an influx of such stories… real people like you and me going out and doing something which may well turn out to be extraordinary. Tara could well pass off as a regular woman and yet she was part of something so historic and so significant. But she doesn't wear that on her sleeve. There's a certain humility and rootedness to her that I love. She could be sitting next to you in the bus and you could have a regular conversation with her about how much you bought palak for and then suddenly you realise, 'Oh my god! This one has sent a satellite up to Mars?!' (Laughs) This is something that Jagan (Shakti, the film's director) had also told us. He said that we all have this idea that if someone is doing something important, they need to be dressed in a particular way. You can't be traditionally dressed in a sari or you can't be someone who hasn't blow-dried her hair. You can't be regular. That's what this film breaks and it breaks it because it only reflects the real people who were behind the mission. These people were rockstars… or should I say Mars stars? (Laughs)
There's a lot of female energy in this film. What was that like for you and did it enhance you as an actor?
I actually thrived in this female energy. My closest friends are all women and I enjoy female energy a lot. Film units have a lot more girls now, but I rarely get to work with female co-actors. This is the first time I have worked with co-actors who are all equally successful. What amazed me was that there was no sense of insecurity that you would expect when so many female actors come together. This is what we have historically been told, right? I think we are all very secure people. Also, we all submitted to this film, no questions asked. Full credit for that goes to our director. I was surprised and asked him why he had chosen such a tough film as his first. But he's had this script for three years. He had been developing it and then Akshay (Kumar) came on board and they developed it further. Jagan spent a lot of time at ISRO (Indian Space Research Organisation) getting technical know-how — his sister is in ISRO and was a part of the Mangalyaan mission. He's anyway of a scientific bent of mind and was passionate about telling this story. He was in command of the storytelling as well as the science part of it.
What kind of a space are you in when picking and choosing your parts are concerned? Right after this you get into prepping for the biopic of math genius Shakuntala Devi and there was also talk of a web series on Indira Gandhi…
I really hope the web series is happening, you know. It's a lot of work and at the moment, we are trying to put it together. Ideally, I wouldn't have wanted to make the announcement at all till all the work was done. I know that a series takes a lot of time. For example, the announcement for Sacred Games happened a few years before the show got off the ground. Indira Gandhi's life has so much material… to cut it down to what we want will take some time.
Honestly, me doing work in the web space depends on the content. I am commitment-phobic and so I panic a little when I am asked to spare four months or six months for a project. I have to really get my head around this, you know. Therefore, films are perfect for me.
Do you find yourself naturally gravitating towards real-life characters?
I just get offered a whole lot of them!
I am not really seeking any of those, but they have a way of finding me (laughs).
At this stage of your career, where do your priorities lie?
My priorities have remained unchanged for as long as I can remember. My work is my passion, but two other things are equally important to me — my family and the other is just me. I want to do various things in life… I just want to live a life so that when I come back on set, I wouldn't want my work to feel like a chore. I try and keep it at a pace where it doesn't end up becoming that. I like to spend time with my family, with myself, travel, just chill… along with doing work that excites me and keeps me going.
People ask me if there has been a change of pace and I say, 'No, not at all!' This is the pace I have worked at since 2008… one or two films a year. Except that last year I didn't have a release in Hindi because I ended up doing two Telugu films. The Shakuntala Devi biopic was in development and I have said 'yes' to two other projects also. Mission Mangal was the only ready script that appealed to me. It's as simple as that, ya. If next year, I feel like doing three films, I will do it. If I feel like doing no film, then I won't do any!