Sui Dhaaga belongs to Varun Dhawan
It is a spirited but predictable tale about tailor-made dreams in a small-town milieu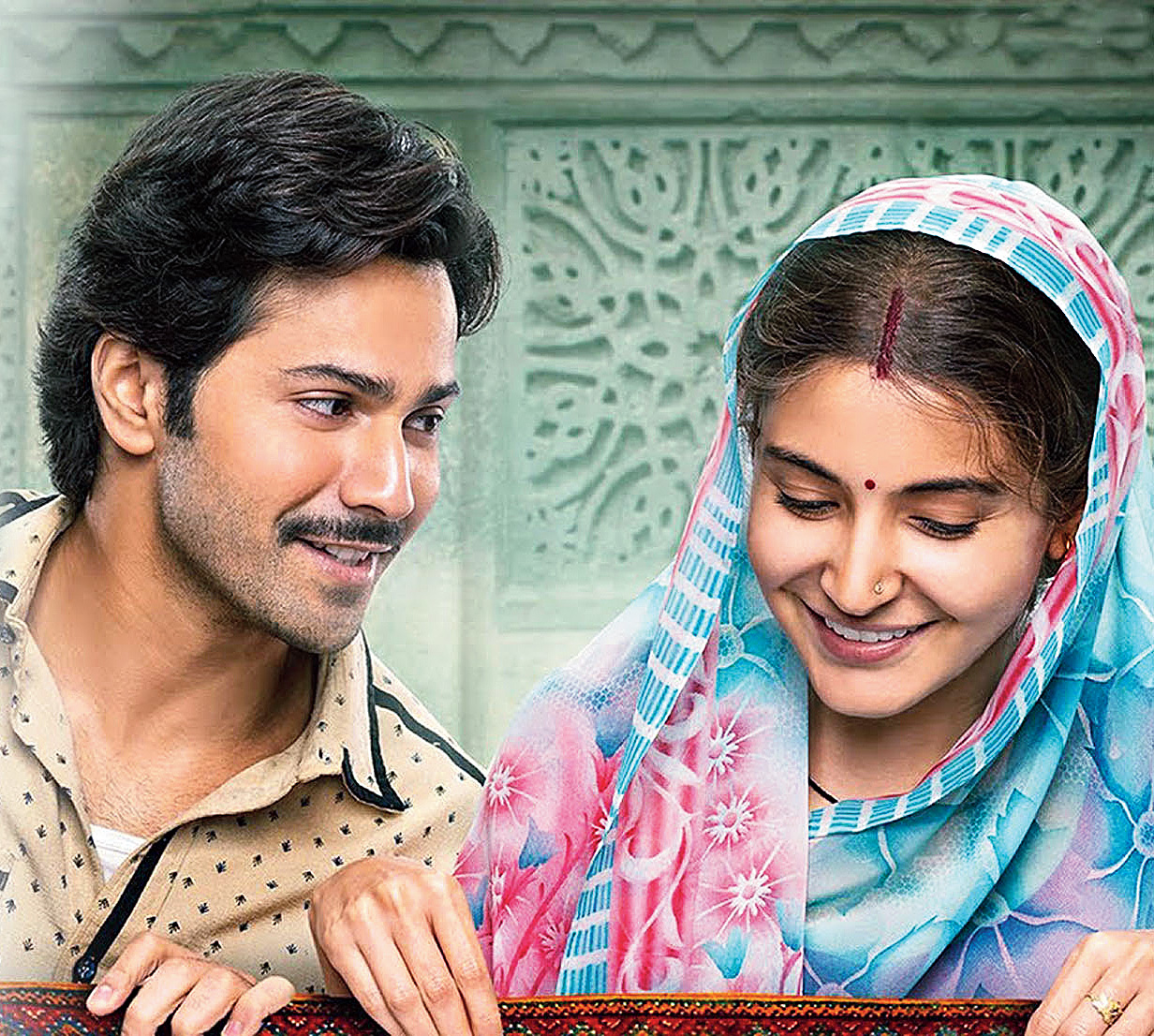 ---
Published 28.09.18, 03:19 PM
|
---
There is a moment right before Sui Dhaaga hits interval point. Mauji (Varun Dhawan) and Mamta (Anushka Sharma) trudge through dusty highways to enrol in a competition that could win them their own sewing machine. Bleeding from a cut in the foot as a result of a topple from his cycle, Mauji makes a pit stop at a clinic for treatment, with Mamta filling in for him at the queue. He takes longer than usual and the competition starts, with Mamta having no choice but to take his place. But unlike her husband, she is no expert at sui and dhaaga and breaks down at the thought of the opportunity lost. When she looks up through tears in her eyes, she spots Mauji, a smile on his face, limping his way to her. The scene — also seen in the trailer — may have become fodder for many a hilarious meme, but is memorable for the mix of triumph and hopelessness that's writ large on Varun's face — much like how Varun's Dan looked at Shiuli as he watched her slowly slipping away in October.
Sui Dhaaga belongs to Varun Dhawan. Whether he's play-acting as a dog to please his uncouth employer or being the dutiful son despite his father's constant taunts; whether he's ready to brave all odds to bring his entrepreneurial dream alive or quietly slips his hand through Anushka's when they score their first win. Like October's simple yet searing Dan, Varun doesn't miss a beat and makes you feel he's been Mauji all his life, a happy-go-lucky Everyman who believes "Sab badhiya hai", no matter what life throws at him.
Like his previous film Dum Laga Ke Haisha, director Sharat Katariya excels in conjuring up the small-town milieu. The houses look lived in, the conversations are real and relatable and the characters — from the pile-on neighbour who drops in for adrak ki chai at all times of the day to the slimy relative who palms off money in the name of doing a favour — are anything but cardboard cut-outs.
It is in this atmosphere that Mauji and Mamta — married for a few years, but never having got a private moment in their cramped tenement — go about the daily rigmarole of life. Mauji is mistreated by his employer, with Mamta remaining a mute spectator. When she breaks down one day at the humiliation, he chucks his job. The next step? The two get together to stitch their "Mad in India" dream, but like any underdog tale, this one has its fair share of ups and downs before its feel-good end.
Keeping it simple in the first half works for Sui Dhaaga. Mamta and Mauji are instantly likable and though Anushka doesn't effortlessly become a docile housewife in the first hour, she comes into her own in the second half. For if it is Mauji's skill that builds their enterprise, it's Mamta's business brain that takes it forward. She strikes bargains with gusto and fixes deals that bring in the customers.
Mamta and Mauji's love grows through shared cups of tea while burning the midnight oil to deliver an order on deadline, and Varun and Anushka bring in a quiet, naive chemistry that will make you break into a smile. Like Dum Laga Ke Haisha, Katariya also mines humour from the mundane — like Mauji's mother (a top-notch Yamini Dass) worrying about filling the family's daily quota of two buckets of water even as she's being stretchered to hospital; or that moment when a relative proudly gives the family a ride home in his car where the door needs to be manually prised open and fitted back.
Simple gives way to simplistic in Half Two. Mauji and Mamta's enterprise hits a few roadblocks, but they are conveniently and predictably taken care of; distrustful neighbours and a bickering family are won over in the course of a song and the climax — a little too melodramatic for a film where the texture and treatment are largely real — is a bit of a downer.
Anu Malik's music is pedestrian, except for the hummable Chaav laaga, but it's not a patch on his own soulful Moh moh dhaage from Dum Laga Ke.... Andrea Guerra's background score is a #win.
Sui Dhaaga may throw up no surprises but it is a watchable example of the power of the human spirit and dignity of labour. If you are looking for something more entertaining built around the theme of entrepreneurship, rewind to Band Baaja Baaraat.