Uunchai is predictable and has its pitfalls
But sometimes feel-good cinema is all that you need...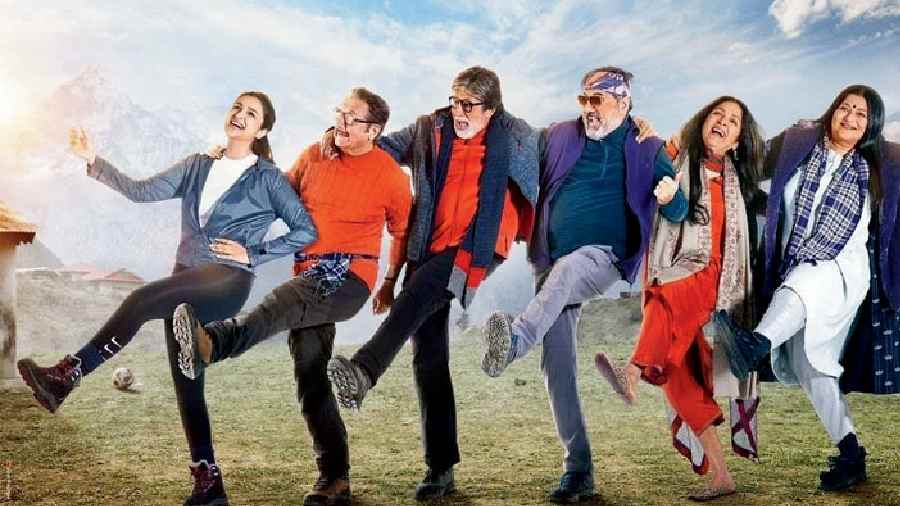 ---
Published 14.11.22, 01:43 AM
|
---
Do you have friends who would move mountains for you? Well, the friends in Uunchai climb one.
There are some films which have so much warmth at their core that they immediately make a place in your heart, and remain there, irrespective of stereotypical storytelling and saccharine sweetness. Uunchai, that tells a story of deep friendship, the importance of not letting age and inertia get in the way of one's dreams and that change is the only constant in life, makes a trip to the movies meaningful, easing out a laugh as well as teasing a tear.
Marking the return of Sooraj Barjatya to the director's chair seven years after Prem Ratan Dhan Payo, which starred his favourite Salman 'Prem' Khan, the man behind classics like Maine Pyar Kiya and Hum Aapke Hain Koun...!, now focuses on four friends, all in their 70s. None of them are named Prem.
Writer Amit Srivastava (Amitabh Bachchan), bookseller Om Sharma (Anupam Kher) and lingerie shop owner Javed Siddiqui (Boman Irani) suffer a jolt when the fourth member of their tight gang, Bhupen (Danny Denzongpa) suffers a sudden heart attack and passes away. The other three then decide that the best way to pay homage to their dead friend is to trek to the Everest Base Camp, a check box on Bhupen's bucket list that hasn't been ticked.
Apart from the premise being novel — one doesn't really get to see septuagenarians doing a Zindagi Na Milegi Dobara in our cinema — Uunchai follows the predictable beats of a Barjatya family film. There is the straitjacketed humour, the tick-off situations which focus on marriage, relationships, the fraught equation between generations, ageing, mortality and coping with grief. Some of it works, some of it doesn't. But Uunchai remains watchable for the most part.
The road trip, in itself, is vastly engaging. Even as it packs in some life lessons (a few quite clumsily, though), cinematographer Manoj Kumar Khatoi trains his lens on the beauty of a lesser-seen India. The three friends — accompanied by Javed's wife Shabina (Neena Gupta) and the mysterious Mala (Sarika) —  travel from Delhi to Kathmandu, via Kanpur, Lucknow and Gorakhpur.
In Uunchai, hinterland landscapes are explored for their beauty and not as hotbeds of crime and misdemeanour like we see in streaming shows these days that can be politely described as 'edgy'. There is also a fair amount of effort given to making the Everest trek look genuine. It is here that Parineeti Chopra pops up in a small role, not only serving as the guide on the trek but also illustrating the chasm between generations.
Even as it makes a case for being a rolling stone that should gather no moss, Uunchai is stuck in time. And at a running time of almost three hours, in which certain sequences are stretched unnecessarily and the film meanders for a long time in the middle, it really does test your patience.
Uunchai's strength lies in its ensemble, and though the script often tries to push Amitabh Bachchan ahead of his fellow actors, he is content to let the film take over, even when he's saddled with a backstory that lacks credibility in parts.
In the end, Uunchai has its pitfalls, but sometimes, feel-good is all that you need.
Uunchai (U)
Director: Sooraj R. Barjatya
Cast: Amitabh Bachchan
Anupam Kher, Boman Irani, Danny Denzongpa, Neena Gupta, Sarika , Parineeti Chopra, Nafisa Ali
Running time: 168 minutes