Twinkle Khanna talks about a year of Tweak... and then some more
'I am writing, that's all I can say. I have a penchant for just putting a manuscript away after 10 chapters and starting a new book, so it's difficult to commit to a timeline at this point'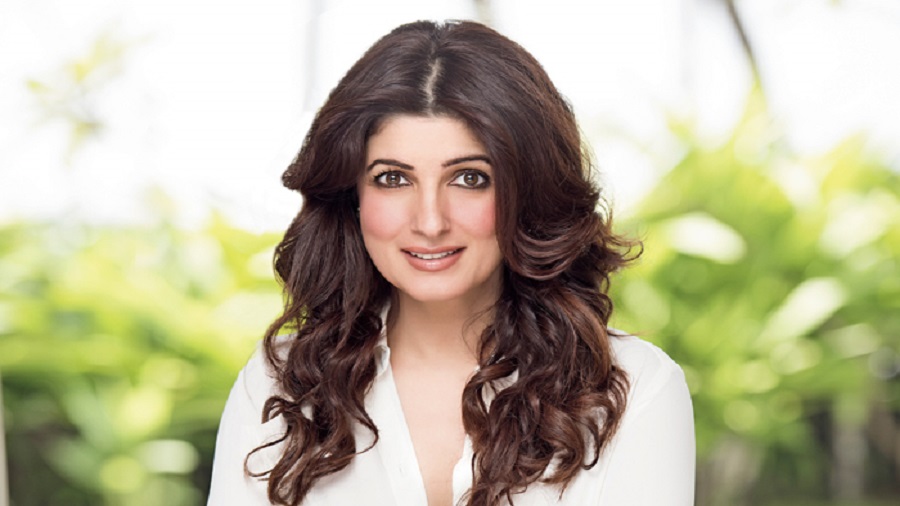 ---
---
Twinkle Khanna's multi-hyphenate life saw her venturing into founding the digital platform named Tweak last year. A forum for women, of women and by women, Tweak, in the last year, has focused on topics like women's enablement, culture, sustainability, parenting, clean beauty, wellness and fashion, among others.
With the platform turning one next week, The Telegraph caught up with Twinkle for a chat on the Tweak journey so far, the status of her new book and the lessons learnt from her children Aarav and Nitara.

When we had connected a year ago just as Tweak had launched, you had said that, "Tweak is a place to find solutions that give you maximum results with minimum effort" and that "We make the aspirational completely accessible". How has that been achieved in the last one year?
The fact that even during a pandemic, as a start-up, not only have we survived but have done surprising well, is testament to the amount of thought and work that went into planning and executing what we meant by "making the aspirational more accessible". It is a platform built for women, where sombre, important topics are dealt with both practicality and with our tongue firmly in our cheek. I think we have a long way to go but we have definitely hit all the milestones that we had planned for our first year despite an obstacle of gigantic proportions.

What, according to you, have been the significant highlights of Tweak in the first year?
It could be something as simple as a story we did today about wine tasting that even a wine ignoramus like me could understand while laughing at the quirky writing, to our five-week-long writer's workshop with all these wonderful writers like Anita Nair, Anuja (Chauhan), Amish (Tripathi).
On a purely business front, we had wonderful collaborations with great brands like Puma, Bumble, Ariel, Kohler, Asian Paints, Forest Essentials that further validated Tweak's success as a platform. We also launched a line of merchandise, and of course, what's closest to my heart, our Tweak Book imprint.
I think there were numerous stories that have stayed with me, especially from the ones I see on our Facebook group. On a purely personal level, interviewing Ruskin Bond was wonderful, not just because I am a huge fan but there was something about him, an innocence uncorrupted by 80-odd years, perhaps. That interview made my heart hum a happy song.

If you had to do a SWOT analysis of Tweak, what would you say are its strength, weakness, opportunity and threat?
Our strengths lie in picking the right stories and using a narrative style that is not intimidating but doesn't dumb it down for the reader either. We also have a large network of people who are very happy to work with us and trust us. Our weakness would be in perhaps me being more risk averse than I should be. Opportunities for growth are coming our way and we are grabbing them all. Future threats? Is there anything right now that is more worrisome than what we are seeing around us?

Authenticity and honesty are two traits that one associates with you. How have you ensured that these qualities define Tweak?
We spent over nine months before launching Tweak, largely defining who we are and what sets us apart. I have been lucky that my team and I share similar sensibilities, so it has not been as difficult as it could have been to distil a sense of honesty into our platform.

In the last few months, the world has changed and so has how we live our lives. Any new lessons learned, any new skills acquired?
I usually take some courses in the summer break, when I can go and attend lectures. This time, I did some online courses during the lockdown. I started running after almost two decades and have rediscovered my love for embroidery.

Like the rest of us, did you binge watch content during the lockdown?
I binged on Tales from the Loop and Snowpiercer because I am a big science-fiction fan. I also read diverse things... Girl, Woman, Other by Bernadine Evaristo, Death in her Hands by Ottessa Moshfegh and Stephen King's new anthology.... but not as much as I thought I would read, to be honest.

When can we expect a new book from you?
I am writing, that's all I can say. I have a penchant for just putting a manuscript away after 10 chapters and starting a new book, so it's difficult to commit to a timeline at this point. We have the launch of our Tweak Book imprint this month though, with two wonderful books, a celebrity cookbook called What's in Your Dabba? and a book for children called When I Grow Up I Want To Be.

Your son Aarav turned 18 this month. Children learn from their parents, of course, but is there anything that you consistently learn from your children?
I learn all about wonder, hope and optimism from them. My son has a way of seeing the best in people and my daughter (Nitara) has a resilient spirit. Both are qualities that I try to emulate as I watch them growing up.