TVF's College Romance: For Gagan Arora, Apoorva Arora & Shreya Mehta, it's a great time to be an actor
Season 3 of TVF's College Romance — also starring Keshav Sadhna, Nupur Nagpal, Jahnvi Rawat and Eklavey Kashyap — is streaming on SonyLIV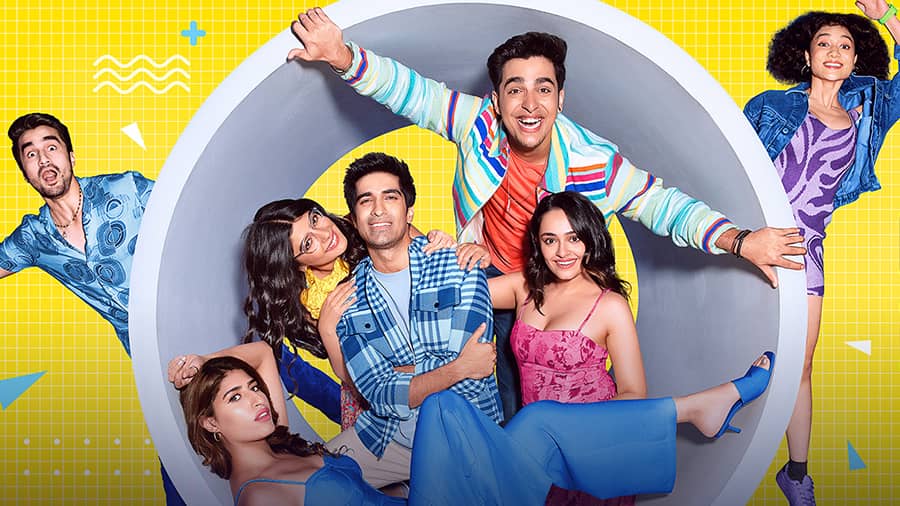 A still from College Romance Season 3, streaming on SonyLIV
SonyLIV
---
Calcutta
|
Published 17.09.22, 04:34 PM
|
---
The Viral Fever (TVF) has churned out a band of cult shows for OTT — Panchayat, Kota Factory, Permanent Roommates, TVF Tripling, TVF Pitchers and Gullak, among others — and is back with Season 3 of College Romance on SonyLIV. Directed by Parijat Joshi and co-written by Ashutosh Chaturvedi and Pankaj Mavchi, College Romance is about a group of college friends, their fun journey, struggles, and how they deal with issues around relationships. 
A few days before College Romance Season 3 started streaming, The Telegraph Online spoke to Gagan Arora (who also won hearts with his solid performances in Tabbar and Netflix's The Fame Game with Madhuri Dixit), Apoorva Arora and Shreya Mehta on working together for the third installment, their infectious energy on the sets, handling rejections and more.  
College Romance has an 8.4 rating on IMDb. How does it feel? 
 Gagan: Oh, wow. It's a great feeling.
 Apoorva: Really? That's an amazing thing! 
How did College Romance play a role in your growth story from 2018 to 2022?   
Apoorva: Before Season 1 aired, I was doing films (OMG:Oh My God!, Holiday). When this digital boom happened, people started noticing my work more than ever. College Romance helped me become a bankable actor. It is very important for me, as an actor, that you not only fit the part but also have a fanbase that will watch your shows or films. So, that has changed for me in the last four-five years. 
Gagan: College Romance was my first job as an actor and the response I got from the industry and the people around me wasn't expected. A lot of work after College Romance was driven by it and the character of Bagga. I owe a lot to the show. There is nothing but gratitude. 
Shreya: College Romance is my first web series. It got me my audience. I love the respect I get for the character. From 2018 till today, we get messages for the show. I get called by my screen name, Deepika, everywhere. I am proud that this show is in my portfolio.
What about the behind-the-scenes bond between the three of you? 
Gagan: I think we have come to a point where nobody has any shame left. We have no limits or lines that can't be crossed. It's a great atmosphere. (Smiles)
Apoorva: We are all naughty in our way. 
Shreya: We get to know from our social media handles also that our audience loves our friendship. It's great that the bond is genuine. 
Gagan: Honestly, all are genuinely good actors and it's great to work with them. The to and fro, the improvisation, the way they land — they make sure they don't kill the vibe and are very supportive. 
Shreya: That doesn't happen on every set. 
College is a phase where we go through a lot of emotions. When you look back, what do you want to say to your self from college? 
Gagan: That you have no idea you will work with Madhuri Dixit! (Grins) 
Apoorva: I haven't been to college as I am studying through a distance learning programme. My only college experience was on the sets of College Romance, and I won't go back in time and change anything. 
Shreya: I want to say – Don't be afraid. Be patient. Relax, as you are on the right track. 
Gone are the days when TV actors aspired to become film actors, thanks to OTT. Do you feel there's been a shift in the industry as well as in audience perception?
Shreya: I am very grateful that I started my journey on OTT. I am very happy with the kind of content OTT has on offer.  
Gagan: It's a great time to be an actor because the kind of scripts that are coming my way or anybody else's was not expected five to six years ago. The kind of opportunity we are getting is amazing. It reminds me of Super 30's dialogue – 'Aaj raja ka beta raja nahi banega.' (Smiles) 
Apoorva: Today, it doesn't matter who the lead actors are. Every character is important. All get due respect. It is a great space. The shift is happening. As we are going through the transition, there will be some ups and downs, though. 
Shreya: Now we are not afraid. Earlier, there was only one road. Now more options have come up. We can also make a better choice. The whole vibe has changed. Also, in films, good scenes get cut. In OTT, all these things don't happen.  
When people do a couple of youth shows or crime dramas or comedy, they get typecast. Did it ever happen? How do you break the norm?  
Gagan: It starts with a very good performance. Bagga, my character, was very well-written and directed. I was getting a lot of calls for someone who needs to be from Delhi or a boy-next-door. After a point, you start asking, 'Am I only good to play this role?' Then, the Tabbar and The Fame Game casting director saw something in me. Luckily, I got through… these guys have heard me cribbing a lot. 
As you audition a lot, how do you deal with frustrations? 
Apoorva: Over time, I have developed a thick skin. Nothing gets to me. From the time I can remember, I have been only giving auditions. It's a good space though. There are some projects that I wait for the calls; for those, I have to keep myself distracted. 
Gagan: I don't think I have reached that stage. I feel bad and low. We are auditioning a lot, so we can't convert it all to work. Over the years, you find a way. Having a good set of friends and family works. As I have been working for the past three to four years, my family is accustomed to looking at my mood. They understand that this looks like a rejection. (Laughs)  
Apoorva: What hurts the most is when you are on board, and then you get replaced for a stupid reason. 
Gagan: Oh yeah, that they needed a bigger face.
Shreya: Or, something with more followers on Instagram, even if the person has a blank facial expression.  
Gagan: Apoorva has a lot of followers. (Laughs)  
Apoorva: It happens to me. 
Gagan: We do understand producers want commercials to look good and get returns.  
Shreya: For me, it was always an attitude that I won't stand in the audition queues. I didn't have any experience, yet I had so much attitude. (Laughs) When I came to Mumbai, I told myself that now that I have to go for auditions, I can't be going crazy or get obsessed. The moment I leave the audition room, I forget about it. If it goes to a good actor, I feel happy that I can also learn but when it goes to somebody's daughter or people who have 10 million followers on Instagram, it hurts.  
What is the kind of work you aspire to do? Whose work inspires you? 
Apoorva: I take inspiration from Konkona Sen Sharma. When I was starting out, somebody in the casting team told my father that I was talented, so he should make me watch Konkona Sen Sharma films. That stayed with me, so I kept observing her. She is also a director. I want to do the kind of work she has done. 
Shreya: My inspiration was always Govinda and Karisma Kapoor when I was a kid. But when I started understanding the craft, Tabu and Shefali Shah were the people I sought inspiration from. Even if they come for one scene, we get goosebumps. I want to be like them – confident. And the audience should be able to sense my strength. 
Gagan: I was a national-level basketball player. I want to be part of detective films as I am a fan of Sherlock and Brooklyn Nine-Nine. For inspiration, Irrfan (Khan) saab is someone who has pulled off everything effortlessly and gracefully. In Tabbar, just to see Pawan Malhotra function was an experience for me. I haven't seen a more disciplined and committed actor like him.  
What's next?
Apoorva: I can't announce but there are a lot of exciting things that I have shot for. 
Gagan: I will be shooting a horror comedy, which will be a theatrical release under Sanjay Dutt's production house. Also, talks are on for a period drama for Amazon Prime Video, which I can't talk about now. Season 2 of both The Fame Game and Tabbar is going to happen.  
Shreya: Girls Hostel Season 3 is coming up on SonyLIV and there's TVF Pitchers Season 2. I am also working on creating some original dance content to present a different side of me.