'Something's coming. Something terrifying,' warns the trailer of Season 4 of Manifest
Here are our burning questions about the twist-a-second supernatural thriller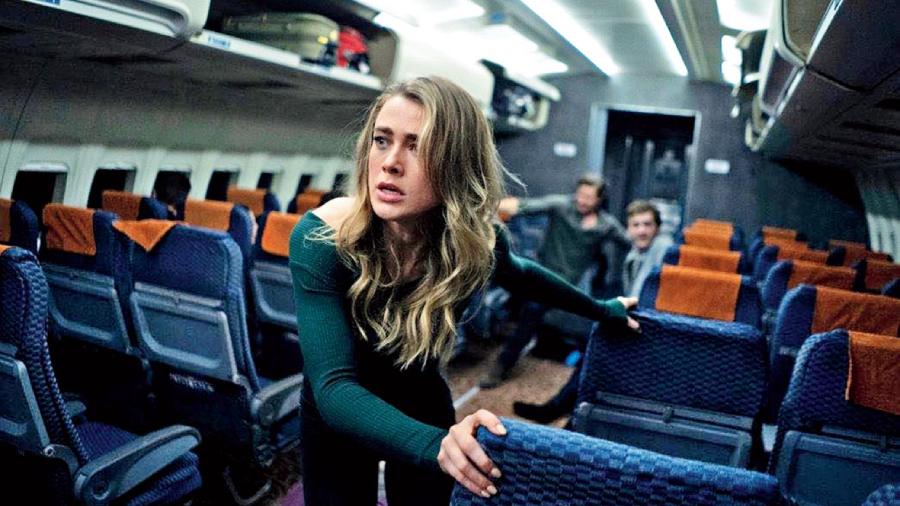 IT'S TIME: Part One of Season 4 of Manifest premieres on Netflix today
---
Published 04.11.22, 04:56 AM
|
---
While in the air between Jamaica and New York, Montego Air Flight 828 experiences a brief period of severe turbulence. When the plane lands, with all its passengers safe, they are shocked to know that they had gone missing... for five-and-a-half years! In simple terms, they feel they have landed in real time, but the world had given them up for dead when their plane went missing all those years ago. While everyone around them has aged organically during that period, the passengers have remained the same. They quickly learn that that is the least of their problems.
Manifest, whose first three seasons scored very high on the binge-ability factor with its numerous twists and turns and made terms like '828ers' , 'death date' and 'callings' part of our vocabulary, is back with Part One of its fourth and final season on Netflix today.
We will find the brother-sister pair of Ben Stone (Josh Dallas) and Michaela Stone (Melissa Roxburgh) trying to make sense of all that has happened to them and the rest of the passengers, even as they attempt to escape their looming 'Death Date'. Season 4 , which comprises 20 episodes divided into two parts, has a lot of questions to answer. Here's what's playing on our minds... How did Cal suddenly age at the end of Season 3?
Ben Stone's son Cal (Jack Messina), who was on the fateful flight with his dad and aunt, is the pivot around which much of Manifest revolves. A lot of what has happened in Manifest involves Cal, or at least revolves around him.
Towards the end of Season 3, Cal touches the tailfin of Flight 828 at the research lab Eureka and disappears into thin air. His parents Ben and Grace (Athena Karkanis) were freaking out and worried, not knowing where their baby boy went. In the final moments of the season, when Grace is lying wounded on the floor of the bedroom at the Stone house, we see Cal returning... but he's aged five years!
This throws up a host of questions that we would want Season 4 to address. Why has Cal aged? Why did he disappear after touching the tailfin but Ben didn't? Has Cal come back with the cancer he had, or has that disappeared? Is time-travel, which the series has hinted at more than once, a distinct possibility?
Also, with Grace almost fatally stabbed by 828 passenger Angelina (Holly Taylor) who takes off with baby Eden, it's a given that Grace won't survive, but with Manifest being all about returning from the dead, will we see her again? Creator Jeff Rake has gone on record to state that he "did not make this decision [to kill off Grace] lightly". As Cal is holding Grace in her last moments, he remarks: "I know what we need to do now." Does he now know how to beat the Death Date? Only time (and Season 4) will tell. Why did Captain Daly reappear?
Early in the series, the world believed that 828 Captain Bill Daly (played by Frank Deal) was responsible for the plane's 'disappearance'. During a quest to clear his name, Captain Daly vanished, never to be seen again — until a brief moment in the Season 3 finale. Where had he been all this time? A shocked Dr Gupta (Mahira Kakkar) stared at him in disbelief for just a moment, only for Daly to vanish again!
What will happen during the time jump?
In Season 4, Manifest is jumping ahead a full two years, bringing the viewers — and more importantly, the 828 passengers — just 18 months out from the Death Date, and two years of not seeing what the characters dealt with. We know that Eden is still gone, Ben is still grieving, Cal is struggling after coming back five years older, and the Death Date is as close as ever.
Part One of Season 4 will, in all probability, include individual stories of the characters, Angelina having more (negative) agency, as well as everyone dealing with a now older Cal. "He's in this older body but has not matured to the level that would be apropos of his stature now," Ty Doran, who takes over the role of Cal now, told EW at New York Comic Con in October 2022. "He's like a little kid. He's so angsty, he's got so many daddy issues, and he wants to help so bad. It's been interesting. Where he begins and where he ends are two very different places, and I think he really grows up over the course of this season."
Will Michaela become the new leader?
Pursuing the Callings and doing everything he can to push back the Death Date has been the centre of Ben's existence, but Josh Dallas has revealed that after Grace is killed, Ben gives up on the Callings, at least momentarily, because "they haven't given him anything". It will then likely fall on Michaela to become the 'leader' and try and solve the mystery in order to keep the passengers safe.