Top Hollywood blockbusters of 2019
The six you can't miss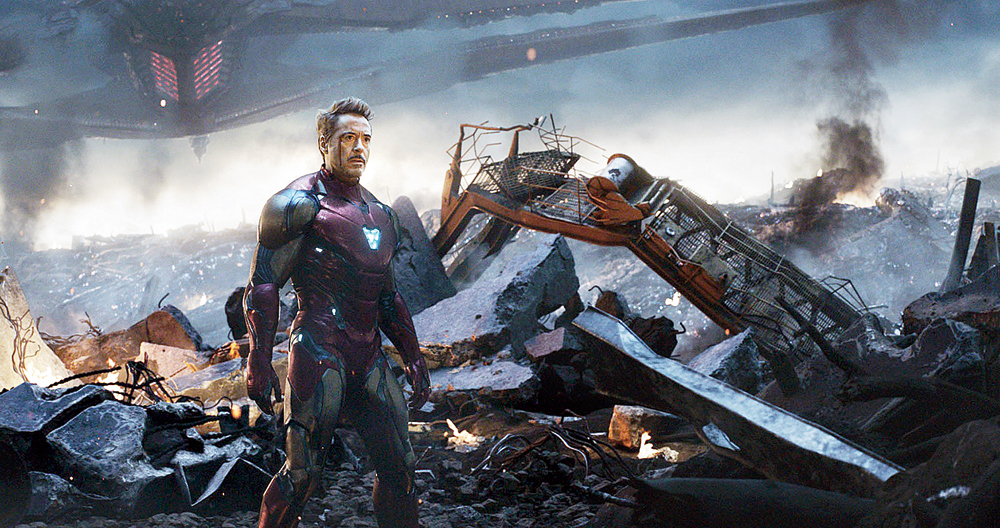 A scene from the movie
Source: 'Avengers: Endgame'
---
Published 27.12.19, 01:55 PM
|
---
Avengers: Endgame
The most awaited film of the year had the Avengers coming together one last time to deliver a satisfying finale to Marvel's epic Infinity Saga. With a budget of $356 million, it is one of the most expensive films ever made, bringing home a whopping $2.798 billion and becoming the highest-grossing film of all time.
What worked: Giving us both spectacle and a human story, Endgame delivered on multiple counts, definitively closing a few chapters in the Avengers saga in a tremendously entertaining intergalactic trip. Full of thrills and nostalgic to the core, Endgame showed us why we love superhero films, giving us a fitting denouement that made us go, "We love you, 3000"... many, many times. The Lion King
A photorealistic computer-generated remake of the animated 1994 film of the same name, the Jon Favreau-directed ride promised nostalgia in abundance even though it really had nothing new to show or tell. But for fans of the original, this was an as-good-as-it-gets trip down memory lane, making Disney's coffers richer by $1.657 billion.
What worked: It may have lacked the energy and heart of the original, but The Lion King was a feast of spectacular visuals that warranted at least one visit to the theatres. For most fans, just hearing the words 'Hakuna matata' one more time was enough. Toy Story 4
The Toy Story films rarely put a foot wrong and the fourth outing of the beloved animation franchise — with Tom Hanks voicing Woody and Tim Allen doing duties as Buzz Lightyear — was a huge, huge hit, taking home $1.073 billion.
What worked: Heartwarming and humorous, Toy Story 4's stunning visuals were on a par— if not better — with the previous films. Flouting the law of diminishing returns, the film delivered surprises throughout and was consistently witty, inventive and emotionally rewarding. Captain Marvel
Marvel Studios' first female-led superhero film had Brie Larson stepping into the blue-and-red suit. Set in 1995, the film followed the journey of Carol Danvers into Captain Marvel after earth is caught in the centre of a galactic conflict between two alien civilisations. Captain Marvel raked it in — worth $1.128 billion — becoming the ninth highest-grossing superhero film of all time.
What worked: This origin story packed in the Marvel staples of action, humour and splendorous visuals, but also whipped up a freshness in its fun plot that was enough to keep both die-hard fans and newcomers engaged. Brie Larson packed a punch, with Captain Marvel emerging as a layered watch that was a welcome addition to the MCU. Spider-Man: Far From Home
The sequel to the 2017 film Spider-Man: Homecoming had Tom Holland slipping into the suit of the boy hero and received positive reviews for its humour, visual effects, and performances, particularly those of Holland and Jake Gyllenhaal who played Spidey's nemesis Mysterio. Far from Home romped home with $1.132 billion in its kitty.
What worked: The action set pieces kept the viewer engaged, with the film's lighthearted approach ensuring a fun time in the theatres. Tom Holland's youthful antics made Far from Home the first Spider-Man film to cross the billion-dollar mark. Frozen II
Frozen II came up short when it came to recapturing the dazzling energy and compelling story of the 2013 film, but earned praise for its animation, visuals, writing, music and vocal performances. Enough to earn $1.112 billion at the box office.
What worked: Frozen II had large shoes to fill, but where it lacked heart, it more than made up with its stunning visual pyrotechnics and incredible attention to detail. For many, it was just the experience of reconnecting with the adventures of empowered sister princesses Elsa (Idina Menzel) and Anna (Kristen Bell) that made them queue up.
The films with award season buzz....
The Irishman
Master filmmaker Martin Scorsese — the man behind seminal gangster films like Gangs of New York, Goodfellas and The Departed — revists familiar themes of revenge and redemption in this epic tale that also turns out to be poignant and funny. At three-and-a-half hours, The Irishman is a very long watch, but it's 209 minutes of watching Robert De Niro, Joe Pesci and Al Pacino create movie magic.
Marriage Story
Scarlett Johansson and Adam Driver are the favourites to take home acting trophies for their stirring portrayal of a couple striving to keep things civil while going through a potentially messy divorce. Noah Baumbach crafts a film that's heartbreaking yet funny, painting an impactful and inspiring depiction of modern relationships.

Once Upon a Time in Hollywood
Quentin Tarantino's most un-Tarantino film is a solidly crafted ode to the golden age of Hollywood, following an actor and his stunt double as they navigate the changing film industry. Visually delightful, emotionally evocative and stylish to boot, this is Tarantino at his most vibrant and his most detailed. And then, of course, are smooth acts from Leonardo DiCaprio and Brad Pitt.

Jojo Rabbit
Thor Ragnarok man Taika Waititi is the man behind this irreverent and often audacious film about a young boy in Adolf Hitler's army who finds out that his mother is hiding a Jewish girl in their home. Jojo Rabbit has its share of problems, but works because ultimately it's a feel-good triumph about love overcoming hatred, tempered by Waititi's quirky touches.
Knives Out
Familiar murder mystery tropes are given a fresh spin in this Rian Johnson thriller that won many fans after its release. Incisive writing and winning acts — led by Daniel Craig and Chris Evans and with a crackling Ana de Armas — make Knives Out one of the sharpest and funniest whodunits to have come out of Hollywood in recent times.

Joker
Powered by a chameleonic act from Joaquin Phoenix as the eponymous character, this Todd Phillips film has been deeply polarising, but marks the triumph of visceral movie making. An apt showcase for the brilliance of Phoenix as a performer — he's tipped for an Oscar — Joker is twisted, funny and disturbing, all of which make for compelling cinema.

Parasite
Parasite — exploring timely social themes through dark humour and masterful use of framing and visual language — shows us why Korean man Bong Joon-ho is one of the most exciting filmmakers in the world today. It's sure to take home the Oscar for Best Foreign Language Film, but like Roma last year — that also won for Best Director — it could spring a surprise or two.