Light, sound, camera, action…
Three Tollywood flicks look all set to explore love, relationships and even tender an apology to women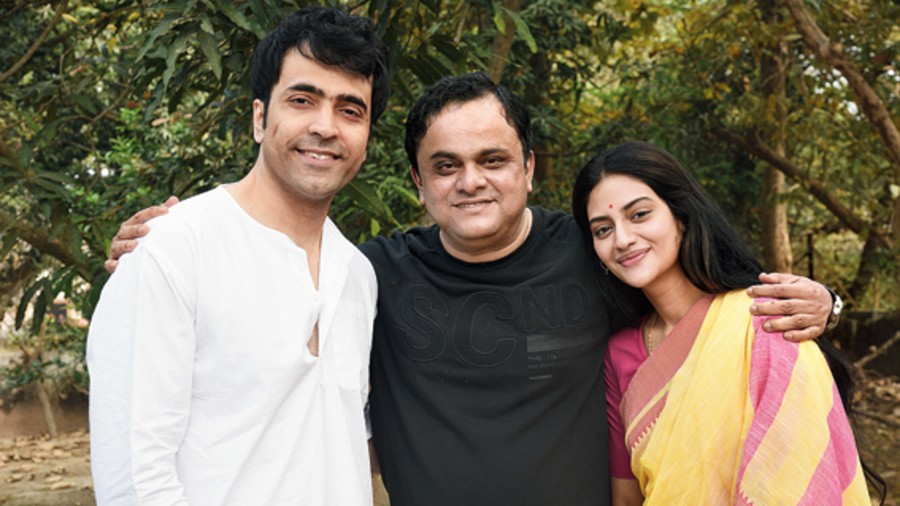 ---
Published 11.02.21, 10:47 PM
|
---
Bratya Basu's Dictionary explores the meanings of different bonds
Bratya Basu had read two Buddhadeb Guha stories many years ago, when he was 20 or 21. When he decided to direct a film after a gap of 10 years, he thought of merging the two stories. The result is Dictionary, which tells a story that revolves around the lives of the married couple, Ashok (Abir Chatterjee) and Smita (Nusrat Jahan). "I wanted to work on a film based on literature. Both the stories are haunting. I contemporised the stories. And I really felt the urge to direct a film. I am really happy and proud of the film," says Bratya. 
Dictionary (produced by Firdausul Hasan and Prabal Halder from Friends Communication) releases today. "Both Abir and Nusrat have done a wonderful job. I know Abir for a long time, seen his development from close quarters. Nusrat was apt for the role of Smita. The audience will get to discover them in new ways," adds Bratya, who felt really excited directing a film after 10 years. "I was soaking in the energy and vibrancy. In the last 10 years I have watched so many films, and that was a learning process for me, very enriching. I really enjoyed every moment of film-making... I could actively participate in the different departments of film-making," says Bratya. 
Abir plays Ashok, a government forest officer. There is a melancholy to him. He is not expressive, keeps things inside. He is a very educated, well-read, smart person. He loves his family, he is a doting father. Nusrat plays Smita, a housewife. She likes literature, has a simple lifestyle but she is stuck in something and yet she does not know what she is stuck in. She takes care of the household, her family and she also wants to live for herself.
What's been the difference in the last 10 years? "Now I am more relaxed... digital offers a comfort factor. And the next time the wait won't be so long. I'll try to make one film every year," smiles Bratya.
Rituparna, Param and Saswata in Ranjan Ghosh's new film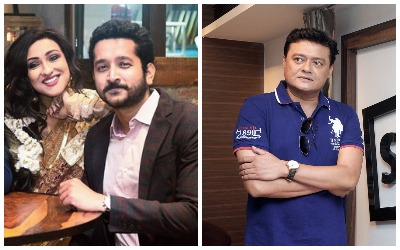 Rituparna Sengupta, Parambrata Chattopadhyay and Saswata Chatterjee have come together in Ranjan Ghosh's film Mahishasur Marddini. "A socio-political drama, Mahishasur Marddini is my letter of apology to our women. From the time she appears in the womb, at every stage of her life a woman is wronged. Not only by men but also by fellow women. Look around at what is happening to our daughters. It is shameful and appalling," says Ranjan. The film also stars Kaushik Kar, Shaheb Bhattacherjee, Poulomi Das, Shubhro S Das, Arunima Halder, Sritama Dey, and new faces from theatre, Aryuun Ghosh, Abhyuday Dey and Purbasha Mal. The film is produced by Pawan Kanodia of AVA Film Production Pvt. Ltd.
"It's a one-location, one-night story. Rituparna plays an IAF test pilot, Saswata plays a corrupt politician and Parambrata plays an election strategist. While writing these characters, I saw these very faces and hence gave them the first right of refusal. I am glad that this terrific trio will be a part of this ensemble cast. This shoot was supposed to happen in June 2020 when the pandemic broke out. As we shoot now, it's a different feeling. The crew wearing masks, hand sanitisers being used regularly, it's quite eerie. But the emotion when one calls out 'Sound Camera Action!' wipes out all the stressful memories of the pandemic," says Ranjan.
Love Notes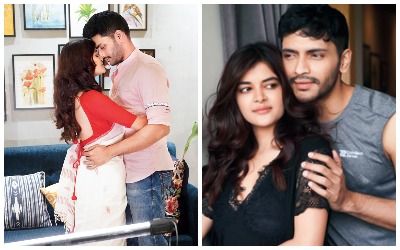 He wows with his love songs. And Anupam Roy is set to spread some more joy with his music today. His song Amar chalaki is here to celebrate Valentine's Day. Excited about collaborating with SVF Music once again, Anupam said, "When we grow old in love, it tends to become more of a habit. The initial spark somehow fades away and we start taking things for granted. But that doesn't end the feelings. Love can be rediscovered in unexpected ways." The music video, starring Arjun Chakrabarty and Madhumita, is directed by Sudipto Roy. "It was wonderful working with Madhumita again. Since we've already done an entire feature film together (Love Aaj Kal Porshu, incidentally a Valentine's Day release last year), this time the chemistry was even better. Anupamda is a genius with his music, his lyrics, his singing and this is just another example. This song brings out the message of love beautifully, as it is portrayed in the video. I hope it won't be long before this song is trending on the top charts," says Arjun. "Arjun and Madhumita had worked before and they have a very charming screen presence. So, whatever little things I wanted to do with them probably has worked in favour of the overall video. The melody and lyrics of Anupam Roy is an instant takeaway. There's a very sensitive lover in him that keeps on reflecting in his songs. Amar chalaki should be looping this Valentine's week. It was a pleasure collaborating with him once again after Ekla cholo re," says Sudipto.