This Jalebi is just artificial sweetness
Jalebi is about two estranged lovers who meet on a train and take a trip down memory lane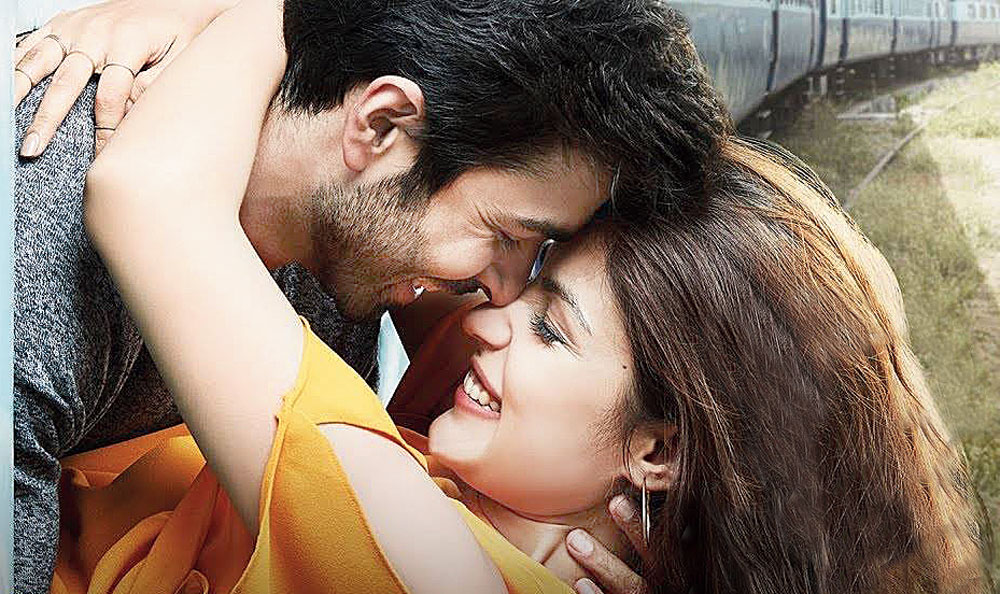 A scene from the film Jalebi
A still from Jalebi
---
Published 12.10.18, 03:11 PM
|
---
Jalebi — The Everlasting Taste Of Love is about two estranged lovers Aisha (Rhea Chakraborty) and Dev (Varun Mitra) who meet on a train journey and take a trip down memory lane. Aisha sees Dev is happily married to Anu (Digangana Suryavanshi) and even has a young daughter.
Anu doesn't stop yakking — she's a walking-talking radio station sharing information with a stranger on a train without inhibition. The movie keeps moving to and fro from flashback to the present. Aisha, an aspiring writer and an advertising wiz from Mumbai, had met Dev, a PhD in history who's also a tour guide, during a Delhi trip.
They were poles apart but fell in love and got married. Aisha is an ambitious spoilt brat and just to emphasise that point, she's shown smoking and drinking. I mean, how else can you show a free-spirited girl who wants to live in a better apartment with her husband, right?
Dev is soft-spoken, loves his mother and doesn't want to leave his purkho ki haveli in Old Delhi. "Agar maine yeh family, yeh ghar chhod diya, toh main tumhara kabhi ho hi nahi paaunga," he says. Like, if these two ever sat down and had a real conversation like two adults before getting married, then probably they'd have known they want different things from life. But, this is Hindi cinema.
The script is so weak that you feel bad for the lead characters. You cannot find a real reason why they separated. It just looks as fragile as two egoistic teenagers throwing a tantrum and breaking up over a text message because they didn't agree on an ice cream flavour.
Rhea is hot with her hot pants and curly hair but hams throughout the film. Even in important scenes, like where they lose their baby or she walks out of her in-laws' house, her expressions make you laugh rather than feel sympathetic. Her dialogue delivery isn't clear either.
Debutant Varun has a charming smile, looks convincing as the simpleton Dev, but struggles with a tattered script. The only thing that changes between Aisha and Dev after so many years is that Dev has a thicker beard now and Aisha is suddenly a fan of salwar-kameez. Take these two things away and there won't be a damn thing to prove a time-lapse.
Given that this is a Bhatt film, the music is melodious but all the songs sound largely similar. Pal by Arijit Singh and Shreya Ghoshal stands out and is hummable. Two songs have been used nicely in montages — one when Dev and Aisha get married, and the other when they find out they're expecting a baby. There are side characters on the train, like an old couple, a group of expressionless singers and an annoying newly-married couple. Each one does a better job than the other in pulling the film down.
You'd never really know why Dev got married again or why the scriptwriters conveniently made sure that the child is not his. In a tear-jerking ending, Dev tells Aisha, "Samundar ko koi apne kuye mein kaise samet sakta hai" and you wonder if we are back to the melodramatic '90s.
Let's say, I finally realised what fans of Ok Kanmani must have felt after watching Ok Jaanu. A remake of the Bengali movie Praktan (2016), Jalebi is anything but sweet. Now excuse me while I go grab a bowl of real jalebis to satiate my craving.