'There's no pressure of being a Bachchan,' says Abhishek Bachchan
Abhishek Bachchan in conversation with filmmaker Shoojit Sircar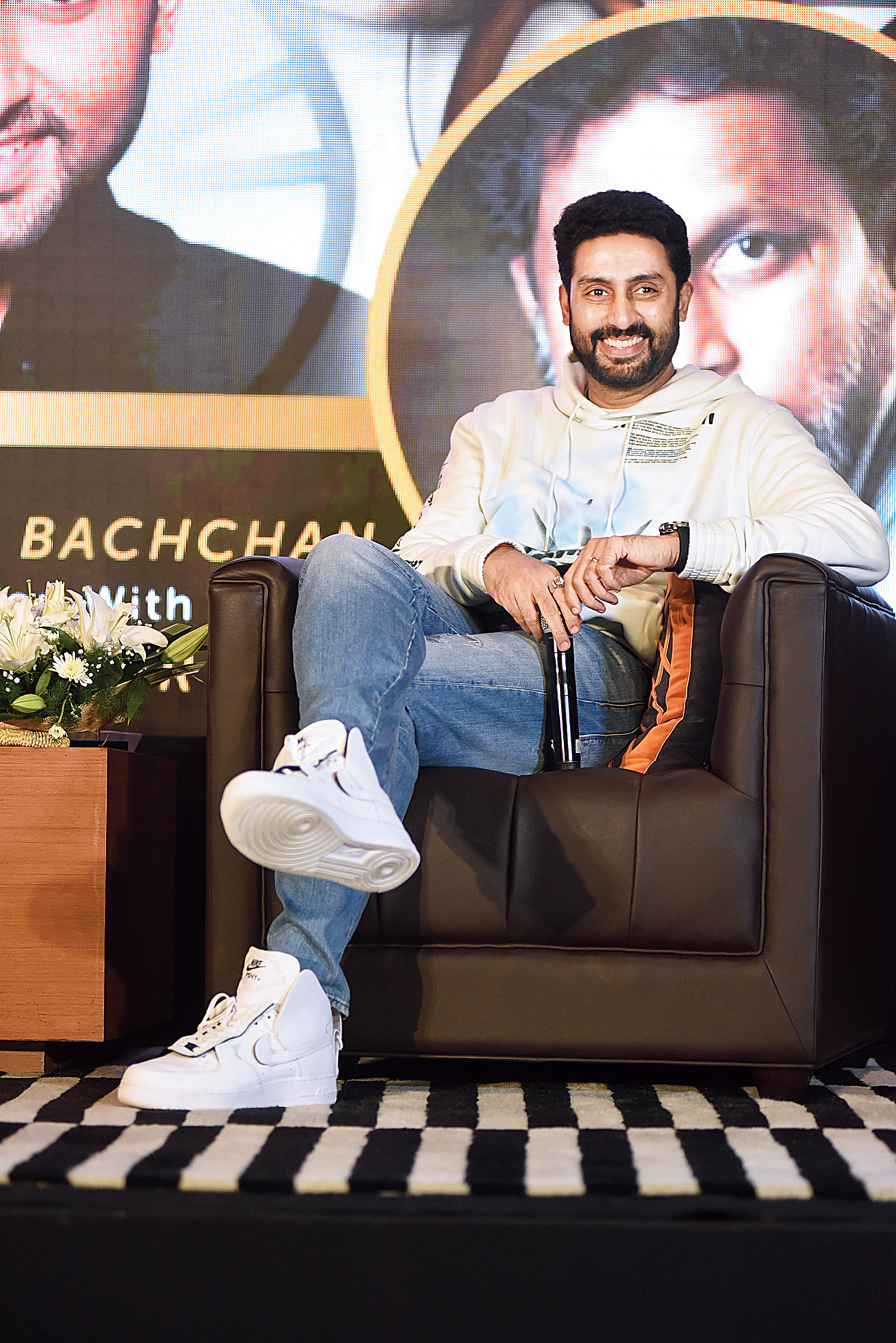 ---
---
Abhishek loves to talk!" That's how filmmaker Shoojit Sircar commenced his 90-minute conversation with Abhishek Bachchan at a Ladies Study Group session titled The Moods and Moments of Abhishek Bachchan at AltAir recently. t2 picks the highlights...
Shoojit Sircar: Your father, Amitabh Bachchan, is the jamaibabu of Bengal and your mom, Jaya Bachchan, is of course, Bengali. How Bengali are you?
Abhishek Bachchan: Currently, my didu is at home, so the house is more Bengali than UP-ite. There's always been a huge flavour of Bengal in the house. My mother, of course, speaks fluent Bengali with my grandmother. My father understands Bengali, but I don't speak a word of it. The words I know of Bengali, I would refrain from using here (laughs). And now my wife (Aishwarya Rai Bachchan) also speaks a bit of Bengali. She speaks more Bengali than I do, which irritates my grandmother endlessly. So I'm the black sheep in that setup.
I haven't spent enough time in Calcutta. I love the city, I've done a fair bit of filming over here. The first time I shot here was for Yuva, which was directed by Mani Ratnam. Then I did a Bengali film with Rituda (Rituparno Ghosh) called Antarmahal. We shot it in the same house where you (looks at Shoojit) shot Piku (Lahabari). My earliest memory of Calcutta was spending an afternoon with my parents at Satyajit Ray's house. I discover something new every time I visit Calcutta. It's many cities within one.
How Bengali am I? I like the food (smiles). I really like the mishti, which, sadly, due to professional reasons, I have to refrain from. I think the house is equally divided between Bengal and north India and after my marriage, a bit of south India as well. Being born and brought up in Mumbai, I bring in the western flavour.
Shoojit: Talking about food, we were shooting with Mr Bachchan in Gujarat and he was surprised to see me having vegetarian food. I told him that I was trying to turn vegan. The next thing he told me was, 'When you play football with Abhishek next, can you persuade him to include some fruits and vegetables in his diet?'
Abhishek: I hate fruits! And being a boarding school kid, veggies are not at the top of my list. I'm pretty sure one of the pacts my wife and mom made when I got married was that she would get me to eat vegetables. So now she makes me eat broccoli (makes a face). I don't know why anyone would mutate other vegetables and make something like broccoli?! The irony is that I was having this conversation with someone and just that afternoon, Aishwarya served me broccoli for lunch! (Throws his hands up in exasperation)
Shoojit: Though you've been in the business for 18 years, do you still feel the pressure of being a star kid?
Abhishek: No, I don't. I signed my first film (Refugee) with J.P. Dutta. We shot almost the whole film in Bhuj and a bit in Rajasthan. The first few days of shoot were spent in prep and setup and we didn't really do any work. Then suddenly, one day, JP saab called me and Bebo (Kareena Kapoor) and made us do some running shots on the Rann of Kutch. This happened for around three-four days. And I started thinking that acting is really easy (smiles). In my head, I felt like Marlon Brando! (Laughs)
I was brimming with overconfidence. The next day, I was asked to shoot my first scene with Kulji (Kulbhushan Kharbanda). News had spread that Amitabh Bachchan's son was making his first film there and tractor-loads of villagers had landed up. I looked around and saw 2,000-3,000 people hanging from trees and on rooftops. I was okay with that because by then I was convinced that I was the reincarnation of Marlon Brando!
The scene began and I started pouring water into a jerrycan and had to look up and say my line. The shot went on forever — I finished pouring all the water — and no one said 'Cut'. JP saab looked at me and said, 'And?' And I was like, 'What?' He was like, 'Where's the rest of the dialogue?' I had no idea what he was talking about. I was then told that I had a three-page soliloquy after the first line, which I had completely switched off from!
That's when the world crumbled around me. The whole star cast was there — Anupam Kher, Reena Roy, Ashish Vidyarthi — and suddenly I started imagining what they must have been talking about me. 'Yeh kya duffer hai, yaar?!' And then I started imagining what the villagers must be thinking. I just started panicking. I did some 17 retakes. I broke almost 20 pots, and I was just a mess. I just kept thinking that Anupam uncle — who is one of my acting teachers — would go back to Bhuj, get into a PCO — there were no mobile phones in those days — call up my dad and say, 'Big mistake! Call your son back right now!' Then I pictured Reena Roy going to a PCO and calling my mom to say I'm hopeless. And it became so big in my head that I started imagining all the villagers going back to their respective PCOs and telling their families, 'Huge mistake!'
I just lost it! It was winter but I was sweating so much that my make-up was coming off, I was fumbling big time. JP saab realised this, he threw everyone out of the set and told me, 'You are going to sit here and do this scene for 10 days till the time I get the shot that I want'. He told me to stop thinking of everything else. That convinced me that he wasn't going to give up on me. He completely relaxed me and the next take was okayed.
That evening as I was driving back to the hotel, it dawned on me that I had spent more energy that day thinking about pressure, perception and what people are going to say vis-a-vis my parents, when actually those energies should have been channelled into doing my job. And I decided that day that I'm never going to think about this. It will be inhuman to carry the burden of that pressure; anyone will get crushed under it.
I don't know how I've done it, but till today I have managed to blank that pressure out. My father is 76 and he still panics the night before a scene. He's still inspired to put in his best. I want to be like that at 76.
Shoojit: The #MeToo movement has been timely and I hope it becomes a cleansing process. As a father, will you feel more confident and safe if and when years later, your daughter Aaradhya decides to come into the business?
Abhishek: No. But before I answer that, I would like to give this some context and perspective. The two women who are close to me — my mother and my wife — have worked in the industry on their own terms. They've never been forced to do anything they didn't want to do. There's a huge debate on gender parity in the film business and in other industries. I've worked in nine films with my wife and in eight of those, she's got paid more than I have. The highest-paid actor in Piku was Deepika (Padukone). It's a business and if you are a saleable actor, you get paid accordingly. You can't be a new actress and demand to be paid the same as Shah Rukh Khan.
When it comes to harassment, when you ask whether I will be scared if tomorrow Aaradhya becomes an actress, I will say 'no' because I know she will know how to take care of herself. But, what scares me about this #MeToo campaign is that we, as a society, are not ready for it. We are talking about a complete rethinking of behaviour that's been passed down to us through generations. We have to understand the enormity of what women have been living with.
Growing up, we were never taught about any difference between men and women. Even now, my sister (Shweta) is my father's pet. We have to handle this carefully. First we have to stop character assassination, we have to listen before we judge. I don't know what the end game of this campaign will be; what I am sure of is that it will set people thinking and make them aware, and that's a welcome start.
Honestly, I don't think men have even started to realise what women go through. A few days ago I was in Chennai and a friend of mine came up to my room on the ninth floor of a hotel to meet me. The first thing he told me when he walked in was, 'I was alone in the lift with a woman and I was petrified that she would accuse me of harassment'. I told him, 'Then imagine how petrified she must have been'.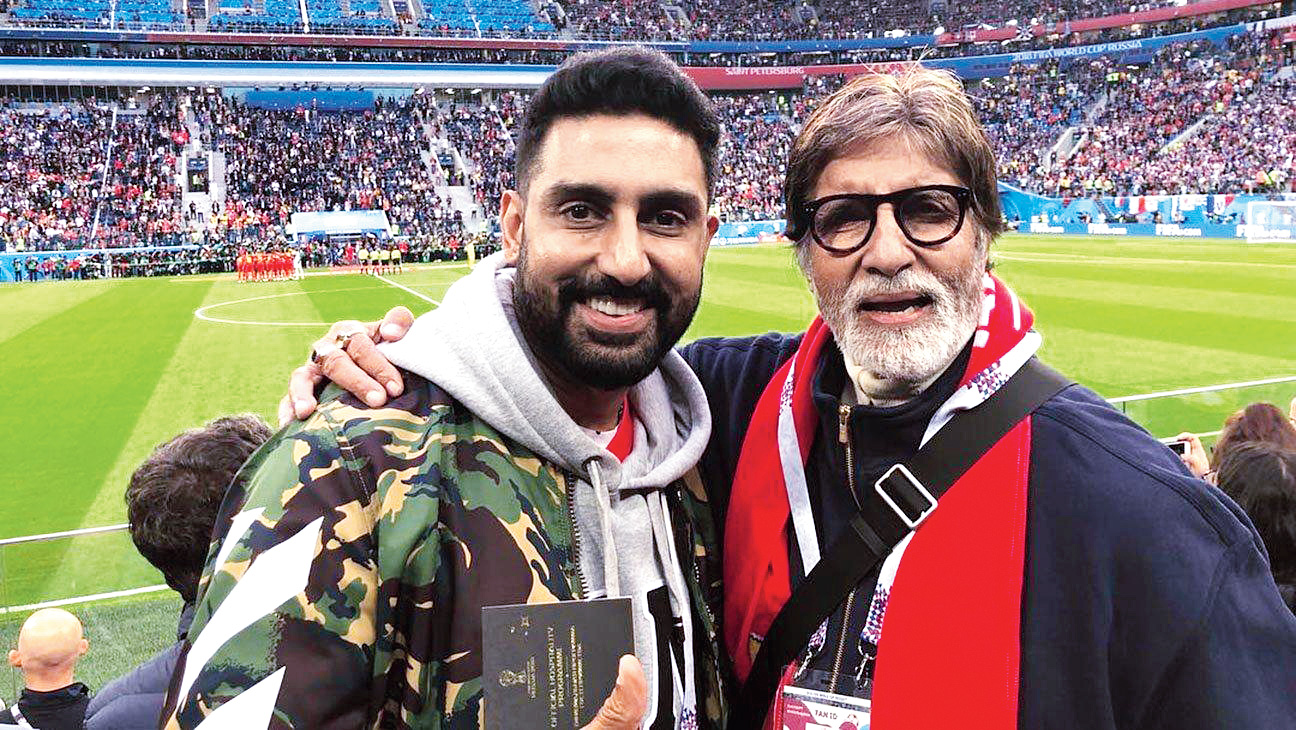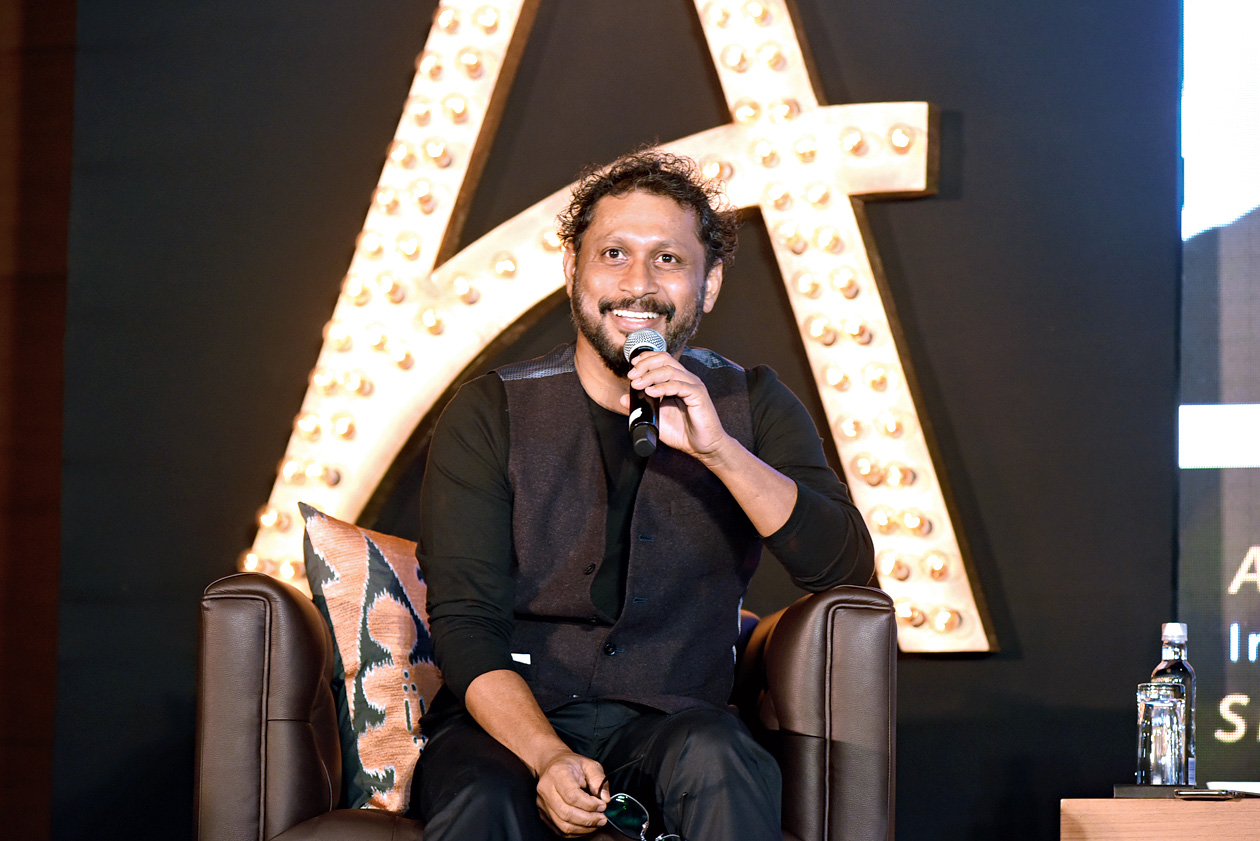 Shoojit: How do you take criticism?

Abhishek: Very badly! It destroys me and I want it to destroy me. I would stick up my movie reviews on my bathroom mirror and highlight all the portions that said how bad I was. I would read those reviews every day and after a while it kind of became inconvenient because my bathroom mirror was covered with reviews and I couldn't see myself!
I see my films almost every day. I am not a megalomaniac, I do it for educational purposes (laughs).
Failing publicly is humiliating and sometimes, people take pleasure in seeing you fail. I faced a lot of hardships at the beginning of my career — I would get thrown out of films, replaced, I wouldn't be paid what was contracted. I slowly realised that it's a business and you just have to pull up your socks and keep carrying on. And if you aren't good enough, the next one will be.
It's serendipitous that I am telling you this story here. A few years ago, I was here for the premiere of my film Khelein Hum Jee Jaan Sey that told the story of Surya Sen and the Chittagong Uprising. We knew at the premiere itself that the film hadn't been taken well. Later that night, Aishwarya, the film's director Ashutosh Gowariker, and I decided to drive down to Howrah bridge. We sat there for a bit and I asked Ashu why he felt the film wasn't working. He asked me what my purpose of doing the film was; I told him it was to tell the story of Surya Sen, a freedom fighter and martyr. He told me to be happy because we had succeeded in doing that.
Shoojit: You spoke about Mr Bachchan's dedication towards his work. We were going to shoot that last speech of Pink, the one that had 'No means no'. We shot that film over 35 days and every day, Mr Bachchan would enact the speech, but somehow the pitch wasn't right. He would come with a different pitch every day and I could see how hard he was working on it. I go to bed early and he doesn't sleep before 3am. Every night, he would call me at midnight and enact the speech over the phone. He was that stressed about getting it right.
The night before the scene, he called me and narrated the entire speech over the phone. He got it spot-on and I could make out he was choking with emotion. He was so good that I told him to hold on to that emotion for a few more hours. I made a couple of calls and made sure the crew landed up at 7am the next morning instead of the designated call time of 9am. He came to the set, performed that scene and everyone was choked. I went to see him in his van sometime later and I could make out he had been crying. The only thing he asked me was, 'Are you happy? Was it okay?' That's the kind of dedication he has.
Abhishek: I will tell you my version of this story. I had a bad back injury and was in bed for six weeks. I knew my dad was stressing about this scene. The day he was shooting it was the first day I had actually managed to get up and walk. I wanted to go and surprise him on set. In great pain, I made the long drive to Film City and made my way to his trailer. I walked in and said, 'Hi'. He was buried in the script and he just looked up and unemotionally said, 'Haan?' I was like, 'Give me some credit… I'm walking after six weeks and have come to meet you'. He said, 'Ho gaya? Ab jao'. I got into the car and left. At one o'clock at night, he called to apologise and came to my room to give me a hug. He was so involved that he didn't care that his kid, who was practically handicapped at that time, had come to meet him, but I understood that as an actor he didn't want to break that mood