There's no easy way to say this — Mrs Serial Killer is the worst you would have watched in a long time
A film that's escaped every kind of quality control check — directing, editing, cinematography, acting, you name it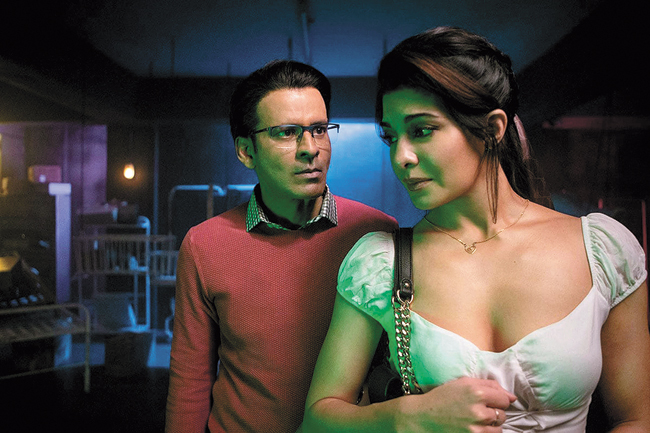 ---
---
I had to pause several times while watching Mrs Serial Killer. Make no mistake. This is not some taut, edge-of-the-seat, spine-chilling thriller that will frighten you enough to want to take breaks just so that you can calm your nerves down. There's really no easy way to say this — Mrs Serial Killer is such a terrible, terrible film — and without a shade of doubt, one of the worst I've watched in recent times (and I've had my share of watching bad films in my lifetime) — that there's only that much of bunkum that you can take at one go.
Escapist entertainment is perhaps what we really need in these trying times. But Mrs Serial Killer is a film that's escaped every kind of quality control check — directing, editing, cinematography, acting, you name it. Well, it's not tough to fathom why. One man — Shirish Kunder, better known as Mr Farah Khan — is the man who hogs the writing, directing, editing and music composer credits in this Netflix Original that's the latest among the drivel in the name of desi content that the streaming platform has been churning out over the last year.
Things quickly go from ugly to unbearable in Mrs Serial Killer that clocks 106 minutes but makes you feel you've aged by several decades by the time the end credits roll. Jacqueline Fernandez plays the title character. That, in itself, says a lot. When the film begins, we spot her Sona Mukherjee, tears streaming down her mascara-streaked face, threatening a young girl who's tied to a hospital bed, with a scalpel. The girl — who we later get to know is 'Mrs Serial Killer's' victim-in-waiting — looks at Sona and asks her disdainfully, 'Issey kya tum meri nails file karni waali ho?' (Really?! That isn't how I would speak to someone who's about to slice me into pieces!) The answer from Sona is ominous — "Torture tu ne abhi kya dekha hai? Woh toh ab dekhegi'. She's, of course, talking about the film.
Playing out in an unnamed hill station, Mrs Serial Killer focuses on three principal characters. An affluent gynecologist Mrityunjoy Mukherjee (Manoj Bajpayee) lands up in jail after dismembered bodies of unmarried pregnant women, with their fetuses sliced out beforehand and displayed as trophies, are found on his property. His whimpering-simpering wife, after seemingly exhausting all legal options, plans on committing a copycat murder to make people believe that her husband is innocent and the serial killer is still on the loose. Bringing up the rear is the perpetually drunk cop Imran Shahid (Mohit Raina) whose only purpose in life, it seems, is to nail the doctor for these murders. That he's had a history with the doc's wife also makes him a suspect.
Mrs Serial Killer attempts a marriage between a neo-noir thriller and campy Bollywood, but simply butchers (pun intended) every potential that a premise of this sort comes with. A large part of the film is unintentionally hilarious. A lot of it comes from its lines. Person 1: "Tu mujhe itne saalon se use kar raha tha?" Person 2: "Tu koi candle nahin hai ki use karne se khatam ho jaayegi." At one point, a character seriously says, "Meri behen ek gynecologist se mili thi, which is slightly odd kyunki meri behen kunwari thi". Er, because women's body parts exist irrespective of marital status? And my favourite: "Don't call me Joy. I am not a f***ing ice cream. Call me Mrityu," thunders Bajpayee in a wig that sits as awkwardly on his head as a line like this on his lips. Things are also pretty literal here. A bar scene has 'BAR' written on the wall at the back. In one scene, someone asks, "Kaun hai?" The serial killer replies, "Serial killer".
Jacqueline, as expected, is the weakest link here (though she does teach us a thing or two about how to winningly pair shrugs with knee-length dresses), but Bajpayee hams it up like there's no tomorrow. He doesn't even seem to be having fun here, which we would have still pardoned, even if it was at the cost of our sanity. Mohit Raina wears a constant scowl, and it's not really difficult to understand why. Zayn Marie Khan, Aamir Khan's niece, makes her debut here, channeling Kiara Advani's look in Guilty. We have nothing more to say.
The only plus for Mrs Serial Killer is its breathtakingly beautiful locations. But no points for its garish set design, most bits of which look like a bargain basement version of the Red Room of Pain from Fifty Shades of Grey. And that's just putting it mildly. Many scenes are filmed in a hospital room that has empty bottles of saline artistically suspended from the ceiling like chandeliers. We kid you not.
Shirish Kunder once made a film called Joker (not the one you are thinking about). If you still choose to tune in to Mrs Serial Killer after watching that and reading this, then the joke's clearly on you.
Which is the worst film/ series you've watched in recent times? Tell t2@abp.in