The roars don't work
Aahan Shetty roars and romances, whines and weeps, but 'Tadap' is as old as Bollywood itself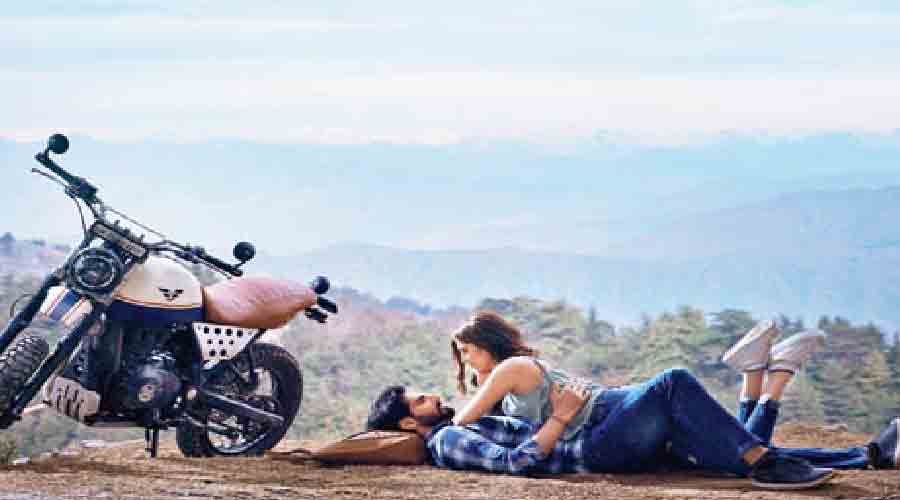 Ahan Shetty and Tara Sutaria in 'Tadap'
---
Calcutta
|
Published 04.12.21, 01:17 AM
|
---
Sanjay Dutt to Sunny Deol. Aamir Khan to Salman Khan. Hrithik Roshan to Ranbir Kapoor. Over the decades, the intense love story has invariably been the chosen debut vehicle for most star sons. That's perhaps because the genre affords the debutant an all-round showcase — romance, action, emotion, comedy, thrill....  
Tadap — that introduces Suniel Shetty's son Ahan to the world and is now playing in movie theatres — ticks off all the boxes in what can increasingly be referred to as the 'debutant genre'. Ahan pulls no punches when it comes to pummeling his adversaries, romances like the quintessential Hindi film hero (to the point of whining and wallowing like a modern-day Devdas in the film's later stretches), rips off his shirt to show off his ripped abs and jumps in to dance wherever there is the hint of a song. His introduction scene — muscular back panning to intense face looking straight at the camera and blowing out smoke rings — sets the tone for what's to come. What Ahan does in this scene, and then through much of the movie, isn't terribly new, though he does earn points for earnestness. But then Tadap itself — in plot, premise and players — is as old (and as stale) as Bollywood itself.
Director Milan Luthria — who has given us watchable fare in the form of Once Upon A Time in Mumbaai and The Dirty Picture — remakes the 2018 Telugu film RX100. Small-town orphan boy Ishaana (Ahan) meets rich girl from London Ramisa (Tara Sutaria) and sparks fly. Romance and song 'n' dance follow, their love story being impeded by predictable parental disapproval. There is a twist at interval point (or was it a little later?) but by then, this mothballed movie has exhausted every trope in the Bollywood book.
The cliches, too, are wrung past their expiry date. There's the best friend sidekick (played by Sumit Gulati); the corrupt cop at constant loggerheads with the hero; the scheming power-drunk father (Kumud Mishra); the tired-looking henchmen trying hard to look sinister... the list goes on.
If the names of the characters — Ishaana and Ramisa apart, the whole of Mussorie calls Saurabh Shukla 'Daddy' and there is also a character named LOL — don't perplex you, then the dialogues surely will, and are consistently bad enough to rival that of last Friday's face-meets-palm release Satyameva Jayate 2. Like, "Jawaani mein FD karaa lo, budhaape mein kaam aayegi", "Hum dono ke beech mein jo teesra aayega uska chautha pakka hain", "Hey vats, are you nuts?" And what is undoubtedly my pick of the lot: "Maine wine pee peekey yeh teen saal dukh mein guzaare hain". Someone, fix us a stiff one, please!
The most cliched love story I have watched is.... Tell t2@abp.in
TADAP (U/a)
Director: Milan Luthria
Cast: Ahan Shetty, Tara Sutaria, Saurabh Shukla, Kumud Mishra,
Sumit Gulati
Running time: 130 minutes