The Gray Man: More than Ryan Gosling, it's Chris Evans, Ana de Armas and Dhanush who save the day
A loathsome bad guy, a rogue CIA operative and a hitman for hire make Netflix's most anticipated film worth a watch this weekend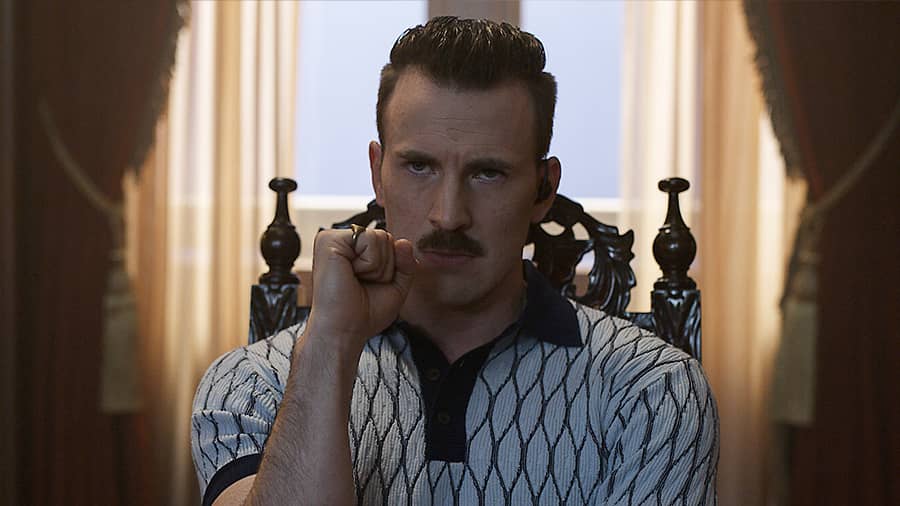 Chris Evans in The Gray Man.
Netflix
---
Calcutta
|
Published 23.07.22, 03:44 PM
|
---
When the Russo brothers get a $200 million production budget for an action film, you sit up and take notice. When the said film stars names like Ryan Gosling and Chris Evans, you set a reminder on Netflix and stream it as soon as it lands. After two hours and nine minutes, you are left wondering if you should have just watched it while eating dinner instead of feeling guilty for playing hooky at work. 
Don't get us wrong, The Gray Man is an entertaining action film with a solid hero in Gosling who has charm, is smooth and can deadpan with the best of them. But for a generation of people who have had the pleasure of watching characters like James Bond (the Daniel Craig version), Jason Bourne (the Matt Damon version), Ethan Hunt (there can't be any version other than Tom Cruise) and John Wick (where people actually die from headshots fired by Keanu Reeves on screen, instead of in random blasts), we feel cheated. 
After the last Russo brothers film, Avengers: Endgame, left us cheering, clapping, laughing and crying -– not to mention the ones before, Captain America: Civil War being a particular favourite — we expected… more. More nuance, more depth, more meat. Just more. And we definitely wanted more from the characters on screen. Because amidst the breakneck pace from location to location and action set-piece to action set-piece, and an extremely linear storytelling with no surprises at any turn, it was some of the characters that made the film watchable. 
Here's who saved the day for The Gray Man:  
Chris Evans as Lloyd Hansen
Chris Evans seems to have gleefully jumped off the righteous hero wagon and embraced its antithesis with absolute joy. We saw how comfy he was playing the bad guy in Knives Out and with The Gray Man, he seems to revel in channelling absolute evil through Lloyd Hansen. 
Hansen's absolute disregard for anything humane is absolutely loathsome as is the way he treats everyone around him. I mean he shoots his own dead people again because they were "morons" and lets Ryan Gosling's Six get away. And when told someone has a pacemaker, he answers "then she definitely shouldn't stick around for this part". Charming. 
Some of his dialogues are a little clunky but Evans nails the sociopathic act. Our favourite scene is possibly the face-off between Billy Bob Thornton (the OG mad-bad guy) and Evans where Evans pulls off Thornton's nails while staring him straight in the eye. But we are still wondering why those arms couldn't pull off Gosling's almost-but-not-quite arms when being held in a chokehold. Ana de Armas as Dani Miranda
She caught our attention even in a few minutes of screentime in a movie as star-studded as No Time To Die and Ana de Armas doesn't disappoint in The Gray Man as a CIA operative who turns rogue to help Six. I mean Ana's Dani Miranda manages to tranq both the hero and the villain in one sequence, not to mention she saves Six's life twice (a fact that, in his own words, bruises Six's ego a bit), drives a car like a badass, jumps onto moving ambulances, can pack a punch and take it and blows things up. 
But is there a reason why a young girl being held ransom to extract information affects her so much that she goes against her own organisation? What exactly is her backstory? What does she do when she is not "making it loud"? Well, since the film feels entirely like a set up for a series, we hope that we will discover Dani Miranda in time. Dhanush as Lone Wolf aka Avik San
No, we are not including him because he is Indian and we think he was included in the film to appeal to Indian audiences (like Chris 'Captain America' Evans wasn't enough). We see a glimpse of Dhanush fairly early on in The Gray Man, sitting on a plane with rosary beads in hand. But the first time he comes on screen is at the 1-hour-18-minute mark and is hailed by Evans as his "sexy Tamil friend" who is given the task of retrieving "the asset". And for the next three minutes, he gives hell to Gosling and de Armas, fending both off and retrieving "the asset" when two armed teams couldn't. 
There is a calm about Dhanush that feels deadly. There are no excessive physical movements or dialogues, just the one-minded pursuit of a goal. Later on in the film, when Dhanush's Lone Wolf learns that Hansen is using a girl as leverage, he gives up the asset because "they are not honourable people". This hitman for hire with a conscience has us intrigued and we truly wouldn't mind seeing some more of him, which the Russo brothers have already hinted at. "Dhanush is very important to what comes next for us. We are excited to tell a bigger story in The Gray Man 2," said Joe Russo on a trip to India for The Gray Man.
Unfortunately, even though pretty central to the premise, Rege-Jean Page and Jessica Henwick get the short stick. Page's Denny Carmichael is slimy as the corrupt CIA bigwig and Henwick's Suzanne Brewer has her own agenda but none of their reasons get touched — forget spelt out — in the course of the film. I guess, like for almost everything else in The Gray Man, this will be addressed in the sequel.