The Gray Man: 5 reasons why you cannot not watch Netflix's most expensive film
The Russo Brothers-helmed mega-action movie could turn the tide for Netflix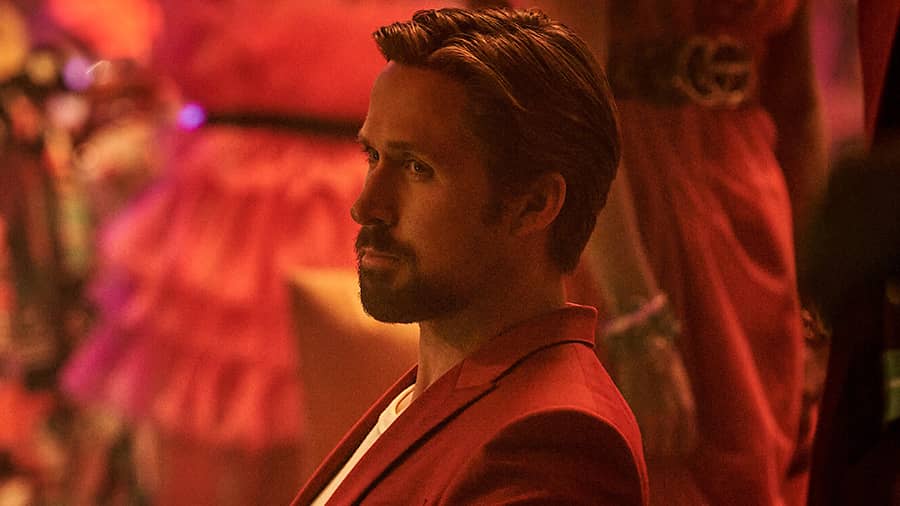 Ryan Gosling as Sierra Six in The Gray Man
Netflix
---
Calcutta
|
Published 21.07.22, 01:09 PM
|
---
Ryan Gosling's first full-on action film. Chris Evans as the baddie. A production budget of $200 million. Russo Brothers at the helm. The Gray Man – Netflix's most expensive and ambitious venture yet – would perhaps be delightful on the big screen but we'll be watching it in our pyjamas from our couch. 
Given that the OTT platform needs a vital shot in the arm, it is leaving no stone unturned to give us the feel of a blockbuster release. For the first time, Netflix is also marketing a film with billboards, ads and interviews across the world. 
Based on the book of the same name by novelist Mark Grearny, The Gray Man releases on Netflix on July 22. We look at five reasons why Netflix is going uncharacteristically big with The Gray Man. Russo Brothers are mega-blockbuster pros
Filmmakers Anthony and Joseph Russo have been churning out mega blockbuster action films since 2014 and account for some of the top-grossing Marvel films. They are used to handling multiple stars and stupendous action sequences while telling a tightly woven story. And with enormous success, if Captain America: Winter Soldier, Captain America: Civil War, Avengers: Infinity War and Avengers: Endgame are anything to go by. 
Even their latest production venture, indie sci-fi film Everything, Everywhere All At Once, is a runaway hit. So when they are given a $200million budget and permission to trot the globe blowing things up with stars like Ryan Gosling and Chris Evans, it is not difficult to see why Netflix is so gung-ho about The Gray Man. 
Ryan Gosling in a full-blown actioner
He has been an indie darling and is known for his roles in romances, dramas and thrillers but we have never seen Ryan Gosling in an out-and-out action film jumping off planes, fighting on tram roofs, surviving guns and grenades. A CIA operative known only as Sierra Six, Gosling is forced to go on the run from his sociopathic colleague who launches a worldwide manhunt for him. We are no stranger to Gosling's star power and can't wait to see what golden boy Gosling brings to the table as an action hero. Will he be able to nail the action sequences as skillfully as the tap dance in La La Land? Chris Evans as a sociopathic bad guy
After the honourable Captain America, Chris Evans has had his turn in playing the bad guy in Knives Out and he was delightfully evil in his knit sweaters. Now Evans, who has been playing the superhero who always does the right thing, is venturing into portraying a character who believes whatever he does is the right thing. 
We don't know much about Evans' Lloyd Hansen, except that he is the sociopathic ex-colleague of Gosling's Six and is out to exterminate him. From what we've seen in the trailer, he delves into his bad guy persona with glee and a 'trash 'stache' that promises a transformation from what the Russo brothers called "being America's ass to America's ass****", and why wouldn't the legions of Marvel fans not want to see that? The supporting cast is stellar
From Rege-Jean Page, the breakout star of Bridgerton, to Ana de Armas who wowed us in Knives Out and dropped us flat with her little role in No Time To Die, from Jessica Henwick who has been the only saving grace of Netflix's Iron Fist to veterans like Billy Bob Thornton, The Gray Man boasts a cast that can, without a doubt, be called bankable. Then for the Indian audience, there is the added attraction of Dhanush, who has been receiving a lot of praise from his co-stars. And from the small clip that has been released by Netflix, Dhanush looks like a formidable foe for Ryan Gosling and Ana de Armas. The appeal of a franchise
Action films featuring a spy have been successful franchise spinners, whether it is James Bond or Ethan Hunt and assassins also have made it big with characters like John Wick. The Gray Man series, written by Mark Grearny, has eight more books that can be spun into films and enough characters, which if they strike a chord with the audience, could also lead to spin-offs and create a world that Netflix can bank on. With a box-office behemoth like Ryan Gosling as the lead, this could be the series that gives Netflix the lease of life it needs.