'Can't shy away from the fact The Girl on the Train is a remake'
Parineeti Chopra, Aditi Rao Hydari, Avinash Tiwary and director Ribhu Dasgupta — chat about their immersive psychological thriller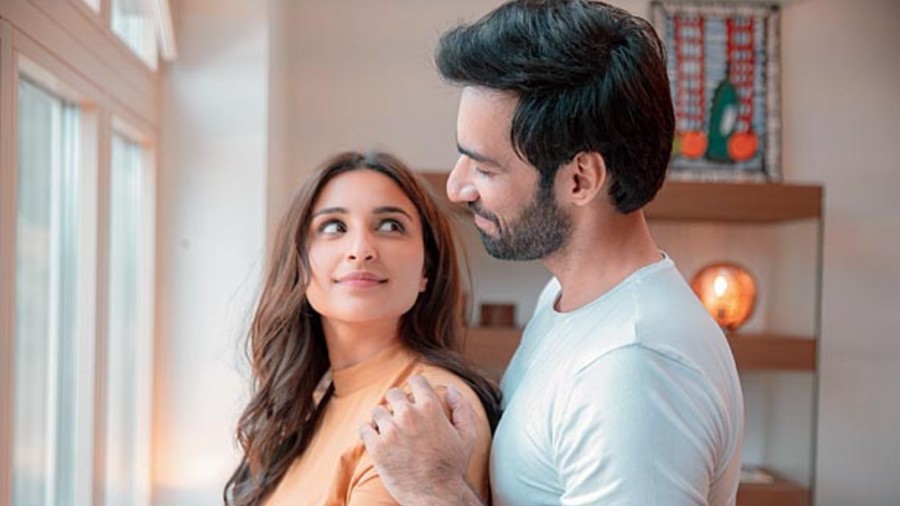 Parineeti Chopra and Avinash Tiwary in The Girl on the Train, streaming on Netflix from February 26
Sourced by the correspondent
---
Published 23.02.21, 10:55 PM
|
---
The Girl on the Train — the desi adaptation of the 2016 Hollywood psychological thriller, which, in turn, was based on the Paul Hawkins bestseller — drops on Netflix on February 26. Parineeti Chopra slips into the role of an alcoholic named Mira Kapoor (played by Emily Blunt in the original) who is determined to unearth the truth behind the mysterious disappearance and murder of a woman (Nusrat, played by Aditi Rao Hydari) who she spies from her train window when she travels every morning.
Set and shot in London, The Girl on the Train is directed by Calcutta boy Ribhu Dasgupta and also stars Avinash Tiwary, Kirti Kulhari, Tota Roy Choudhury and Shamaun Ahmed. Over a Zoom call, we caught up for a chat with Parineeti, Aditi, Avinash and Ribhu on their film and the process of making it.
Ribhu, I believe that you lived with the story of The Girl on the Train for a few years. What is it about the story, whether it's the book or the Hollywood film based on it, that intrigued you so much?
Ribhu Dasgupta: It was both, actually. The book first and then the film. I had watched the trailer of the English film with Emily Blunt and I had really liked it. I wanted to get my hands on the rights and make this film. I had no idea who had the rights at that time. But later, I met Shibashish (Sarkar, CEO) at Reliance (Entertainment) because we were doing my previous film (Te3n) together and they had the rights to the film and the book. So he asked me, 'Do you want to make The Girl on the Train? Do you want to adapt it into a Hindi film?' I was like, 'Of course! I have been looking for this for years now, and it's a great opportunity'. So that's how the journey started. I started writing the film and we shot it just before the pandemic hit the world.
You have said that your film is an adaptation and that you have changed around characters and situations. Doesn't titling it as The Girl on the Train give the audience the impression that it's a total copy-paste job?
Ribhu: We can't shy away from the fact that we are making a remake. I don't think that it's a problem. I have, of course, rewritten certain characters and certain parts of the film. I think it's okay. If you are adapting something, you might as well say it and do it properly.
For the actors, what is it about your respective characters that made you sign on?
Parineeti Chopra: For me, honestly, it was a no-brainer. In fact, I was looking for something like this. It's a thriller and it's a role that I have never done before. It's a world I have never been a part of. So far the work that I have done has been very different in texture and flavour, so this is something that I was looking for. Plus, I was familiar with the material, given that there is a book and a film that's already out. Even before I got the script, I knew exactly what to expect, and I was just hoping that our version is as good, or even better. And it was, so I didn't have to think much about it... I was immediately on.
Avinash Tiwary: I really liked the script. Over some time I have realised that you don't say 'yes' to a script or a character, you say 'yes' to a film. I really loved the script, the people who are involved in this film are those I would do anything to work with.... Also, I really love  — and I keep saying it — 'the Ribhu Dasgupta style of film-making' (smiles) and I get very happy whenever he thinks of making me a part of something that he's doing. All these things together made me feel that I really want to jump into it, apart from the fact that the character I play is very, very interesting and something that I thoroughly enjoyed doing. So ya, it all came together for me for this one.
But Avinash, I believe you didn't really like the original Hollywood film...
Avinash: Many of my friends have given me a lot of pain for this, but I didn't like it... I am sorry! (Laughs) I apologise.
Ribhu: And when he talks about 'the Ribhu style of film-making' I don't really know if it's a compliment or not! (Everyone laughs)
Avinash: It is, considering I want to work with him all the time.
Aditi Rao Hydari: When Ribhuda first came to me with this and he told me that it's The Girl on the Train, I knew that somebody was already playing the part that Pari (Parineeti) has done now. I have seen the original and I wondered, 'Then what will I do in it?' I was just like, 'Why?' (Makes a face)
I went to Ribhuda's office and he gave me a narration and I still wasn't very convinced.
And then luckily, everything changed. A year-and-a-half later, he came back with the script and told me, 'Read it'. I read it and I really liked the cast, I thought it was very interesting. I liked the way he set up these three girls with very distinct personalities and stories. He fleshed out the characters really beautifully. Sorry, I can't forget Avinash... so three girls and a guy (laughs). I really felt Ribhuda put a lot of himself and what he felt in the material that he had, and it has his voice. Ribhuda, as we know, is a lover of thrillers. He has a very kind face, but I think he's quite psychotic! (Everyone laughs) But to be honest, it was a nice change for me. At that point, I had been in the south for almost a year-and-a-half and I went straight to London and shot this film and I really enjoyed being Nusrat, even though he kills me! (Laughs) But that's fine.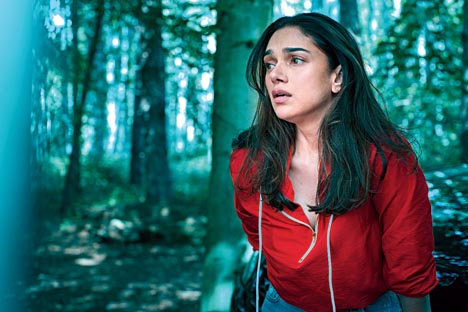 Parineeti and Aditi, if the original is anything to go by, the parts that you play are both physically and emotionally taxing. What was it like being these two women and did parts of them stay on with you even beyond set?
Parineeti: Before this film, I used to consider myself as a very switch on-switch off actress. I would go on a set, do my thing and I would just forget about it and go back home and watch TV or sleep or whatever. But this film was the most immersive experience in my life. For two months, I didn't disconnect at all from The Girl on the Train. In fact, when I was finally sitting on the plane and heading back to Bombay, that's when it hit me that, 'Oh, I am not going to go back to shoot and do this anymore'.
I think I just had two days off in those two months of shoot, so I was literally living it 24x7. I truly felt so satisfied as an actor that now I don't want to do it any other way. It's not method acting, but it's immersive, and I hope that distinction is clear. I really enjoyed it and I felt that when you become a character, it's so much more fulfilling. It's exactly what I crave... that style of performing is so different from just going and doing hair and make-up, going on a set and then it's pack-up. I just wish I had found this process earlier. So ya, it was physically and emotionally very demanding for me.
So are you spoilt for life now, Parineeti?
Parineeti: Absolutely! Now even in a narration of another film, I will not be satisfied till I know that I have to do a lot of homework for my character. I just don't want to be a 'heroine', I want to be an 'actress-heroine'....
Aditi: I understand what Pari is saying because in 2016, when I worked with Mani sir (director Mani Ratnam, in Kaatru Veliyidai),
I felt that. And I always craved for that feeling again and again and again. I am a very switch on-switch off kind of an actor... I can be crying when 'Action' is called and as soon as it's 'Cut', I will be jumping somewhere. I also enjoy that because it helps me snap out and just be real. But I also found this kind of an immersive experience to be very addictive.
Also, I love working on sets where you can really be the child you want to be. Just wander, be creative, be fearless... and there will always be somebody there to sort of guide you and make sure that you don't fall off. And even if you fall off, they will catch you and put you back on.
On this set, it was very different for me. Pari shot a lot more than I did, but I feel that my Nusrat is this Rebecca kind of character who everyone is obsessed with, but she's dead (smiles). So Pari's character has this love and obsession for Nusrat and she has this impression of her... then there is Nusrat's actual life and what she's going through.... For me, what happens between 'Action' and 'Cut' is very real and I enjoy it. It's not that I practise it because feelings can't be practised. I might sound like a flaky person when I say it, but it's intangible to me and I really enjoy that. This was an exhausting film in many ways.
Given the heavy material, were there any light moments on set or was Ribhu a hard taskmaster?
Aditi: He couldn't stop laughing! Sometimes, we had to tell him, 'Be serious, director sir!' No no, I am just joking. The moments between 'Action' and 'Cut' were hectic and after 'Cut', there was this really nice atmosphere. When you are dealing with very hectic material, it's nice to just feel loved on set and to just be comfortable around the people that you are. As an actor, I feel I need to be able to show my most vulnerable side, my deepest and darkest emotions to people and to the camera. Some people think it's a sign of weakness, but I feel that showing your vulnerable side is the strongest thing that you can do. It takes a lot of guts. And for that, I believe that the set has to be there for you... you need to be surrounded by people who will let you shed every emotion, and then you can just flow with it.
Ribhu: I had to buy a few books on jokes and read them and post 'Action' and 'Cut', I would crack those jokes (laughs). 
Aditi: The worst ones! You should throw away that joke book! (Everyone laughs)
Ribhu: Arre, chaar pound waste ho gaye!
The Girl on the Train is releasing on Netflix this Friday, at a time when most other films have started announcing their release dates in theatres, given that movie halls can now operate at 100 per cent capacity. Any mixed feelings about the decision?
Ribhu: As a maker, once I have finished a film, I don't want it to wait. As a maker, my job is done and I want people to see the film as soon as possible, across the globe. During lockdown, we had to stop the post-production work, but once we finished that, Shibashish and I had a chat about release. And, of course, it's Netflix... I have worked with them before (Ribhu directed the 2019 web series Bard of Blood for Netflix) and I have a very good understanding with them. It's one of the prime platforms and the film will be watched across the globe. What more can I want?
Parineeti: When I got a call from Shibashish saying that they were thinking of taking the film to an OTT platform, it was a bit of a mixed feeling for me. That time the lockdown was very new... I am talking about March-April last year, if I am not wrong. I had a very long chat with him and I asked him, 'Are we sacrificing a film?' As actors, we are so used to going directly to theatres. But today, a year later, I stand reformed because I feel that an OTT platform is just equal, even better sometimes, for certain films. And I now feel that our film is literally made for a platform like Netflix. It's the kind of film where I would like to go back home, wear my pyjamas and switch on my TV and watch it.
So however much I romanticise — I am a 'Bollywood heroine 101' and I want cinemas and the big screen — I think we all have to adapt. And I think we are reaching a stage where OTT platforms and cinema are going to thrive together. Cinemas are going to be back soon, hopefully, and the OTT platforms have taken us through the lockdown, so full respect and love. I am very happy that my first streaming release is on Netflix. You guys (looks at Avinash and Aditi) have had too many to count now (laughs). They are veterans....
Aditi: But you know, the first time is always a jolt. I was almost in tears when it happened with my Malayalam film which I really loved. It was a love story and I kept saying, 'No, you can't do this, no!' (Laughs) But when it released on OTT and I saw the response and the number of people who watched it from all over the world within that one minute when the link went up, it was amazing. I was like, 'This is incredible'. Like Pari said, I am also someone who likes that 'heroine-ism'. That dark theatre, it's you and me and the story... it's so beautiful and dreamlike. But OTT platforms are so accessible and they have been our best friends in the lockdown. So it's like this newfound love....
Parineeti: And need!
Avinash: OTT platforms provide great reach as well as great opportunities for writers and actors. But as an artiste, there is also this joy of people making time for you, paying money and going to watch you in a theatre. That's something I have lived for and always look forward to. I miss that on an OTT platform. This is my fourth title on Netflix... just wanted to show off (looks at Parineeti and winks).
Avinash, you had a massive one in Bulbbul...
Parineeti: That's what I am saying! We have Mr OTT sitting next to us!
Avinash: I hope it keeps coming in and keeps growing for all of us, but I also want to be on the big screen.