The game of love with Meera Syal
One of UK's most loved TV personalities, speaks to The Telegarph about what makes a marriage tick and what makes her 'roar'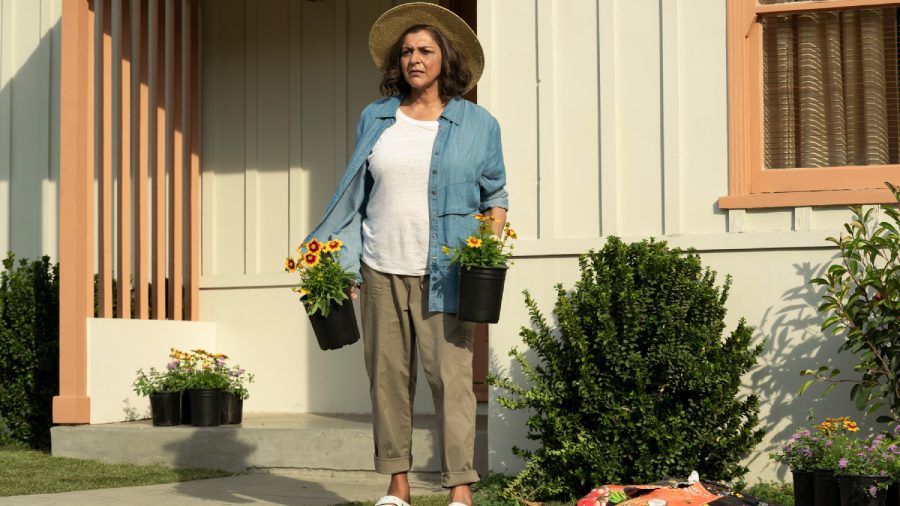 Meera Syal as Anu in the Apple TV+ series Roar.
Picture: Apple
---
Published 24.04.22, 04:22 AM
|
---
Eight women. Eight stories. Eight emotional states. That's the theme of a quirky show that has hit streaming services. Titled Roar, the stories have a thematic connection while the individual stories are funny yet wise, about experiences many women have but are rarely talked about. Here that happens in a symbolic way, just like in the Cecelia Ahern (also the author of PS, I Love You) book it is based on.
Executive produced by Liz Flahive, Carly Mensch and Nicole Kidman (and others), the Apple TV+ show finds a woman afflicted with a need to eat family photographs, another having sex with a talking duck that pretends to be a feminist and one who has the power to trade in her husband at a local supermarket. These are ordinary woman dealing with extraordinary circumstances.
One of the most memorable episodes is titled The Woman Who Returned Her Husband, which features Meera Syal, whom many connect with the shows Goodness Gracious Me and as grandmother Ummi in The Kumars at No. 42. One of UK's most known and loved TV personalities, the 60-year-old plays the role of Anu, an older Indian immigrant, who feels stuck in a marriage but life allows her to trade in her man. Here are Meera's thoughts about dealing with marriage and more.
People change during the duration of a marriage, there's growth. Couples don't remain the same. Do you relate to this growth trajectory?
I think it's a challenge in all marriages. At some point, many couples stop seeing each other, behaviours change. At first, they try to impress each other but after 20-25 years things change. Yet, if you get what the other person wants and what made you fall in love with the person in the first place and not take each other for granted… it's a life's work to keep a marriage alive. That's true for any culture. We fall into the trap of taking each for granted and it's such a shame because it's fixable; it's just about two people reconnecting and remembering why they got together in the first place. Anu finds out that she has only one life, she only has a certain amount of time; what can you do to make things better, what do you do to make life meaningful. It takes courage. What she does takes courage. Like many Indian women when she is on the boundary of what's considered acceptable, she gets vilified, she goes: "What are people saying?" She goes through what every other Indian woman experiences when she wants to do something but she does it because in the end she has to do it because of her sanity and for getting something better at the end? The concept is, of course, quirky, about getting husbands changed at a supermarket. There is a deeper meaning....
When I mentioned this concept to a few of my female friends they said: "Where can we join? How do we take them back?" (Laughs.) It's probably something that may have crossed a lot of people's mind at some point. But it's not the ending you expect. What the script explores is when you are frustrated the first thought is to change everything but that's not the answer. Anu finds out that the answer is not about trying out a lot of different husbands, it's about thinking who she is and what she wants. She has never had a chance to do that and all her life she been somebody's daughter, then somebody's wife and then somebody's mother but never found time to find out who she is. Once she has done that, it becomes clear what she needs.
There is an emotional growth at the end of every episode. Is it something you can relate with?
Absolutely, I relate with Anu completely. She is so much like many of the women I grew up with. I recognise the journey of unfulfilled and disappointed women very well because I grew up around some of them. I remember overhearing a lot of the talks — the lives they led back in India, of unfulfilled dreams and about the sacrifices that had to be made. I felt moved by that, I am particularly moved by unfulfilled potential, particularly in women, something that resonated with me when I read Anu's journey. That's why I connected with her so deeply.
Did you get to read the book from which Roar takes off?
I didn't get a chance to read the book until I read the script. I got the part and then read the book. I think it's quite a brilliant collection and makes for an amazing read to the point of being turned into television series because you have so many clever, intricate standalone stories, each one can be a separate episode, yet all of them are united by the same theme, which is looking at women and about the different journeys and challenges they face, yet they tackle it in unexpected and clever ways. I think it's perfect to be adapted for television.
When you were new to television, shows were made differently and now we are in the streaming phase. Do you connect with the new way of how shows are getting made?
I think it's been an absolute kick up the backside to the television industry, which it really needed. I can only talk about working in the UK and it has made all the terrestrial channels sit up and revaluate the way they have been moving. People were making programmes with a very small gauge… for a small audience and sometimes small mentality to go with it but now we are making programmes for the world, we are a global audience. That fortitude is making a difference… the story you want to tell, how you cast actors, who you include in that story… it's an engaging creative phase.
What makes you roar in life?
I guess I roar with anger when it comes to seeing loss of potential. That makes me unhappy. Every child should get the best. There is education they can't afford but that should be a basic right. It makes me incredibly unhappy because not all children have that opportunity in life. My education saved me. I happened to have got through to a very good school, it really helped. Otherwise my life would have been very different. I feel so fortunate to be a part of a professional set up where I get to tell the stories that are important, share that with other people… I think artistes have a great responsibility, especially in these times, to keep reminding people of what we have in common — we are all human beings and share the same joys and sorrows. That's what artistes can do but politicians don't. So this job is more important now than ever before.