The Boys cast tells Indian fans to be ready for an 'insane' Season 3
The Amazon Prime show that satires the superhero genre is back with more action and bloodbath in Season 3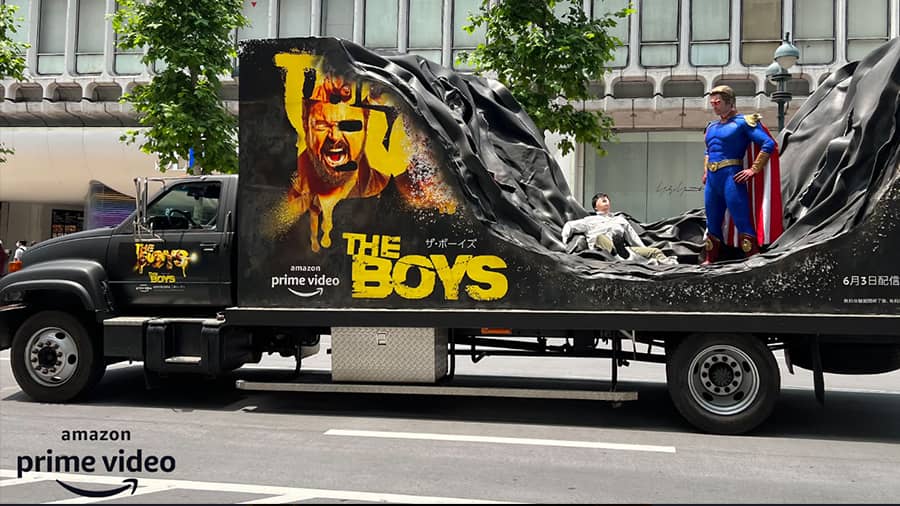 The Boys cast promises fans a thrilling season 3.
@PrimeVideo_JP/Twitter
---
Sydney
|
Published 08.06.22, 02:11 PM
|
---
Stars from Prime Video's action fiction The Boys gave a shout out to their fans from India claiming that Season 3 of the action-packed series will trump the previous two seasons.
Actors Jack Quaid, Chace Crawford, Jessie T Usher, Karen Fukuhara and Claudia Doumit got candid with fans during a Q&A session at an Australian Fan Screening event recently.
Delivering a message to the Indian audience, Quaid, who plays Hugh 'Hughie' Campbell, told PTI, "Pray, make peace with whoever you have to make peace with. It's a wild ride. Protect yourself, it's insane."
Expressing her wish to come to India to promote The Boys, Doumit said that she hopes she is a part of the press tour for the Season 4 of the show. Calling the Indian fans "phenomenal", the show's head popping 'Supe' said, "I can't say how many heads I'm popping but my warning would be: Have a drink in hand."
Usher appreciated the Indian fans for their support of the show and said, "We cannot wait to show you what we have done." He hopes that the Indian audience finds some sympathy for his character. 
Quaid shared a message for the show's team. "The thing that keeps changing every season for the better is how close we all get to each other. It sounds like such a cliche but every time we shoot in Toronto, it is like going back to a summer camp. We have become this little family. But it's just been such a blessing. It's such a blast. It's one of the best things that's ever happened to me," he said.
Based on The New York Times best-selling comic by Garth Ennis and Darick Robertson, The Boys takes place in a world where superheroes or 'Supes' secretly embrace their darker side. The show centres on a group of vigilantes known informally as 'The Boys' who set out to take down corrupt superheroes with no more than blue-collar grit and a willingness to fight dirty. The first season of the show was an instant hit on Prime Video in 2019 with critics praising the Eric Kripke-created series for its irreverent take on the superhero genre. The show stands out for the way it blends real-world issues like the #MeToo movement, corporate corruption and white supremacy in the United States (US) within its storyline and combines it with an extra dosage of gore and violence.
The show's second season was even more popular when it was released in 2020 and now, the makers are back with the third season, three episodes of which dropped on Prime Video on June 3.
Doumit, who plays Congresswoman Victoria Neuman, said that her parents enjoy the show despite its gory visuals. "It's a show that's right up my dad's alley, so that's brilliant. And my mother just supports anything I'm in. So, she's like, 'it's great. There's a lot of blood but it's great.' So, she's on board too."
Co-star Usher shared his surprise at fans finding his character A-Train relatable. "A-Train has dug himself into a pit that he is now trying to crawl out of. And I wish him the best of luck. He deserves a lot of what he's getting, to be honest. A lot of people tell me that they sympathise with A-Train and I'm like, he made some bad decisions intentionally."
Speaking about the fight sequences, Fukuhara who essays the 'Supe' Kimiko shared that a lot of training goes into enacting gory scenes where actions like eye-gouging take place. "It takes like weeks and weeks of rehearsal and I have to go in for various training sessions. It's important to do that so that it's safe on set on the day," she said. 
A new episode for the show, streaming on Amazon Prime, will be available every Friday till its season finale on July 8.