The boy who stargazed: In loving memory of Sushant Singh Rajput
It's not everyday you see a small-town boy walk into Bollywood big league and refuse to fit into its set standards till his last day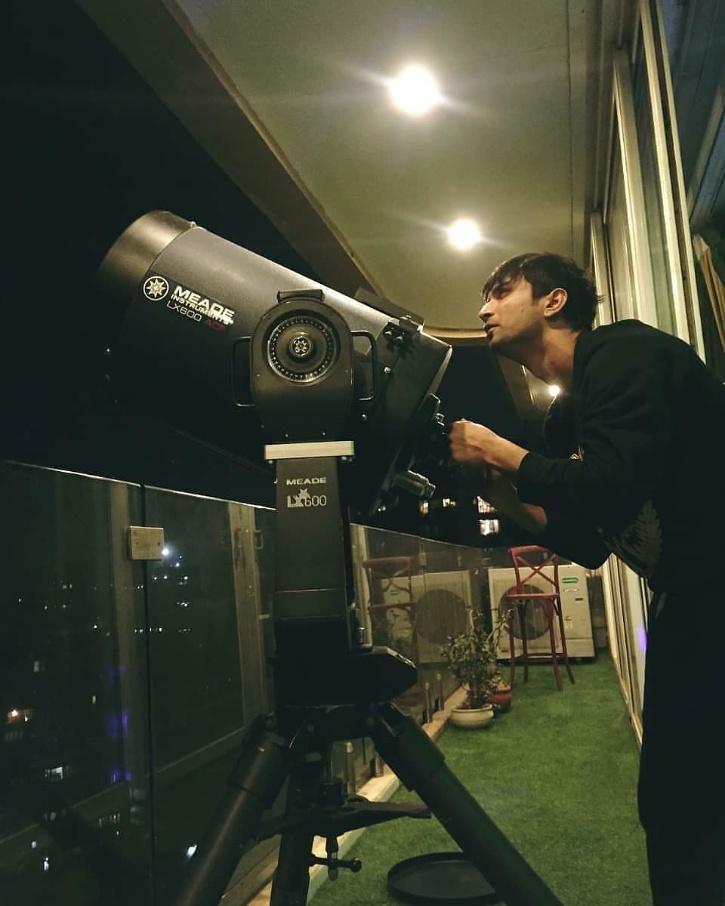 ---
---
It has been a week and I've still not been able to shake off some of that heaviness from my chest, the feeling of utter despair ever since the news of Sushant Singh Rajput's untimely demise broke. We lost Irrfan Khan and Rishi Kapoor not too long ago this year. Yes, it saddened me but eventually I accepted it as a part of the circle of life and death. But with Sushant, the acceptance seems to be nowhere in sight. Why? What sets this man apart? What makes it so much more difficult than the rest? Why am I waking up every morning hoping that I was dreaming and this might all be a false news, a mean joke?
I guess primarily because he was one of us. The boy with a telescope in his room, who used to stargaze and get excited about spotting Saturn's ring. He had even carried his telescope with him during the shoot of Sonchiriya to Chambal so that he could better observe nebulae. He loved astronomy, so much so that he had bought a piece of land from the International Lunar Lands Registry and the property was registered on June 25, 2018. He had this amazing quality of speaking about quantum physics with the same passion that he used to put in preparing for his roles.
What makes Sushant Singh Rajput different and stand out in the glitzy, shallow Bollywood crowd was his intelligence, his modest background and his never-ending curiosity to learn about things that went far beyond just his profession – the movies. Look at Sushant's Instagram account. You'll see how refreshingly different it was than any of his cookie-cutter peers who seems to be all cut out from the same cloth. His bio reads, "Photon in a double-slit" and his Twitter cover picture is a picture of Vincent van Gogh's Starry Night.

I bet you to find one more film personality who tried to learn coding because he loved computer gaming so much or pondered about the difference between dark matter v/s dark energy or spoke about the concept of panpsychism with as much excitement as his upcoming films. Sushant didn't care about the norms or the so-called unsaid hierarchy that Bollywood has set up for everyone.
In the superficial world of Bollywood, where actors with big surnames actually boast about barely passing the 10th standard or of never having been to college, a person like Sushant Singh Rajput who ranked 7th in the AIEEE entrance is a definite misfit. He cannot have coffee with a 'K' and reminisce about childhood birthday parties with other star kids in Juhu. He didn't grow up in Bandra or Juhu or Versova even, he worked his way up from Patna to Delhi to his sea-faced apartment in Bandra.
He was a seeker, a thinker, a poet, a guitarist, a philanthropist. He didn't fit into your typical Bollywood celebrity stereotype. In the 10 years of being a journalist, I've come across celebrities of various statures, from different mediums. I remember WhatsApp-ing Sushant a couple of times probably around 2016 – 2017 and we spoke a little but he never re-directed me to any of his entourage of managers or PRs like many of the so-called stars in the industry do. In the end, these are the little things we end up remembering, don't we? I've read a lot of reports about him being 'arrogant' and 'difficult' but all he really seemed to be was different than the rest of Bollywood. He didn't fit into their set pattern, he knew way more than who the President of the country is.
He was around our age. He came from a middle-class family in Patna. He loved to read and in January 2018, even started a social book club '@intoxillectual' where he encouraged bibliophiles across the world to share their thoughts and reading lists. He would read everything from philosophy by Jean-Paul Sartre to books on astrophysics. Over the years, my friends have always teased me saying I have a 'type' . I guess 'geeks' are my type, bigger the nerd, hotter they are in my eyes. Sushant was a science geek, a national level Olympiad winner in Physics, he was the boy with childlike curiosity and a complex mind, an amalgamation like no other.
We have crossed paths only a couple of times in the past due to award ceremonies and events but I wish we interacted more at some point.
I'm not going to get into the debate of nepotism, depression, anxiety or why he did what he did. It's not my place. It's nobody's place but his own. We must remember this bright-eyed boy who came to Bollywood and broke conventions and shattered glass ceilings, for who he was. It was only a couple of months back that my husband and I were re-watching Detective Byomkesh Bakshy! and I immediately tweeted to Dibakar Banerjee begging him to make a sequel. Sushant, with his distinct unibrow and Bengali babu dhoti fit into the role of the 1940s sleuth effortlessly. I wished so hard that he plays Byomkesh again but that was never to be. Sushant also went all out to prepare at the NASA space centre for his role of an astronaut for Chanda Mama Door Ke but that project never took off either.
Last year, I came out teary-eyed after the press show of Chhichhore. I wrote a glowing review but was surprised to see how less of a buzz there was around it in the industry. These are all thoughts in retrospect, the 'could-have-beens' and we can only look back and wish we did more. People like Sushant don't come to Bollywood, they are found in IIT-Kharagpur campuses, they are found researching in NASA but when did Sushant care about fitting into a box? He wanted to do everything, as is evident from the 50 dreams that he shared he had. It ranged from playing a cricket match left-handed to charting trajectories of the Moon, Mars, Jupiter and Saturn for a week to painting aurora borealis to meditating in Kailash.
Today, I find myself staring out of our drawing room window at the faraway mountain for the first time. It's completely green, thanks to the intermittent rains and a ball of black cloud on top contrasted it perfectly. I stood there for 10 minutes and realised I'm noticing it in so much detail for the first time. Why? The house, the room, the mountains, they have all been right here all this while. Sushant's death has made me appreciate little things around me more. He was one of us and it could be any of us tomorrow, this feeling was unshakeable.
Sushant lost his mother at 16 and I lost mine at 10. He missed his mother even after so many years, so did I. He probably wanted his mother to see his success now, so did I. That's probably one more thing about him that I could fiercely relate to. His last post on Instagram was about his mother, I felt a chill down my spine when I saw that. Some things in life never become okay, they stay with us forever. I wanted to tell him that, 'Hey, you know what? I understand'. I guess now I never can. Through it all, life goes on and that's both the beauty and the tragedy of it, isn't it?
Sushant didn't care about PR overdrives. He had aurora borealis' to draw and astrophysics books to read. Let's remember him for the person that he was, the boy who stargazed for hours and carried a physics book with him on set. Let's remember him for the films that he did because it's not everyday you see a small-town boy walk into Bollywood big league and refuse to fit into its set standards till his last day.