The 77th Golden Globe Awards that played out in LA on Sunday
A few upsets, many deserving winners, weighty speeches and some fun moments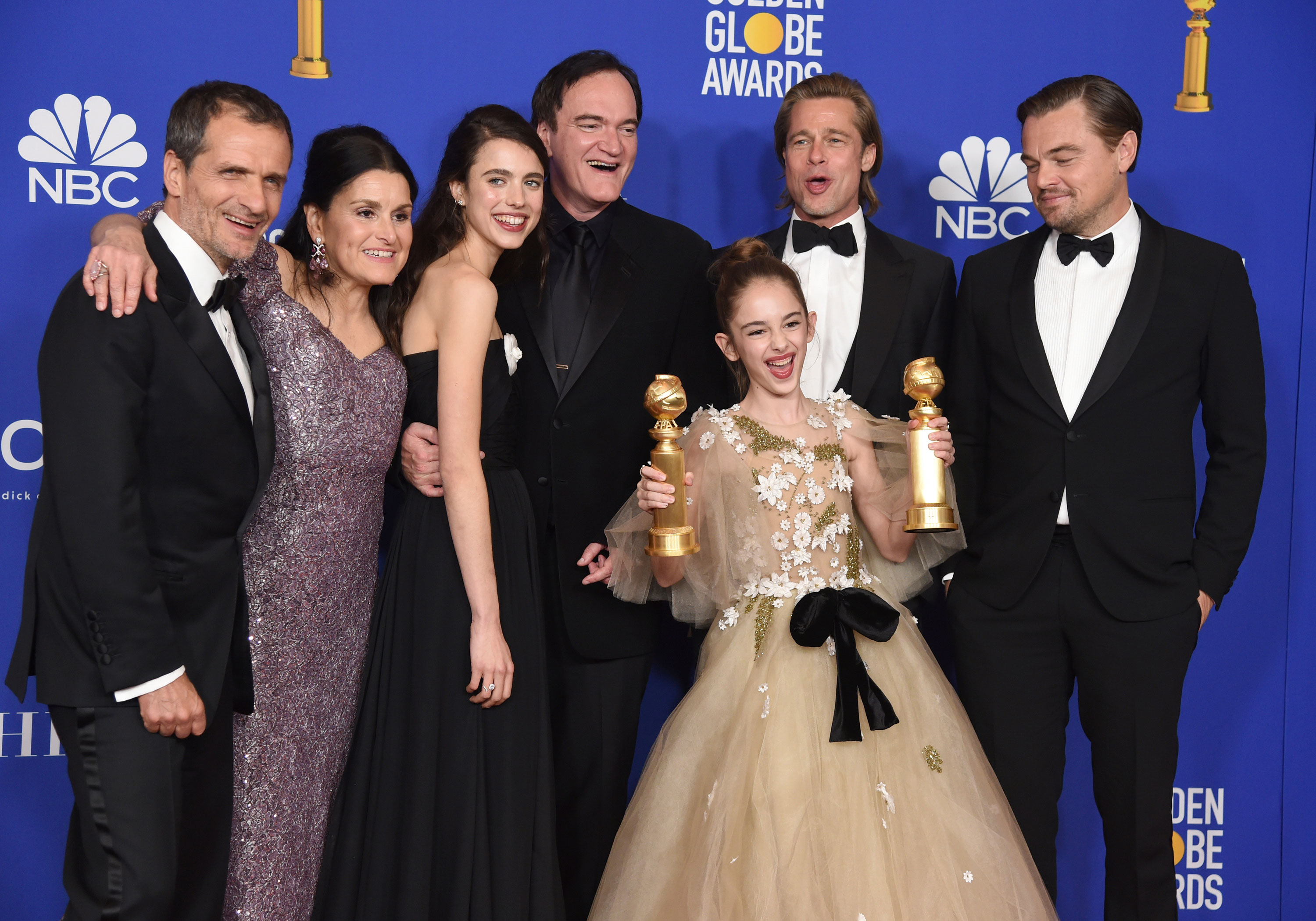 Team Once Upon A Time in Hollywood
(AP)
---
Published 06.01.20, 01:59 PM
|
---
BAND OF BOYS
Once Upon A Time in Hollywood didn't go into the Golden Globes as a favourite, but it was one of the big winners of the night. Quentin Tarantino's solidly crafted film that looks at the friendship between a fading movie star (Leonardo DiCaprio) and his stunt double (Brad Pitt) in '60s Hollywood not only won Tarantino the Best Screenplay Award, but also sprung a surprise to take home the golden statuette for Best Motion Picture — Musical or Comedy. Tarantino's speech, as expected, was peak Tarantino, with the maverick filmmaker thanking himself for the film's script. "I did it!" he said, congratulating himself in his trademark inimitable style.
Leonardo DiCaprio may have lost out on the Best Actor trophy, but Brad Pitt edged out heavyweights — it doesn't get bigger than Tom Hanks, Anthony Hopkins, Al Pacino and Joe Pesci — to win Best Actor in a Supporting Role. "When I was starting out, these names that were just listed, were like gods to me. This is an honour in itself," said Pitt, still gorgeous at 56, about his fellow nominees, rounding it off with how he wanted to bring his mother to the Globes, "but I couldn't, because anyone I stand next to they say I'm dating. And that would just be awkward," he smirked. Caught on camera was Pitt's ex-wife Jennifer Aniston, cheering him on and cracking up at his jokes. Cute! DARK HORSE
The other big winner of the night was 1917, which notched up wins for Best Motion Picture — Drama and Best Director for Sam Mendes. "There's not one director in the world who is not in the shadow of Martin Scorsese... I just had to say that," said Mendes about his fellow nominee who lost out for The Irishman.
1917, which will be in theatres in India on January 17, raced past the more fancied Marriage Story, with many hailing the win as a shot in the arm for theatrical releases that are currently losing out on eyeballs to giant streaming platforms like Netflix. In fact, Marriage Story and Irishman — both Netflix offerings — went home disappointed, with only Laura Dern winning the Best Supporting Actress statuette for Marriage Story. LANGUAGE OF CINEMA
Parasite — the south Korean film that's won fans all over the world — fittingly won the Golden Globe for Best Motion Picture — Foreign Language. "Once you overcome the one-inch-tall barrier of subtitles, you will be introduced to so many more amazing films," Bong Joon-ho, the man behind the dark social satire, said through his translator as he accepted the award. "Just being nominated along with fellow amazing international filmmakers was a huge honour. I think we use only one language: cinema," added the filmmaker who also took home the prestigious Palme d'Or at the Cannes Film Festival last year. WHY SO SERIOUS?
His twisted, dark and shape-shifting turn in Joker earned Joaquin Phoenix the Best Actor in a Motion Picture — Drama award. The 45-year-old actor, true to form, dropped quite a few F-bombs in his acceptance speech. "We all know there's no f*****g competition between us," he said about his fellow nominees, adding, "it's like this thing that is created to sell advertisers for the TV show!" He then told the other actors in his category that he is inspired by them before calling himself "a f*****g student". The actor also apologised to the film's director Todd Phillips for being a "pain in the ass", and said even though he doesn't actually like to "rock the boat" when it comes to the climate "the boat is f*****g rocked". And yes, he also thanked the Golden Globe organisers for keeping the menu "meat free" this year. Well, that's Joaquin for you! THE GREATEST SHOWMAN
Honoured with the Cecil B. deMille Award for his outstanding contribution to the world of entertainment, Tom Hanks delivered a speech that brought on both tee-hees and tears. The four-time Golden Globe winner thanked the directors he has worked with over the decades, stressing on how important it was to be an actor "with a head full of ideas" and to be punctual ("showing up on time is one of the greatest liberating acts you can give yourself in a movie"). The 63-year-old actor, who's also won two Oscars, was uncharacteristically emotional on stage, especially while thanking wife Rita Wilson and their children. "It's the cold that is making this happen. I swear to God, I'm not nearly this emotional at home," said the man seen in iconic films like Forrest Gump, Philadelphia and Castaway, all the while sniffing back his tears. RAISING EYEBROWS
Chernobyl notched up Best Television Limited Series or Motion Picture Made for Television as well as Best Performance by an Actor in a Supporting Role in a Series, Limited Series or Motion Picture Made for Television, for Stellan Skarsgard.
Skarsgard, who plays the redoubtable Boris Shcherbina in the highly acclaimed HBO series, brought on the laughs with his speech, a large part of which revolved around his eyebrows, or the lack of it.
"I should thank one person, and that is (director-actor) Milos Forman, who said to me a couple years ago, 'Stellan, I've seen so many films with you, but I never remember your face'! And I realised it was because I don't have any eyebrows. For Chernobyl things were a bit different... Daniel Parker (make-up artist) made me a couple of eyebrows," the man chuckled before exiting the stage. MAKING IT COUNT
The Carol Burnett Award that honours "outstanding contribution to the television medium on or off the screen" was won by Ellen DeGeneres who wears multiple hats of comedian, TV host, actress, writer, and producer. Ellen delivered one of the best acceptance speeches of the night, peppering it with both humour and heart. She touched upon how being a homosexual cost her her first sitcom job, but that in the last 17 years she's been "blessed" to have lived her dream. "The real power of television for me is not that people watch my show, but people watch my show and then they're inspired to go out and do the same thing in their own lives," smiled Ellen, with wife of 11 years Portia de Rossi cheering her on. GO GIRL!
Awkwafina made history, becoming the the first actress of Asian descent to win a Golden Globe Award in a lead actress film category, taking home the Best Actress in a Motion Picture — Musical or Comedy honour for The Farewell. The visibly excited actress hopped, skipped and jumped on to the stage and dedicated the win to her dad — "I told you, I would get a job", laughed the petite Awkwafina — and also thanked the film's director Lulu Wang for giving her "the chance of a lifetime". The ha-ha moment? "If anything, if I fall upon hard times, we can sell this, so that's good," she said, clutching on to her trophy.
POWER TALK
The most hard-hitting words on stage belonged to Patricia Arquette and Michelle Williams. Arquette — who won Best Performance by an Actress in a Supporting Role in a Series, Limited Series or Motion Picture Made for Television for The Act — drew attention to the rapidly escalating conflict between the United States and Iran, saying "I beg of us all to give (our children) a better world. We have to... plead for everyone we know to vote in 2020."
Michelle Williams — on stage to accept Best Performance by an Actress in a Limited Series or Motion Picture Made for Television for her power-packed act in Fosse/ Verdon — spoke about a woman's right to choose, winning cheers and claps from the starry audience. "I know my choices might look different than yours, but thank God or whoever you pray to, that we live in a country founded on the principle that I am free to live by my faith, and you are free to live by yours. So women, 18 to 118, when it is time to vote, please do so in your own self-interest. It's what men have been doing for years, which is why the world looks so much like them, but don't forget we are the largest voting body in this country. Let's make it look more like us," she said.
GUTS & GLORY
Everyone's favourite girl Phoebe Waller-Bridge took home Best Television Series — Musical or Comedy for Fleabag, the Amazon Prime Video show that she's created and also plays the title character. The show, which has won fans worldwide for its freshness and irreverence and is marked by a winning turn from Waller-Bridge, has also made it to former US president Barack Obama's list of 2019 favourites, a fact that figured (cheekily) in the 34-year-old actress's speech."I would like to thank Obama for putting us on his list... and as some of you may know, he's always been on mine."