The 5 shorts of Marvel's I Am Groot demand to be savoured one at a time
Voiced by Vin Diesel, Groot is the beating heart of the computer-animated series streaming on Disney+Hotstar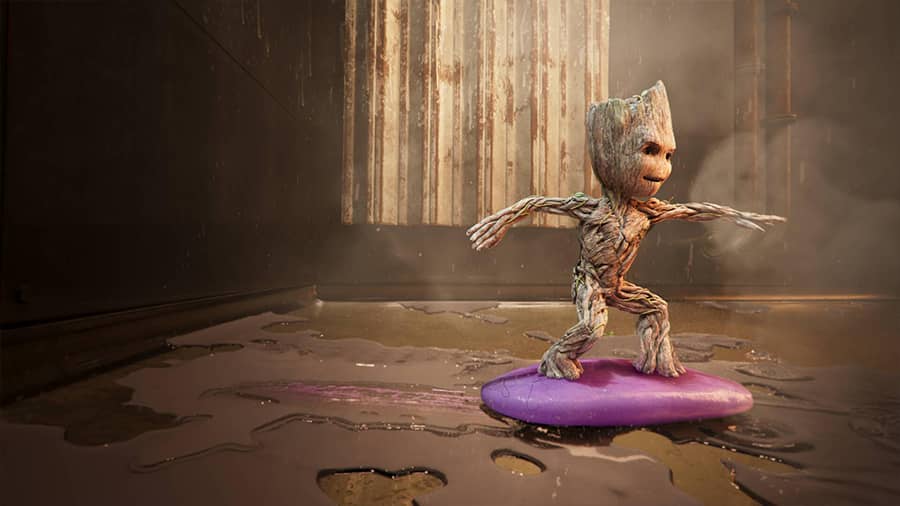 Groot in the I Am Groot series.
IMDb
---
Calcutta
|
Published 11.08.22, 10:06 AM
|
---
I Am Groot, a collection of shorts from Marvel Studios that has started streaming , has no multiversal threats, hardly any dialogue, and negligible impact on the Marvel Cinematic Universe (MCU). And yet, it embodies the giant beating heart beneath all the CGI that makes each MCU character so lovable. 
The five shorts barely comprise 20 minutes of runtime, and yet each of the self-contained stories stays with you long after you're done watching. Series creator Kirsten Lepore takes everything that makes Groot such a wholesome character and amplifies it. Few things are as precious as Groot's brooding eyes or childlike-chuckle. The CGI department deserves a special mention for creating a world with aliens and spaceships that instantly feels real and lived-in. 
The central character – voiced by Vin Diesel — is beautifully fleshed out as a toddler who resembles our inner child, one that hates being overshadowed or mimicked, bumbles into unassuming blunders, derives joy from mischief without thinking about the consequences, and lives for adoration. And adorable he is. Groot's charming personality enhances the minimalistic plot of each short. The premises of the episodes are as simple as Groot being replaced by a new bonsai tree, discovering a miniature group of aliens, finding an imposter on his ship, taking a mud-bath and sketching a portrait of himself with the Guardians. 
This minimal style of storytelling actually helps the series – it comes as a breath of fresh air amid the countless characters and storylines that MCU usually requires us to memorise. Each short in I Am Groot is independent of the other but retains the innocence at the core of its central character, leaving you with a fuzzy warmth as Groot smiles with twinkly eyes. The shorts demand to be cherished one at a time, a rare deviation from the world of binge-watching where we consume content but don't savour it. But I Am Groot is a series that continues to grow on you after the credits roll. Take your time with each short.
It is difficult to sum up this series, partly because it is so different from everything else on TV, and partly because it is a collection of the purest human emotions served on a platter. And yet, the final short, Magnum Opus perfectly does the job. Groot can get away with literally anything, including luring you to watch a Marvel show without any of the typical Marvel-isms, where the central character keeps repeating one line. Because he is way too cute.