Thanksgiving special episodes from 5 very popular TV comedy shows
F.R.I.E.N.D.S, The Big Bang Theory, Parks and Recreation, Modern Family and Brooklyn Nine-Nine have memorable Thanksgiving episodes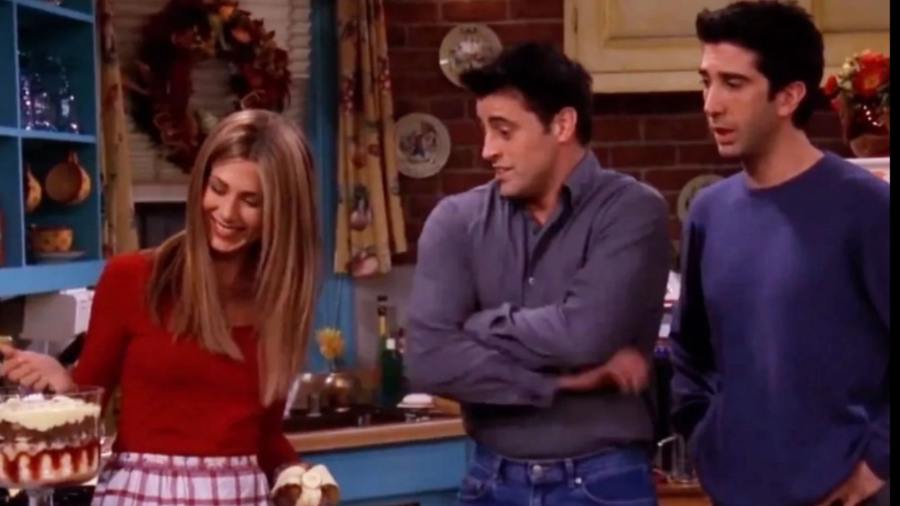 Jennifer Anniston, David Schwimmer and Matt LeBlanc in the Thanksgiving special episode of F.R.I.E.N.D.S.
Netflix
---
Calcutta
|
Published 24.11.22, 04:51 PM
|
---
Rewatching your favourite TV shows with your loved ones is the perfect recipe for a memorable Thanksgiving evening, apart from the food of course. Here are five Thanksgiving special episodes from popular sitcoms for a binge-watch.
F.R.I.E.N.D.S
While Thanksgiving special episodes on TV have become a regular, no other show celebrated this occasion as much as F.R.I.E.N.D.S. Every season had a delightful Thanksgiving episode which had us in splits every year. However, one episode that stands out is 'The One Where Ross Got High' (Season 6, Episode 9) for one simple reason — Rachel's Trifle. This episode could very well have been titled 'The One Where Rachel Tried To Cook A Trifle But Ended Up Making Shepherd's Pie'. 
The episode begins with Rachel (Jennifer Anniston) offering to help Monica (Courteney Cox) in the kitchen by making the dessert for the Thanksgiving dinner. She follows the recipe book to the T in preparing the course, but unfortunately pages of the book stick together, resulting in a mix-up of recipes. The end result is a combination of Shepherd's Pie and an English Trifle. While Rachel's friends try to hide their true feelings after having a taste of the dessert, Joey (Matt LeBlanc) gobbles up the entire dish, because, well, Joey is Joey and he loves food.
Watch it on: Netflix
The Big Bang Theory
In the ninth episode of Season 7 of The Big Bang Theory — 'The Thanksgiving Decoupling' — Sheldon (Jim Parsons) is dragged to Mrs Wolowitz's house for Thanksgiving against his wishes. "If the food is delicious and Thanksgiving is ruined, then it's all on Leonard's head," he warns his friends. Meanwhile, during a dinner-table conversation, Penny (Kaley Cuoco) reveals that she had accidentally gotten married to Zack (Brian Thomas Smith) in Las Vegas; in her defence, Penny says she thought it was a fake wedding. Leonard (Johnny Galecki) and Penny must deal with this blast from the past before they can legally get married.
In the Wolowitz house, Raj (Kunal Nayyar) volunteers to help Bernadette and Amy (Mayim Bialik) in the kitchen. After all " it wouldn't be Thanksgiving without an Indian supplying the food". Bernadette (Melissa Rauch) wants Howard (Simon Helberg) to keep her father company but he is still intimidated by the latter. He asks Sheldon instead to sit with Mr Rostenkowski (Casey Sander). The duo form a bond over football as Sheldon gets nostalgic about watching the game with his father. With a couple of beers down his throat, Sheldon assumes a new persona.
Meanwhile, Leonard invites Zack to the Thanksgiving dinner so that he can sign the annulment papers, leading to more hilarious moments.
Watch it on: Netflix
Modern Family
'Three Turkeys' (Season 6 Episode 8) perfectly captures the essence of the wildly chaotic yet loveable Pritchetts, Dunphys and Tuckers. Phill (Ty Burrell) has taken up the mantle of cooking the turkey this year for Thanksgiving dinner but Claire (Julie Bowen) is unsure whether he'll succeed. She and their daughter Alex (Ariel Winter) are secretly preparing a backup turkey, just in case. Phill enlists the help of an AI with a seductive voice for the perfect turkey recipe.
Meanwhile, Jay (Ed O'Neill) and Gloria (Sofia Vergara) have ditched the family, pretending to be holidaying in Mexico. All they want is a cosy, little dinner away from the hullabaloo of get-togethers. Mitch (Jesse Tyler Ferguson) and Cam (Eric Stonestreet), meanwhile, are having a tough time making their daughter Lily (Aubrey Anderson-Emmons) understand she cannot have all her wishes fulfilled all the time. 
In a comical turn of events, the entire family gathers at Jay and Gloria's house for dinner, and the latter are forced to hide in their own home. How their cover is blown, and what happens to all the turkeys in the oven make for a super fun watch. 
Watch it on: Disney+ Hotstar
Brooklyn Nine-Nine
In 'Thanksgiving', the tenth episode of Season 1, Amy Santiago (Melissa Fumero) has invited her colleagues at the precinct for a Thanksgiving dinner in her apartment. Amy has prepared a speech for Captain Holt (Andre Braugher), where she'd request him to become her mentor. But Holt and Jake Peralta (Andy Samberg) are forced to leave for an urgent mission, leaving Amy devastated. 
Boyle (Joe Lo Truglio) makes a toast where he admits his feelings for Rosa (Stephanie Beatriz), much to the latter's disdain. A starving Terry (Terry Crews), who needs to eat 10,000 calories a day to maintain his muscle mass, is out of his wits when he finds that Amy has added baking powder to the mashed potatoes instead of salt. When Scully (Joel McKinnon Miller) finds out Amy's toilet is overflowing, the gang heads to the bar to make the most of the remaining evening. A sulking Amy throws a tantrum, destroying glasses and furniture at the bar and the gang is thrown out. 
The day is saved when Boyle orders takeaways at the precinct. Holt is impressed by Amy's toast and Jake wins Boyle Bingo, a made-up game where everyone strikes off words or actions that Boyle might say or do on Thanksgiving.
Watch it on: Netflix
Parks and Recreation
In this episode titled 'Harvest Festival' (Season 3 Episode 7), Leslie (Amy Poehler) and her team at the Parks and Recreation Department are busy preparing for the upcoming harvest festival, a unique tradition in Pawnee. With the future of her department riding on the success of this event, Leslie has even booked the legendary miniature horse, Li'l Sebastian, for the festival. However, the chief of a local tribe requests her department to shift the venue of the festival, as it is built on the site of a massacre. Leslie refuses to give in to his demand, and the chief curses the event.
A day before the event, Li'l Sebastian goes missing, further deepening the crisis for the department. As the Pawnee media gives mileage to the curse, there's a growing cry to cancel the event. An unexpected blackout adds to Leslie's worries. As the heartbroken team take out their frustration on each other while riding a giant Ferris Wheel, they spot Li'l Sebastian grazing in a corn maze. The mystery behind the power outage is also solved and Leslie saves the day, yet again.
Watch it on: Amazon Prime Video