Tete-a-tete with Tenet's producer Emma Thomas
'I am very nervous when I first pick up the script and start to read it, because I know he will definitely have something that's extreme' — Emma Thomas chats with t2 about being privy to the curious mind of husband Christopher Nolan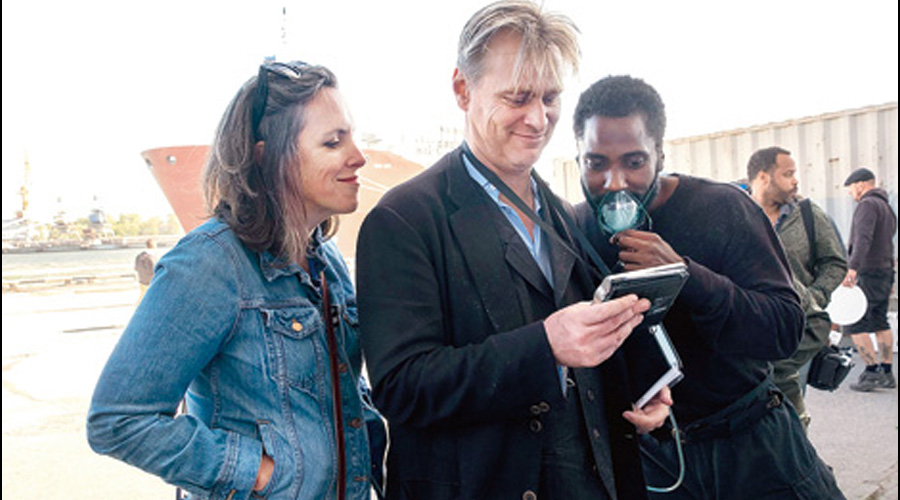 ---
|
Calcutta
|
Published 08.12.20, 01:07 AM
---
Emma Thomas is not only film-maker Christopher Nolan's wife but has also been the producer on most of his films. Together, they run the production company Syncopy Inc. With their latest biggie Tenet releasing in Indian cinemas last weekend, Emma chatted with t2 from Los Angeles on the challenges of making this ambitious film, shooting in Mumbai and why she's always nervous when reading a Chris Nolan script.
It's a given that every Christopher Nolan film comes with its own logistical challenges. Has Tenet been the toughest to make, just in terms of sheer scale and ambition?
There are various ways in which a film can be tough. The scale of Tenet has definitely been one of the biggest that we have done, and it's definitely one of our most ambitious. Everybody in the cast and crew were absolutely playing their A-game. I think everyone went in knowing that it was going to be very challenging, and I think they all just braced themselves!
For Tenet, we went to many, many countries but the longest we shot at any location was just five weeks. We would shoot in one place for a few weeks and then we would do a change of scenery and go somewhere else, which was equally amazing but different. And that re-energised everybody.
What were the biggest challenges?
Going to the countries we shot in, that alone was very challenging. We had to have production crew in lots of different places. All our teams, and we have many of them, spent enormous amounts of time talking to people all over the world. And that was very challenging from various perspectives. We had to shoot incredibly challenging action set pieces in almost every country we went to. What we shot would probably qualify as the climax of any other movie!
I feel like we learn from every film we make. For this film, we added all those elements up together to make a sort of bigger movie. Although it was challenging, it never felt daunting. We never felt that we wouldn't be able to achieve it.
Given that we are in the middle of a pandemic, how disappointing is it to release one of the biggest films of the year in such a staggered way, instead of a global day-date release?
We obviously had very different ideas about how this movie was going to be released while we were making it. Every movie you make, you think of it as one of your children. You have ambitions for it, like we have for our babies. But as we all have discovered this year, we have a great capacity to adapt. And there is no way we can be disappointed because there are so many more important things to think about in the world right now. The impact that the pandemic has had on our movie has paled in comparison to the impact it's had on people's lives across the world.
We actually felt very lucky to have a film that we were able to put out in places which needed movies. In the summer, cinemas in the US were largely closed, but cinemas in many other countries were still open and they desperately needed movies for their audiences. It was a great privilege to put the film out in places like France, Korea, England.... It was good to know that people were getting their jobs back for our film. In a different world, we would have probably come to India for the release... and we are devastated that we won't get to be there, but maybe on the next one!
Discussing all the action pieces in the film would take more than one interview, but I wanted to ask you specifically about the jumbo jet crash sequence that was shot at a functional airport. How much of a nightmare was that, given that you used a real 747 jet and nothing was done using computer graphics?
Yes, we shot it in an airport that was working but it would have been impossible to shoot it, say, in the Los Angeles International Airport or even the airport in Mumbai. We shot it at an airport out in the desert an hour-and-a-half away from LA, which is not as busy as some of the other airports. It's a huge space and they have a lot of unused aircrafts. When I read that scene in the script, I automatically assumed that we would be shooting with miniatures and build a set and use quite a bit of graphics.
And indeed that was the way we were thinking about it for quite a long time. But we started scouting locations and figured that there were lots of unused planes sitting around in this airport. We realised it would be cheaper to use one of those than to build a set and build the miniatures and use CGI. I know it sounds crazy to say this (laughs), but in many ways, it was easier to use a real plane. I think it really paid off in the movie because we couldn't have made miniatures and CGI look as authentic and awe-inspiring.
Your husband has described Tenet as "a classic spy film". But it's just not that, given it comes from a maker like Nolan. Would you agree?
With his movies, Chris always tries to elicit a feeling among the audience that is familiar and yet novel. In Tenet, he's tried to create the feeling of a classic spy movie. But obviously being Chris Nolan, he doesn't do anything in an ordinary way (laughs). Even if it's something that's been done before, he will take it and make it his own. Tenet has all the familiar aspects of a classic spy movie, and while it makes the audience comfortable, it also challenges them. So we hope that audiences walk out feeling that they have watched a classic spy movie that also takes them to new places and given them new experiences.
What was it like shooting in Mumbai?
It was fabulous! Chris and I had been lucky enough to visit India a couple of years ago. We just loved it so much. I think any place we go to we think, 'Gosh! We would like to come back and shoot a movie here'. Being in India really inspired Chris and it was incredible to go back and shoot Tenet in Mumbai. We had, of course, shot in India before for The Dark Knight Rises, but it was a much smaller scene, and very different. But even then we had decided we would come back once we had something bigger. And this was so much bigger! The rain was a little challenging but that's a given if you go in the middle of the rainy season.
What was it like having Dimple Kapadia on set, who plays the key character of Priya?
She was absolutely fabulous! We loved every minute of working with her. And I have to say that I was a little intimidated because we knew she has a big career in India and we were really blown away when we first met her. She's obviously got the charisma and the star quality, but along with that, she's also a lovely, lovely woman. It was a great honour working with her and we hope we get to do it again.
Christopher Nolan's mind goes into places where very few others manage to do. Being his producing partner and, more importantly, his wife, do you also get stumped sometimes when he broaches an idea or a story to you?
(Laughs out loud) I am always very nervous the first time he tells me about an idea in its entirety, though he constantly keeps telling me about things he's thinking and the ideas he's working on. I am very nervous when I first pick up the script and start to read it, because I know he will definitely have something that's extreme! (Laughs) And I am always blown away, because he has an incredible brain and an incredible mind.
What's exciting about the films he makes is that, although he loves to puzzle, he very much thinks in cinematic terms, and he always thinks about what a film is going to do to an audience watching it, how they are going to relate to it. And that makes him very unique in a way. There are some film-makers who do the intellectual, brainy movies and then there is the other kind that does popcorn (entertainment). But Chris manages to meld the two and create films that can be appreciated on many different levels. And I am as much in awe of that as the audience is.
Would it be fair to ask you which is your favourite Christopher Nolan film?
Oh my gosh! That wouldn't be fair at all! (Laughs) I always feel like the most recent one is the film I am most invested in, but once I look back at all the other ones, they remind me of the time when we made them and all the memories. I like all of them for different reasons, and I associate them with different periods in my life. The Dark Knight Rises has my son (Rory) in it, as an eight-year-old, and so I can't even think of it objectively because I am like, 'Oh Rory is in that!' And my other son (Oliver) is in The Prestige! So no, I can't pick a film. I am very, very proud of the body of work we have put out and I always have to think of it as a whole.
Which is your favourite Christopher Nolan film? Tell t2@abp.in