Team Dictionary on the meaning of words, roles, moods and moments of the film
The shoot for the movie started in the pre-pandemic time and was completed after the lockdown was over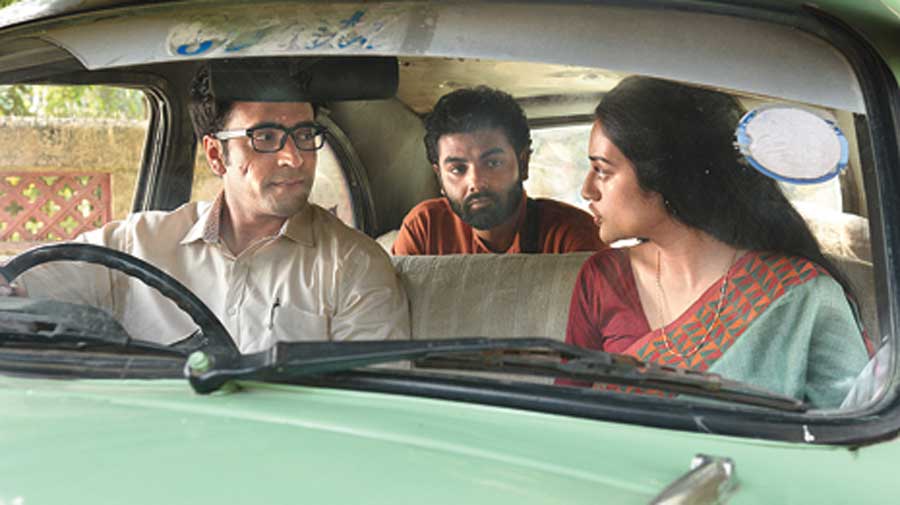 ---
|
Calcutta
|
Published 21.11.20, 03:51 AM
---
Bratya Basu's film Dictionary tells a story that revolves around the lives of the married couple Ashok (Abir Chatterjee) and Smita (Nusrat Jahan). With the shoot over, Dictionary (produced by Firdausul Hasan and Prabal Halder from Friends Communication) is now in the post-production stage. A Telegraph chat...
Bratya Basu
⦾ I wanted to work on a film based on literature. I had read two Buddhadeb Guha stories many years ago, maybe when I was 20 or 21. When I decided to direct a film after a gap of 10 years, I thought of merging the two stories. Both the stories are haunting. I contemporised the stories. And I really felt the urge to direct a film.
⦾ Both Abir and Nusrat have done a wonderful job. I know Abir for a long time, seen his development from close quarters. Nusrat was apt for the role of Smita.
⦾ I felt really excited directing a film after 10 years. I was soaking in the energy and vibrancy. In the last 10 years I have watched so many films, and that was a learning process for me, very enriching.
Abir Chatterjee
⦾ Dictionary is an amalgamation of two stories by Buddhadeb Guha. I play Ashok, a government forest officer. But in his personal life he is kind of an introvert. There is a melancholy to him. He is not expressive, keeps things inside. But he is a very educated, well-read, smart person. One might feel he is cold but he is not. He is very warm, affectionate, loving. Maybe his thought process, idea of living, view points, the way he sees life, are beyond the pettiness around. Most of the times he is silent, observing things. He loves his family, he is a doting father.
⦾ It was lovely working with Nusrat one more time, being paired opposite her in quick succession, in Asur and now in Dictionary. We share a very good rapport and comfort zone. In the film, there are some heavy emotional scenes between us where the silence plays a very important role.
⦾ I know Bratyada for a long time but I am working with him for the first time. He knows me from the time when I was in Class V or VI. We have a family connection. My parents, sister, uncle, they used to do theatre and Bratyada was a regular on the circuit. They had done theatre quite regularly at one point of time. It is good to be in his comeback film Dictionary after a decade. This is a different Bratyada, we had a relaxed working environment. Through this film he has tried to break his own image of the kind of theatre he has produced, and we all have been a huge admirer of his work. In contemporary theatre he has been coming up with some excellent ideas. But this film is quite different from the kind of theatre he has done. There is silence and cinematic moments in this film. And I could understand that he is trying to build something new. I really enjoyed working with him. In the script, there are a few things which are untold. We had to create those moments. We had meetings and we tried to give shape to the character. And we tried to come up with new ideas. The outcome was organic, and at the same time I could see a very planned, thorough and methodical director helming the whole process. It was quite an experience.
Nusrat Jahan
⦾ The title Dictionary is catchy, absolutely relatable and it is very intriguing... it can be understood in various ways. For me, dictionary means finding a meaning to words and in the film, it means finding the meaning to different roles we play in life.
l I play Smita, a housewife. She likes literature; has a simple lifestyle.... she has a lot of shades. She is stuck in something and yet she does not know what she is stuck into. There are a lot of complex emotions, she takes care of the household, her family and she also wants to live for herself.
⦾ The best part I like about the story is that it is so real; it happens in today's times. There are so many Smitas around but their stories don't come out in the open!
⦾ It is always fun working with Abirda. He is one of the most versatile actors I have worked with. He is a very sweet person and keeps pulling my leg... we have a lot of compatibility as far as acting is concerned. Our scenes turn out really nice.
⦾ I have immense respect for Bratyada. He is a sweet man... he would explain to me the shot and I would follow the director's instructions. It was so much fun working with Bratyada because of his experience and the kind of person he is. I was the youngest of the lot and obviously I was pampered.