Tathagata Mukherjee writes about key players in upcoming film Pariah
Plot of movie revolves around reclusive young man and how he gets involved in racket of missing street dogs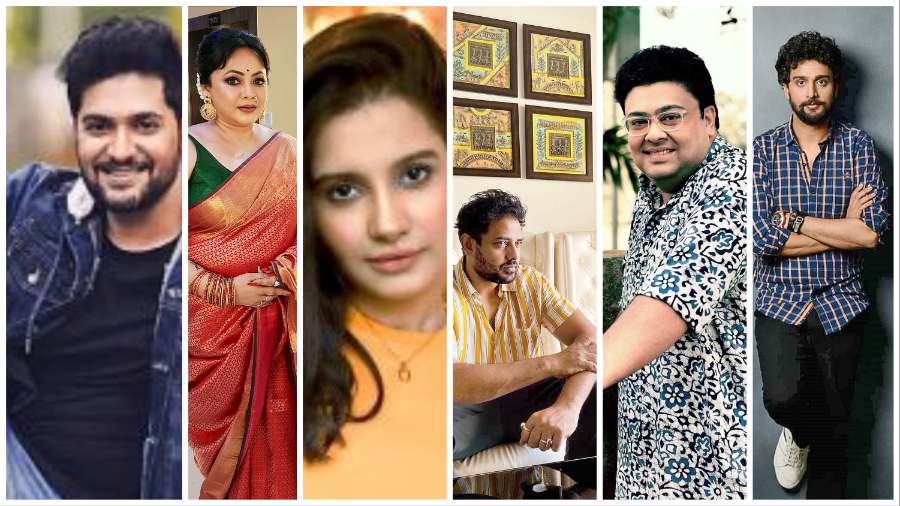 (L-R) Vikram; Sreelekha; Angana; Tathagata; Ambarish; Soumya
---
Published 04.03.23, 02:50 PM
|
---
Film-maker Tathagata Mukherjee's next film Pariah, produced by Pramod Films and Dreams On Sale, revolves around a reclusive young man and how he gets involved in the racket of missing street dogs. The film depicts his journey towards becoming a messiah for the pariah dogs.
Essaying the titular role, Vikram Chatterjee said: "As an actor, Pariah is the most challenging character that has been offered to me so far. Tathagata wanted to speak about a man who through this journey of the whole film starts becoming a voice for the helpless animals, for the stay dogs. He will bring justice to them. My character is basically a recluse. He has a strong backstory that gets revealed through the journey of this film. He is a man with no identity, nobody knows from where he came. What exactly was he doing before this? He is quiet, doesn't interact with too many people and comes across as short-tempered."
About the film, writer-director Tathagata Mukherjee said: "Pariah is the name of the Indian street dog breed. It also means an outcast. Pariah is the story of a socially displaced man and his journey to becoming the refuge for stray dogs who are nameless and clanless just like him. While participating in various social activities, I have seen the amount of torture and pain animals go through. My film Pariah is a story of protest against injustice to these street animals."
Tathagata snapshots the key characters....
Butcher (Soumya Mukherjee)
A scarred-face butcher (Soumya) with violent eyes who had brutally killed his parents in his childhood and had remained in a juvenile home for years. Unlike the general idea of butchers, he is considerably rich while still persisting to wear a common butcher's attire at work. He believes that if chicken meat can be consumed, meat from any living organism can well be consumed. It is not on the conscience of the butcher but simply a chain of demand and supply that leads to the buying and selling of meat. The man considers the fact that organisms survive in two broad ways — they either exist or survive by consuming the flesh of other organisms
M.N. Sharma (Ambarish Bhattacharya)
M.N. Sharma (Ambarish) is a Supreme Court lawyer, mostly seen in tuxedos with Havana cigars on his lips... he provides regular funds to NGOs meant for dogs, which are particularly run by women. In his interviews, he keeps speaking about his love for street dogs while petting foreign breeds at home. He instigates dog racing and makes his pet dogs run for such races.
Komolini (Angana Roy)
Komolini, a girl in her mid-20s (Angana) has been staying in Calcutta for a year while her father is posted in Dhanbad. Brought up in the suburbs, she carries more of a middle-class attire while remaining soft-spoken and away from the hardships life can actually bring upon her. Coming from a wealthy background, she has recently joined an NGO for dogs for the first time. Apart from having a pet street dog, she also has around six rescued street dogs at her home, all of whom are physically challenged. The girl works at Sanghamitra's NGO 'Cure and Care', which happens to be non-profitable from her side. Out of her love for dogs, she dreams of setting up hospitals where dogs can be cured free of cost.
Promoter (Lokenath Dey)
An avaricious promoter (Lokenath) living with his family, sports his colourful attire that exhibits his tainted wealth.
Factory Worker (Vikram Chatterjee)
A factory worker (Vikram) whose name is hardly known to people regularly comes to a street-side hotel. In this leather shirt and jeans, he however fails to hide his scars, the origin of which is unknown. He seems disturbed, coming from an unknown world, often exhibiting annoyance at people. Living alone at a cheap flat, he has something concealed in his mind. There is a sense of a disturbed background in him. Even while working at a factory, he seems different in various ways from the other factory workers. It can hardly be comprehended whether or not he has some attachment to dogs or even for anyone in his world.
Sanghamitra (Sreelekha Mitra)
Sanghamitra (Sreelekha) is the founder and chief of the 'Cure and Care' NGO for dogs, which happens to be the number one NGO in West Bengal. She sports sophisticated attire, representing the cultural heritage of Bengal. She had started working for dogs at a very young age and is now seen speaking for the love and care of dogs in her interviews. She fights against the cruelty of dogs while being the face of this movement in the whole of West Bengal. She finds regular aid for her NGO from the lawyer M.N. Sharma.