Tanya Maniktala gears up for A Suitable Boy this Friday
'The best response I have got is where people have told me that I am Lata'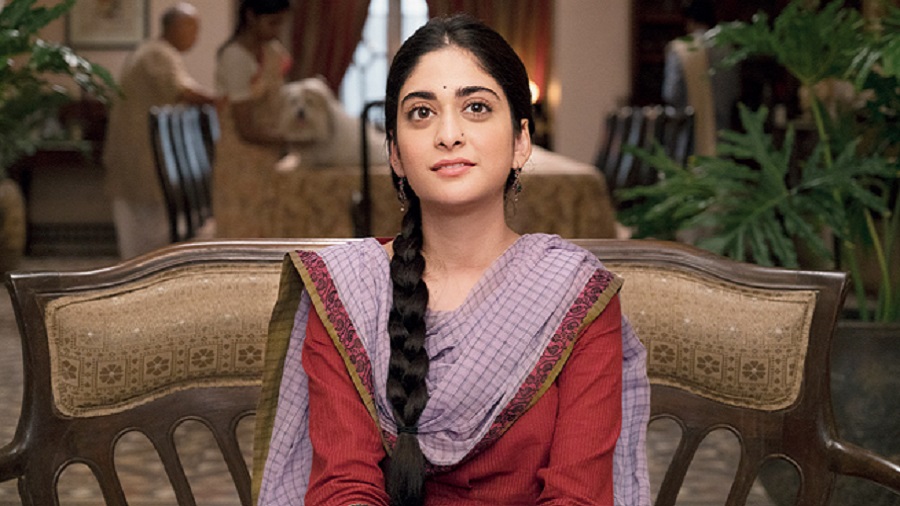 ---
Published 18.10.20, 05:38 PM
|
---
It may be called A Suitable Boy, but the focal point of Vikram Seth's seminal novel is Lata Mehra. Twenty-seven years after it  became a bestseller and continues to be loved by generations after, Mira Nair has converted the 1500-page-plus novel into a six-part series, that streams on Netflix from October 23.
Slipping into the central role of Lata, a young girl who has to choose between her suitors and crafts a journey of self-discovery in the process, is Tanya Maniktala. The 23-year-old Delhi girl, in what is only her second time on screen, was chosen from a long list of hopefuls. The Telegraph chatted with Tanya on being Lata, what it meant working with a global name like Mira Nair and why A Suitable Boy still remains relevant.

A part of the world has watched the show in the UK when it dropped in July, but Netflix, of course, offers a global platform. So is it excitement, nervousness or a mix of both as release date number 2 comes close?
Global recognition is obviously global recognition. As a newcomer, I couldn't have asked for a better platform than Netflix. I am engaging with a much wider audience now. So I am sort of bracing myself for what's coming next (laughs). So yes, there is the excitement, but also the nerves. As the release date inches close, I am having to remind myself to breathe and calm down (laughs). Since it's based on a bestselling book, there is always that apprehension as to whether one can do justice to the character.

What's been the best feedback to your performance?
The best response I have got is where people have told me that I am Lata... that I embody everything that Lata is, the way she's been written. Getting this validation that I fit the character is what I was striving for and it's very rewarding to get that.

Vikram Seth also told you that he sees you as Lata. That must have been quite a high!
Yes! It happened at the table read when I met Vikram Sir for the first time. I introduced myself to him saying I would be playing Lata, and he told me, 'You are everything I imagined Lata to be!' It was a fulfilling feeling, definitely.

I believe when you went in to audition for the part, you had no idea it was for A Suitable Boy. What was your reaction when you first found out, given that this is as big as it gets?
Yes, when I went in to audition, I had no idea what it was for. I hadn't read the book, but my bestie is a huge fan of the novel. And a few days before the audition, we were discussing something and she drew an analogy from in terms of the crossroads at which Lata finds herself in the book. And it resonated with me because I am at a point where I am trying to find myself and figure out where I want to be. It was a very happy coincidence when I later found out that the role I was auditioning for was Lata. When I told my friend, she was elated... she couldn't believe it was actually happening (laughs).

Very uncanny!
Yeah, very uncanny... almost surreal!

What was your first interaction with Mira Nair like?
It was over a Skype call. It was part of the shortlisting process and she just wanted to talk about the character and know how I felt about Lata. It was a very enriching conversation. I saw how passionate she was about the project. It's quite evident in all her cinematic masterpieces that she draws energy from all her characters. It's important for a director to strongly believe in the subject in order for us, as actors, to bring our most authentic and honest selves to the screen. That energy and passion definitely rubbed off on me. From that Skype call onwards, I knew I really wanted to work with her and be a part of this project. With desperation, almost! (Laughs)

Everyone who's worked with Mira describes her as a child on set. Did you have the same experience with her?
Yes, definitely! She was always the most energetic person on set. There were times when we would be tired and lazy and she would be the one bubbling with energy at any time of the day! She's the most hilarious person I have come across. She can crack you up all the time. And she's so humble. That's where we all drew our energy from. She's always bursting with life. When you see that, then you can't really let your energy fizzle out. She's a child in the best way possible.

What's your understanding of Lata and in what ways does she resonate with you?
I see a lot of myself in Lata and she's also a source of inspiration to me. I see a certain strength and independence in Lata. Since this is a period drama and I hadn't read the book, I really couldn't imagine a girl in the 1950s to have the agency that she has... she's a very well-rounded character. Her sense of independence, her wit, her charm, her authentic self... that's what makes her so inspiring, and that's why she has so many suitors. People all over the globe love her for how she's been written.

This may be a story set in the 1950s, but it's always relevant, isn't it?
Yes, for sure. Ultimately, it is a coming-of-age story and a journey of self-discovery. We all go through that phase where we are confused about what we want and I see that in Lata as well... she goes from this shy university student to a beautiful and elegant lady who is so confident in her skin. That stands true universally for everyone and I think the book has really stood the test of time. Ultimately, we all are in the quest to find ourselves.

You were surrounded by some consummate actors. What was the energy on set like?
In the beginning, I was really intimidated and overwhelmed by all this talent around me (laughs), but eventually, I sort of came on to my own. All the actors on A Suitable Boy are not only just great performers, they are also very good human beings. They believed in me and I could always go to them for help. My biggest takeaway from A Suitable Boy has been the people I worked with. I know I have built bonds for life... I couldn't have asked for a better team.

Are you also a Tabu fangirl like the rest of us?
Oh yes, who isn't?! (Laughs) I didn't have many scenes with her... it was just that one sequence, but just being in her presence was such a big takeaway for me. She's always cracking jokes, but as soon as 'Action' was called, you could see this transition within her to this very elegant actor who largely operates in the moment. I want to be able to learn to be able to work like that.

It's early days for you, but have you chalked out a road map of where you want to be as an actor in the next few years? Safe to say, you aren't going back to your copywriters' job...
I hope so! I just hope I get good content to work on. As an artiste, that should be the only driving force. Wherever work takes me, I will be there (laughs).

I am looking forward to A Suitable Boy because... Tell t2@abp.in