Tannishtha Chatterjee on her directorial debut Roam Rome Mein and her fave women directors
'Though my film is international, the ethos is very Bengali'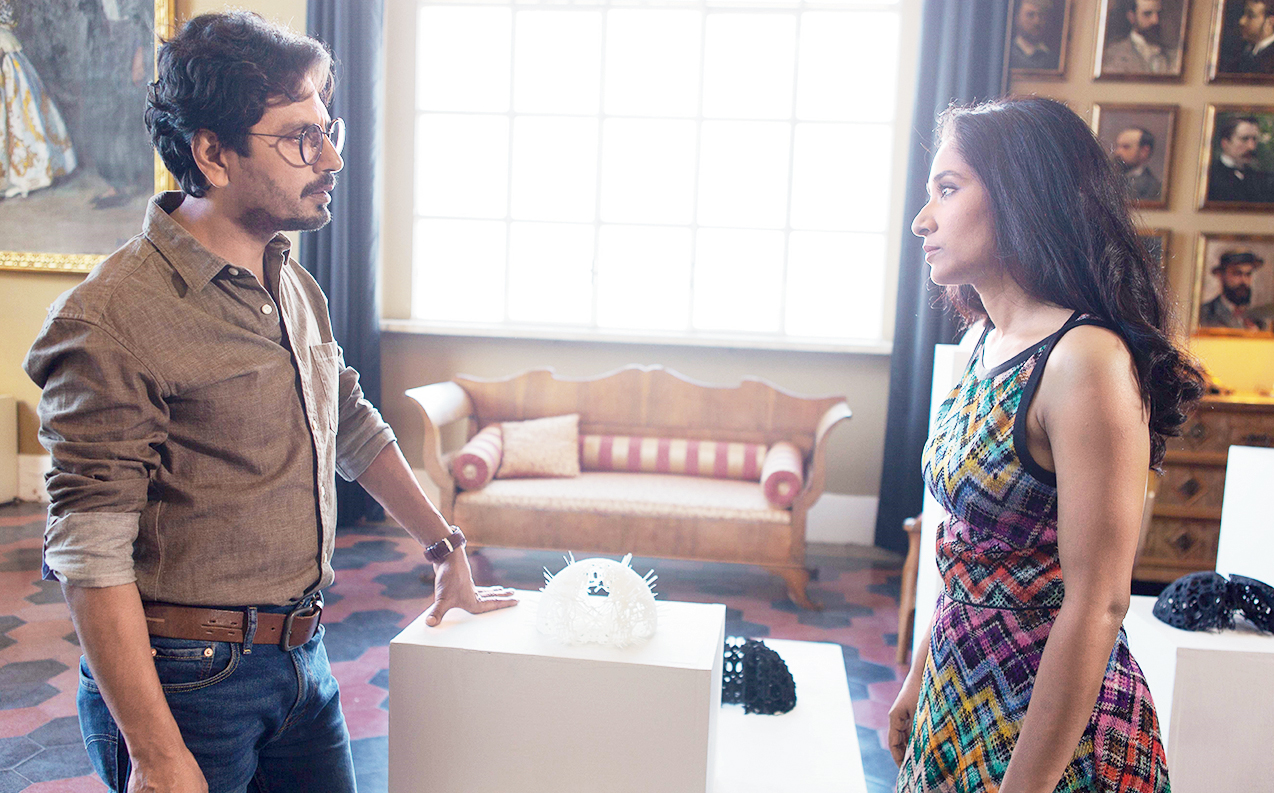 ---
---
National Award-winning actress Tannishtha Chatterjee, who was at the 25th Kolkata International Film Festival for the screening of her film Roam Rome Mein, spoke to t2 post-screening, about her filmmaking debut and what she likes to do when in Calcutta.
What was the audience's reaction to Roam Rome Mein after it was screened here?
I think it was incredible. This was the old-world cinema charm, a 900-people audience. Though my film is international, the ethos is very Bengali. So it was very special to screen it at the Kolkata International Film Festival.
It has been to different film festivals. How was the buzz different in Calcutta?
Though we screened it at the Busan International Film Festival, the Jio MAMI Mumbai Film Festival and even in Rome, it was amazing here. Even in Rome we didn't have such a big theatre like here in Calcutta. All the others were standard multiplex screenings.
What was the genesis of the film?
It actually started in Calcutta when I was shooting for Lion. Nawaz (Nawazuddin Siddiqui) and I were discussing things in general like art, life, poetry and acting of course... how we would like to approach acting and how we would like to be directed. And then I told him about a story which was brewing in my mind. It had come from an incident that had happened with me in Venice in 2015 when I was travelling. And he found it really intriguing. He kept pushing me and asking me to write it. At that time I never thought I would make a film on it or anything. It was just an interesting story. It was a surreal experience... till date I don't know whether it really happened or it didn't. I have seen films getting postponed. My film was preponed by one-and-a-half months. I was underprepared, I don't know how I made the film.
What were the challenges?
We actually had 14 days for the pre-production. It was crazy, our team was ready only one month before we started shoot. Two months before the shooting, I had no team. My first assistant director backed out as well saying the scale and complexity of the film was large. We shot in a foreign location with so many Italian actors... I didn't even have a line producer at that time. A fresh team came on board that was extremely professional and enthusiastic and driven. They believed in the script and the idea. We jumped on to it. It's a miracle we pulled it off.
If you had more time on your hands, do you think you would have made a better film?
I think I would have worked on certain things differently. There are places that I know I could have done better. There could have been more time devoted to writing. But I think it's always the case with creative people... never fully satisfied. I am not completely happy with the film...to be honest.
From acting to now directing, did you see that coming?
No. It just happened. I had never thought of directing. Parched was a film that actually came from an idea that I wrote. There's another film that I wrote, which Onir is directing and I am acting. Writing yes, but never thought of directing. Direction is a very different craft. While making this film, I learnt a lot, especially about the post-activities... the editing, sound, the colours, effects, technical aspects.
Why Rome?
Rome is like a character, it's set there because of multiple reasons. My female protagonist believes she is a reincarnation of a Renaissance woman. The genesis of modern feminism started from Europe... in Florence, Rome, Venice in the Renaissance period. And there are ample number of women artists and poets who have had major contribution during the Baroque and Renaissance periods to literature and art. But they were never celebrated like their male counterparts. It was only in the 1920s when modern feminism was taking a very different shape that these artists were explored. Till date, they are known locally, not across the world. My film is a sort of tribute to all these women... they are the reason why we can express ourselves today — make films, write poetry, travel the world. It had started there and then.
Rome is very interesting because it has a strong history of violence, machoism, male dominance and war... all that stands for patriarchal energy. On the other hand, there's also a history of strong feminist protest. In fact, around 1,400 or 1,500 years back, the first recorded women's protest happened in Rome. They protested against not being allowed to use expensive goods. I found the dichotomy very interesting in the context of my story.

What is the story about?
It's about a man is search of his sister. In the process, he realises, decodes unshackles, demystifies his own deep-rooted patriarchal ideas.
If the film deals with the feminist movement in Italy, what's its universal appeal?
It's a modern film. Like I said that there's a juxtaposition of that idea. It's very universal. There's a reason why it was shot there. Rome provides a very interesting backdrop to the story in the context of what it is. But it is universal because it happens everywhere in different forms. It is a sort of tribute to the city that artists have always been fascinated by. And it's a tribute to those women as well.
Why did you cast Nawazuddin Siddiqui?
Because it started with a discussion with him. When I was writing it, I completely saw him fitting the character. And it's a very different role for him because the film is predominantly in English and he has never played a part in a majorly English language movie. The energy of his role here is different than how we are used to seeing him. It's a very internalised, soft role. It's not a harsh film though it tries to displace patriarchy. It's a tender movie. It has a nurturing, feminine energy.
Did you ever feel burdened with the acting since this was your directorial debut?
It was very tough. Also because of our low budget but ambitious scale. It wasn't easy to execute. On days that I had scenes as an actor it used to be very stressful.
The poster is very interesting — Nawazuddin looking out into the city from a height...
I wanted to intrigue the audience. Because he is searching for his sister and he is looking at this big city full of mystery, beauty and conflicting ideas. And he is wondering where to look for her.
What do you usually do while in Calcutta?
This time I was there for a few hours only. I came from Delhi and the flight was delayed. I usually meet a few friends and I go to certain favourite places like Bhojohori Manna. I am a sucker for Bengali cuisine.