A quiet birthday, a big film release and slowly but surely venturing into the 'hero' space
Tahir Raj Bhasin chats post his birthday on what he's been doing during this time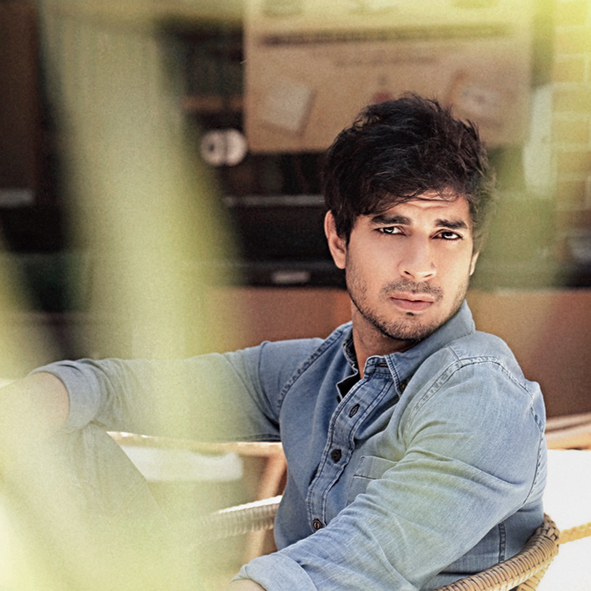 ---
---
Tahir Raj Bhasin had a quiet 33rd birthday on April 21, with a homemade cake baked by his cousin and video calls with family and friends from all over the world. The Telegraph caught up with the actor post his birthday on what he's been doing during this time, the postponement of the release of his big film '83 because of the pandemic and how the huge success of last year's Chhichhore has changed things for him.
Belated happy birthday! You had a 'locked down' birthday, but we did manage to see some cake on social media. What was your 33rd birthday like?
I would say that it was very unusual... it was like being in a science-fiction film. I did a lot of video calls, but what video calls do is that they give you the perception of connecting with people, but you don't feel like you have physically met them. It's not the same thing... it's the closest substitute.
I live with a cousin and he baked a cake and that was really good because I got to cut a cake and have some semblance of a birthday. I did video calls with my family and I cut the cake on the video call. I also fed a piece of cake to a family member... it almost feels like you are staging something, but it also gives you the feeling of sharing.
Through the day, I did a lot of video calls with groups of friends from all over the world. At least the positive side was that everyone was available, everyone was at home and there wasn't the hassle of waiting for people to make time. In that way, it was great. One way of looking at it is that if this lockdown situation had to happen, it's great that it's happening at a time when technology allows people to be connected.
What's your mindset like these days?
Had the lockdown not happened, I would have been jumping from one project to the next, with a gap of perhaps 10 days. But now that it's been five weeks and counting, it just allows one to sort of reassess and
re-evaluate and also gives one a little more time to research and rehearse for the next project. So, it's been a mix of a little more rehearsal time and time to catch up with oneself, which if you are in the creative line of work — irrespective of whether one is an actor, writer or director — is an essential aspect that we often overlook because of our schedules.
How are you keeping yourself occupied at this time?
It's a mix of a few things. Productivity would include taking care of basic food and house chores, which otherwise I had no idea takes so much time (laughs). It's given me a lot of respect for the people in my life who would do that kind of work for me. Having a domestic help at home is something that everyone from a certain background in India just takes for granted. There's also going to be a new respect for everyone who's risking their lives to either support the system or because they have no other option... going out there and continuing to work to keep things running, people like food delivery guys, the vegetable vendors down the road.... These are people whose names you would probably not know, but now they have become lifesavers. It's given us enough time to perceive, notice and appreciate all of this.
Are you doing any cooking?
I've been very unsuccessful at it. Let's just say I cook enough to survive (laughs).
If the lockdown hadn't happened, you would have had a big film release in '83, where you play the legendary Sunil Gavaskar...
I think there is some unifying factor in knowing that this has not just happened to our film or to our industry... the whole world is on pause at the moment. So one doesn't feel victimised at all. On the contrary, I feel that the producers (of '83) took the right call at the right time. The trailer hasn't come out yet, so there's no material out on the film. I am looking at the positives in this... it's a period film, so regardless of whether it comes out next month or a few months later or next week, it's not going to look dated in any way. Also, it's a timeless concept. Everyone knows what the crux of the story is (India's cricket World Cup win in 1983) and they will relate to it regardless.
Do you see people walking in to watch films even when things normalise a little?
Guessing what's going to happen at this point will be conjecture. One thing that's obvious is that the audience is not going to be in theatres the weekend the lockdown lifts. It will take weeks, and possibly months, for people to be comfortable enough to do that. But at the same time, the optimist in me believes that in this lockdown, there's been a huge consumption of entertainment. People at home have been viewing things on OTT platforms, they have been watching films. So when the lockdown lifts and when we get back to whatever is the new normal, there's going to be a big demand, there's going to be a vacuum that's created because everything that existed has already been consumed. To fill that vacuum, there will be a surge of work in the entertainment industry. As much of a pause that we are in now, the upswing of this is going to be equally strong as and when things open up again.
You are slated to next star in Looop Lapeta, the remake of the popular Hollywood film Run Lola Run, opposite Taapsee Pannu. Had you watched the original before you signed on?
I had seen the original and I remember it blowing my mind. I watched it in the late '90s when I was still in school and the whole concept of fractured time and a race-against-time template was very new when it was made. When I met the team of Looop Lapeta — the producers are Ellipsis (Entertainment), who also made Neerja and are known for cutting-edge, stylish content — what was interesting is that they are not just looking at picking up Run Lola Run and remaking it in Hindi... they have bought the rights and it's being contextualised to fit the Indian scenario in 2020. I feel that people will relate to the film.
What's great is that if you have seen Run Lola Run and you come and watch Looop Lapeta, it will be cool because you will pick up references from the original. But even if you haven't heard of Run Lola Run and come and watch our film, it will still be exciting.
Ever since your breakout turn in Mardaani six years ago, you have mixed it up, balancing a Chhichhore with a Manto. Is that going to be the way forward for you in the next few years?
It's been a very conscious choice to mix it up. One of the questions that would come my way frequently after the huge success of Mardaani was that whether those were the kinds of parts I wanted to play. I would always find it very surprising that people would be ready to decide that on the basis of just one film. So, I made the conscious choice that my next few films would be different and exciting and that's also because as a person, I tend to get bored very easily. So it was important for me to jump into various parts to keep myself engaged as an actor.
How has the massive box-office success of Chhichhore last year and the attention that came your way change things for you?
Well, the success of Chhichhore has ensured that the big studios and directors have started to look at me as someone who can go from being an anti-hero, in terms of the previous stuff that I have done, to be more in what would be, quote unquote, the hero space. That's been a huge change.