Taapsee Pannu is 'a friend for life' — Thappad actor Pavail Gulati
Delhi lad has received praise for his act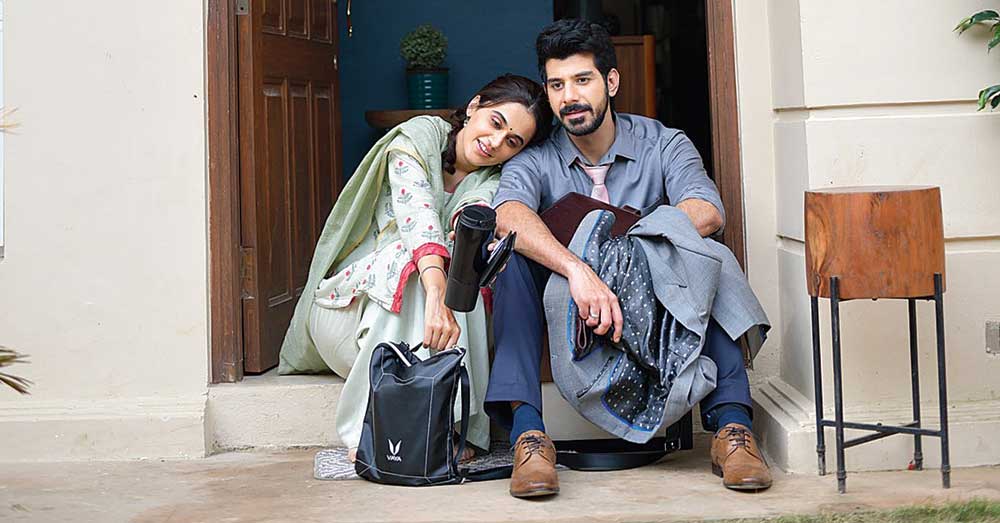 ---
---
All the praise coming in for Anubhav Sinha's hard-hitting drama Thappad has Delhi lad Pavail Gulati over the moon. The actor, who studied at Whistling Woods before assisting casting directors like Shanoo Sharma and Mukesh Chhabra, is hoping that this film becomes his calling card. "Some years ago, I was in a TV show called Yudh with Mr Amitabh Bachchan. I had thought it would be my big break but no one saw the show," he says with a laugh. Fortunately, this is not a problem that he's going to have with Thappad. The Telegraph caught up with the actor, who was last seen in Anurag Kashyap's segment in Ghost Stories, to talk about that 'thappad' in the film, the co-actor he was intimidated to share screen space with and why Taapsee Pannu gets irritated with him.
How did this film come your way?
I had tested for it a day before leaving for London to shoot for Anurag Sir's (Kashyap) short in Ghost Stories. I got to Abu Dhabi and my phone was buzzing. One of the messages was from Anurag Sir and I got worried that my shoot for Ghost Stories was cancelled. I had some roaming issues so I couldn't get in touch with anyone, and I boarded my connecting flight to London. Once I landed, I called Anurag Sir and he told me that Anubhav Sir (Sinha, the director of Thappad) loved my screen test and wanted to cast me. Anurag Sir had read the script of Thappad and loved it. He told me that I must do the film. I read about 25 pages of the script and I knew that I had to do the film. It was beautifully written and not one-sided at all. It wasn't a film on domestic violence but a relationship story. I loved my character because he is so layered. I flew straight from London to Lucknow and started shooting immediately. I didn't have any time to think or even prepare for the character.
What were the notes that Anubhav Sinha gave you about your character?
When I first met Sir in Lucknow and we started talking about the character, I told him that I couldn't really relate to him (his character Vikram). I am not that kind of a person, so I kept questioning things like why would he say something like that or why didn't he apologise immediately. Sir told me a lot of real-life stories that he had experienced or had heard about. I told him, 'I haven't even prepared for the character,' and he said, 'All men have been preparing for this character all their lives. No matter how liberal or feminist you think you are, there is this atom of patriarchy that is still there in every man'. I completely understood what he was saying.
Considering you had no time to prepare, how long did you take to get under the skin of the character? And what were the things that he did that you found hard to portray?
It took me two days to get but there were many instances where I was very disgusted by what I had to say or do as the character. Like when I am driving and I say, 'Yeh gaadiyaan leke kyun nikalti hain'. It's ridiculous that people still make fun of women drivers and so I had a tough time even delivering that dialogue. But I realised that there are men who still believe that kind of stuff. It's possible that even I must have said it in the past. Even women say this kind of stuff because patriarchy is so ingrained in us. The idea was to keep my character normal for people to relate to him. That wouldn't have happened if Vikram was a dark character.
What is Anubhav Sinha like as a director?
To begin with, I have to tell you that Anubhav Sir is not serious at all in life. He is always having fun and joking around on set. Taapsee and he were constantly pulling my leg. It wasn't a very serious set. Sir's chief AD (assistant director) would keep saying, 'Please let's shoot, Sir' (laughs). On a serious note, he is the kind of director who likes a discussion. While he knows his mind, he encourages everyone on his set to give their opinion. Once everyone is on the same page, he completely lets you be. There is a scene where Taapsee comes over and says, 'Mujhe kuch lena hain' and Vikram goes into a rant. Before we started shooting, I told Sir that it might work better if we did the whole thing in one take. He immediately agreed and told us to just go for it.
Let's talk about that slap...
You know, that's the first time I've ever slapped anyone on screen. I was very nervous about shooting the scene. It's never a nice feeling to hit someone, more so when you know much in advance that you have to do it. On that day, everyone on set told me that I looked sick because I had stressed myself about the scene so much. My hands were sweating and I couldn't land the slap right. It took seven takes before Anubhav Sir got the take he liked. As soon as he said 'Okay', I quickly hugged Taapsee and apologised before running out of the set.
The film has such an incredible cast. Was there anyone you were looking forward to shooting with?
Kumud Mishra (who plays Taapsee's father in Thappad) . I was both eager to shoot with him and very intimidated. He is such a fine actor. After every film I saw him in, I told myself that one day I want to share screen space with him. Once you work with him, you realise he is so brilliant and you are the shittiest actor in the world! It was very intimidating but he is also just a nice guy. I was also very intimidated by Dia (Mirza) the first time we met. I have grown up watching her. I was so much in awe that I kept calling her Dia Mirza... I couldn't think of her as just Dia. She is so beautiful and sweet. She also gives the best hugs in the world.
What is Taapsee like as a co-star?
I always thought Taapsee would be this tough girl... this fiery, feisty girl who always speaks her mind. She's an outsider like me, so we relate on that level as well. I ask her for advice about things, which irritates her! (Laughs) She keeps telling me to make my own decisions. I think I have found a friend for life in her.
According to the Internet, you are doing another film with Taapsee which is going to be directed by Anurag Kashyap.
I have no idea about this. But if they are planning this, I hope someone tells me quickly. Or maybe, you could check with Anurag Sir for me (laughs).
I will! Before I let you go, what kind of reactions have you been getting?
Hansal Sir (Mehta, filmmaker) wrote a beautiful piece about the film. I cried after reading it. I called and thanked him. He was all praises. Vidya Ma'am (Balan) and Siddharth Roy Kapur called me. She told me, 'I hate you but I hate myself for liking you in the end'. That was the biggest compliment.