Taapsee Pannu after Shabaash Mithu: 'I don't want to do sports films for a few years'
Directed by Srijit Mukherji, Shabaash Mithu is a biopic on cricketer Mithali Raj that releases on July 15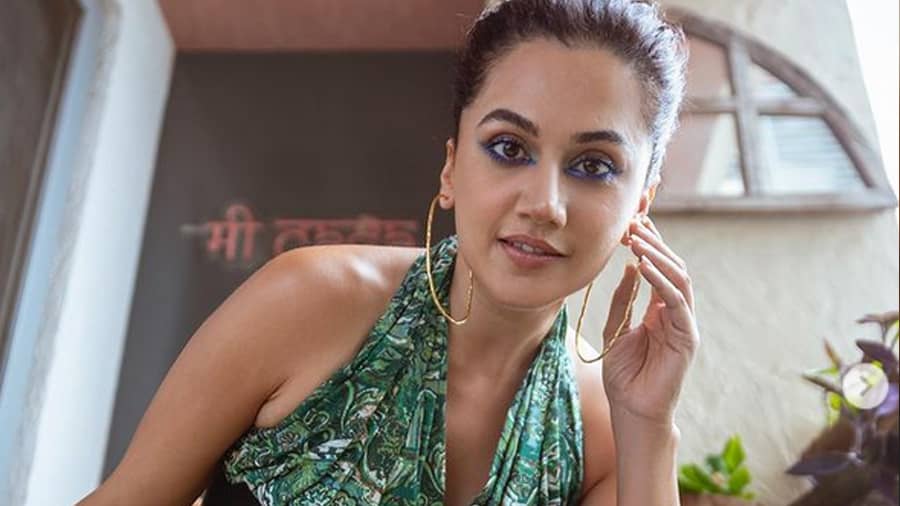 Taapsee Pannu will pad up as Mithali Raj in Shabaash Mithu, releasing on July 15.
Instagram
---
Calcutta
|
Published 11.07.22, 04:35 PM
|
---
Rashmi Rocket, Soorma, Saandh Ki Aankh and now Shabaash Mithu — Taapsee Pannu is ready with another sports film but also a very special one. Directed by Srijit Mukherji and produced by Viacom18 Studios, Shabaash Mithu is a biopic on Mithali Raj, the former captain of the Indian women's cricket team and the highest run-scorer in women's international cricket. 
At Eden Gardens recently, Taapsee told us what it's been like to pad up and play like Mithali in front of the camera. 
Shabaash Mithu, the first film on Indian women's cricket
Taapsee: This is the first time something of this sort is happening. Because for Mithali, this will never happen again; it's her life and her story. It will not happen again for her, nor for me, nor for Indian cinema. This is the first time. Even if there are movies about women's cricket later, you will see something or the other that has been done before. 
There will not be another Mithali Raj in cricket; there will not be another movie that will take you through women's cricket over such a long time, like 23 years. We've shown about 20 years of her career. We have shown her journey from a nine-year-old to a 36-year-old at the World Cup, so you will not see something like this -- a two-and-a-half-hour recap of women's cricket. The icing on the cake is the records she holds in women's cricket. I feel privileged, proud and lucky to play this character that will go down in history decades later. 
Training for Shabaash Mithu 
Taapsee: While we were making the movie, Mithali was busy training for the World Cup and breaking records. I was working hard to make sure the ball hit the bat. Initially, I had two months to train but, thankfully because of Covid, I ended up getting to train for five or six months before we started to shoot.
Playing cricket under coach Nooshin and Srijit's guidance
Taapsee: When you have the privilege of playing someone as legendary as Mithali, you cannot afford to go wrong. I remember telling Srijit sir, you have the mic and the monitor, don't say okay till you don't get the perfect shot. I left the cricketing part completely to him because I know he is a cricket fan, so I knew the cricketing part wouldn't go wrong. It helped having Srijit sir to monitor the cricketing parts and (coach) Nooshin (Al Khadeer) really helped me. The only credit that I can give myself is that I worked really hard. The outcome that you see is all thanks to Srijit sir and Nooshin.
Working in sports-related films
Taapsee: Sports and I have a love for each other for a very long time now. I started watching sports before movies. So, I have always been interested in sports but I have never trained for any sport, particularly before these films. I didn't really get the chance to take up any sport. In school, I would try and learn whatever I could about whichever sport. Luckily, because I am an actor, I can use my medium, which is film, to become a sportsperson and train like them. The best part of my job is that I can live multiple facets of life, so I have had the opportunity to be an athlete in many sports that way. If I was an athlete, I could have played one sport but as an actor I have been lucky to play multiple sports.
Taking a break from sports films
Taapsee: I said yes to Shabaash Mithu because of Mithali. I had no thoughts about the hard work I would have to put in. Had I thought about it, I might have given it a second thought.
I don't want to do sports films at least for a few years because it is physically and mentally tiring. Over the last few years, I feel I had forgotten I was an actor and not an athlete. I would wake up in the morning and train for some sport and from the afternoon I would be shooting. I felt like I was living a double life. As a sportsperson, you train for 12 hours a day and the rest of the day you rest. As an actor, you have to shoot for 12 hours a day and then rest. For me, it was too much because I was training and shooting at the same time. So I barely had any rest and after a point, it gets both mentally and physically exhausting.
On not watching cricket anymore
Taapsee: I think a lot of people will resonate with my feelings. I have been very honest about my feeling on this topic. There was a time when I would pray for India to win every cricket match. But as a young girl who was in school… I'm not even sure if I was a teenager back then… so for me, that match-fixing scandal changed everything. And I was a small girl who loved cricket and felt very heartbroken, so I stopped watching cricket.