t2 gets some answers from the Ke hobe Banglar Kotipoti men— Prosenjit and Siddhartha Basu
Television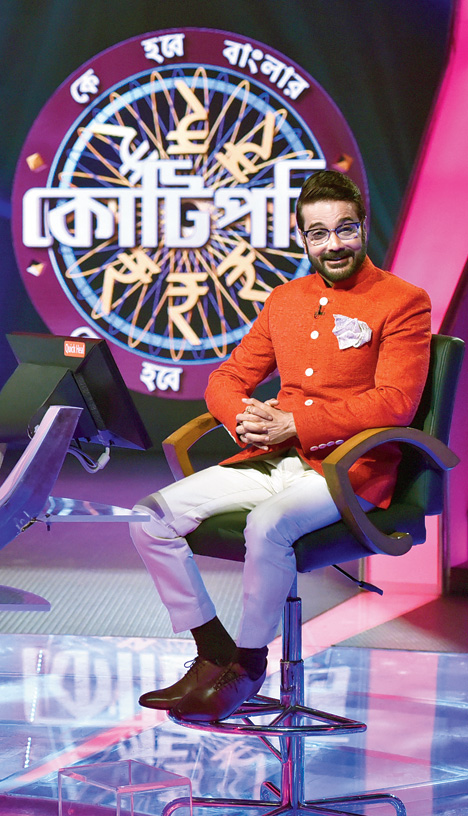 ---
Published 26.07.18, 12:00 AM
|
---
As a game show host, he has rekindled romance (Tumi Je Amar) and tested mutual understanding among family members (Banglar Sera Paribar). Now, in his third outing, Prosenjit is asking questions and handing out big money as the host for Ke Hobe Banglar Kotipoti. Over to the Tollywood titan Prosenjit...
What is the biggest challenge for you on this show?
Things happen on the set depending on a single gesture or a word of mine — lights come on, graphics appear on screen, music starts playing… The back-end team depends on me for the cue. I have to keep two sets of audiences in mind — the live audience and the audience in front of TV sets. It is a huge responsibility. For a month and a half, the set-up was installed at my home. I used to practise whenever I had time. Babuda (Siddhartha Basu) came from Bombay and took an eight-day workshop. When I applied his tips I realised the difference it made. In the last five days (this chat happened on July 11), we managed to shoot five episodes. I have to bring out the fun side of the contestants and figure out their dreams and disappointments — all in half-an-hour. Yesterday there were three contestants back to back. That meant I had to mentally switch in and out every time. People have seen me take up new challenges. This is the latest.
How has been your experience with the contestants?
People who sit in front of me face two kinds of tension — the tension of being on a big set like this and being face to face with Prosenjit. I have to make them overcome the fear and play the game. For that I have to bring out my human face.
People need the money for various reasons. The mother of an 18-year-old Mohun Bagan fan who came here cannot afford to buy him boots. The boy's dream was to meet Babluda (Subrata Bhattacharya). I called him up and he offered to coach him. The boy was beside himself with joy. We try to fulfil wishes when we can.

Name two people you want in the hot seat.
Amitabh Bachchan and Sourav Ganguly.
Comparisons with Amitabh Bachchan as Kaun Banega Crorepati host is inevitable...
Why just him? The show has been a success in other languages too and each host has left his signature. Mr Bachchan is one of the two actors I respect the most. But I am not trying to be Mr Bachchan. I will be Bengal's Bumbada.
(Ke Hobe Banglar Kotipoti beams Monday to Friday at 9pm on Colors Bangla)
Pictures: B. Halder
India's original small screen quizmaster Siddhartha Basu who brought Amitabh Bachchan to our drawing rooms and added "lock kiya jaye" to our daily parlance tells t2 about bringing Kaun Banega Crorepati (KBC) to Bengal.
Why did you choose Prosenjit to host Ke Hobe Banglar Kotipoti?
Bumba's name was mooted by Colors Bangla. He is charismatic, has warmth and an unequalled standing in the Bengali-speaking world. And despite just being back from a hectic tour of Russia and the US, he brought so much vigour and energy to the show!
What instructions did you give him?
The key part of the production was getting Bumba ready. I was there towards the start. We did a workshop with him and even set up a mock KBC system at his home and played with mock participants to familiarise him with the game. There is a difference between acting and anchoring. You have to multi-process and multitask, go with the flow yet keep the rules of the game in mind. He submitted himself to the process with a lot of enthusiasm.
Sourav Ganguly had anchored a season of the show on Mahuaa Bangla in 2011. How are they different?
Sourav was clear that he is a sportsman first. "Don't expect any drama," he had told us. He absorbed a lot of things with experience. Bumba has subtle control over performance. You will see more of him as a person than you have seen him as actor.
How much did you localise the format?
The original Who Wants to Be a Millionaire is British. We have done it in eight languages so far in India, including Marathi, Malayalam and Bhojpuri. The format is the signature. Wherever you take it, you have to adapt it linguistically and culturally. For that, we depend on the inputs from the local production team.
Kaun Banega Crorepati in Hindi is set to return for the 18th edition.
Yes, we will be back with our young host (laughs). Auditions are remaining in three cities. Registration is happening in even higher numbers than last time. Mr (Amitabh) Bachchan is phenomenal. He may have done hundreds of episodes in the eight seasons he has hosted — one was done by Shah Rukh (Khan) — yet he prepares as much today as he did for the first episode.
Are you not helming the production house (Big Synergy) any more?
I am not looking at hands-on TV production of the big-ticket shows. Anita (wife) and I had started Synergy as principal promoters. It has now merged with Phantom Films. I act more in the capacity of a consultant and mentor with them now, with the single exception of the flagship show, the Hindi version of KBC with Mr B, in which I've been once again put on the driver's seat. I devote more time to Tree of Knowledge, an edutainment research and content-based company in Delhi. We work on publishing, live quiz events, games, apps and other new-age media.
When do we see you next on the big screen after Tiger Zinda Hai?
(Laughs) Acting in films is something I do when friends insist. I do not look at it as a part of my career.
You have also produced shows like Jhalak Dikhla Jaa and India's Got Talent (IGT), which had nothing to do with quizzing. Did you enjoy them equally?
I have tried to do as much justice as I can to every show I have done. Yes, I did two seasons of Jhalak and IGT. But you know, when people see me they see question marks!
From the hot seat
Round the year, you ask me questions. Today I will do the asking," Tolly star Prosenjit announced as he faced a pack of journalists. Instead of a traditional press conference, it would be a mock episode of Ke Hobe Banglar Kotipoti that would be shot with the journalists as players on the show's set at Purple Movie Town, near Sonarpur.
It would be a hectic evening for me back in office. I had requested my interviews to be scheduled early so I could leave before the mock episode. But that would not be and as luck would have it, the first name that Prosenjit drew from a bowl was mine. A tad reluctantly I took my place as one of the 10 players to get a shot at reaching the hot seat.
It was now over to Prosenjit to get the game going. We were to chronologically sequence the options that would appear as answers to the given question on the touchscreen in front of each of us. The fastest fingers would win the race. "What are the steps to making kachauri?" the computer asked. I seldom enter the kitchen but digging deep into childhood memories of watching my mother cook, I made my choice and waited.
As soon as 45 seconds were over, Prosenjit announced the answers and I had got it right. But was I the fastest? As he made to name the winner, there were loud protests. Eight of the 10 players had not even pressed the buttons. "We were waiting for you to tell us when!" the others chorused. The production team was left to hunt for an alternative question.
When shooting resumed, the challenge that flashed on the screen was insanely simple: placing four given months of the year in order. I locked my answer and waited. And guess what, I had won!
The chivalrous superstar helped me to the hot seat and asked: "How did you answer so fast?" "I am in a hurry to return to office," I said candidly, leaving the audience in titters.
In no time, I had 'bagged' Rs 3,000. "I am reminded of my first salary as a trainee journalist 20 years ago. It took me a month to earn this much," I said. "Many players get emotional at winning so much in so little time," Prosenjit replied.
I had always wanted to know if there were income tax deductions on the game show winnings. When I asked, Tollywood's Hero No. 1 burst out laughing. "I only know that they deduct tax from my earnings!"
The fifth question was a World Cup one. Still groggy from watching the semi-final the night before, I asked if I could answer that before the options came on screen. "Yes, Romelu Lukaku does play for Belgium," he said, as the computer confirmed my response. "Since you are in a hurry to get back, let's fast forward to the question for Rs 1 crore." I knew this would be my Waterloo. But before he could ask the question, a bell rang. "Sorry, time over," he shrugged.
PS: Ever since I posted a picture of me on the hot seat, my Facebook page has been flooded with two queries - "When" and "how much". In case my friends are still wondering, here is my answer: "Never" and "nothing".