Sweet success: 100 days of Cheeni
The film focuses on the ever-changing dynamics between a mother and her daughter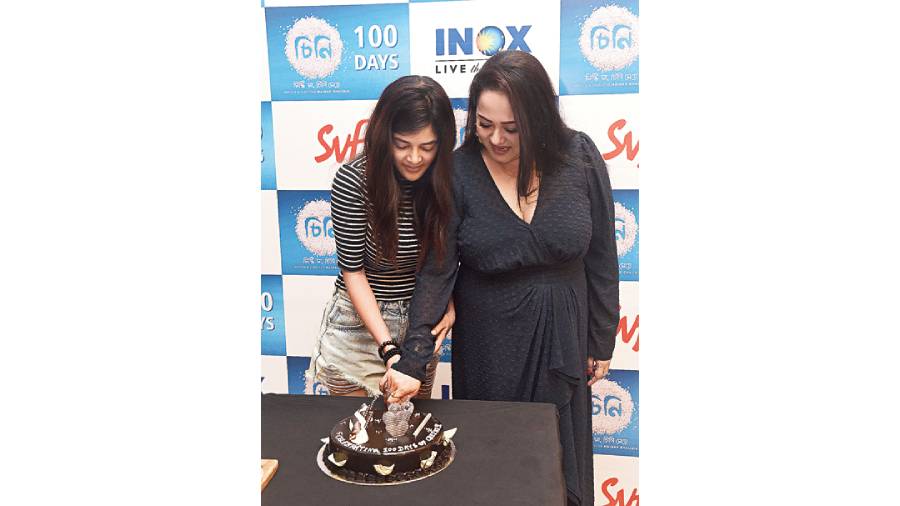 Aparajita Adhya and Madhumita Sarcar celebrating 100 days of Cheeni
---
Published 09.04.21, 02:55 AM
|
---
Aparajita Adhya and Madhumita Sarcar recently got together at INOX, Hiland Park, to celebrate the phenomenal 100-day run of their film Cheeni, directed by Mainak Bhaumik. The film focuses on the ever-changing dynamics between a mother (Aparajita Adhya) and her daughter (Madhumita Sarcar). The bittersweet moments between the mother and daughter in the film have come in for a lot of praise.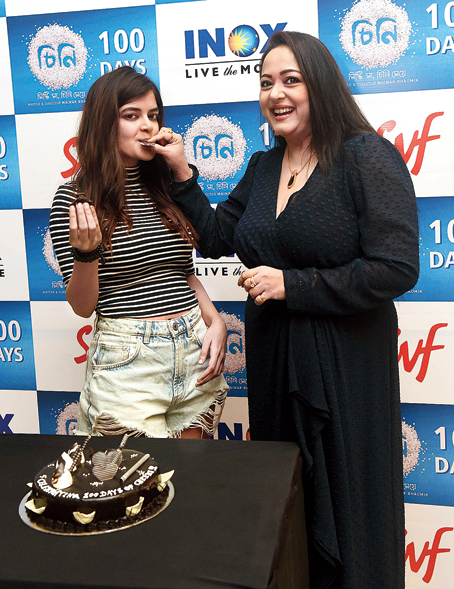 "I think the 100th day of Cheeni and its success is another reminder to me that it's very important for a Bengali film to be primarily and essentially grounded in Bengali culture and its people. I can only imagine that the reason people liked the movie is because I stuck to a basic principle, which is that I must make a movie that people, including me, can relate to. I guess the ability to relate and identify oneself with, along with a lot of positivity, brings so much happiness to people. A lot of credit I must give to Madhumita, Apadi, Saurav (Das) and Pinkydi (Banerjee) who brought out and gave flesh and blood to my two-dimensional script pages. And also they are very likeable as people and on screen. I'm glad Team SVF took that risk to release my film at a time when everyone was scared to release anything and take a shot. So the payoff was sweet to all of us," says Mainak.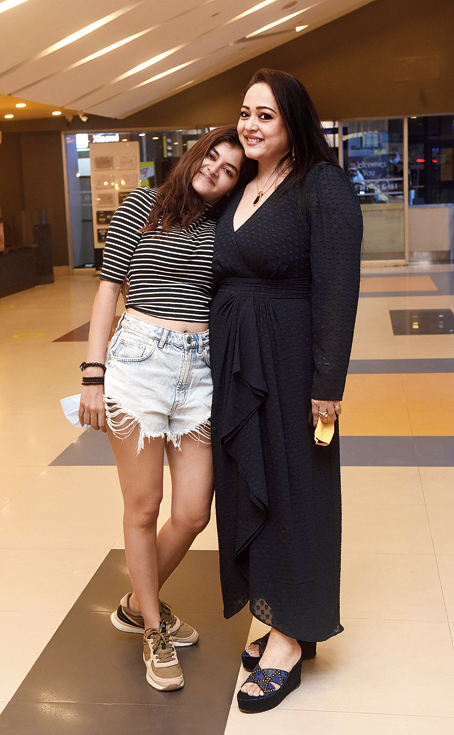 "We congratulate Cheeni and its entire team for completing 100 days in cinemas. During these testing times, it's an extremely happy occasion for us. This momentous 100-day landmark reconfirms our faith in the fondness for theatrical entertainment. We are overwhelmed to host the celebrations and we wish SVF all the very best for all their future endeavours," says Amitava Guha Thakurta, regional director at INOX Leisure Ltd (East).
Meanwhile, Cheeni is also streaming on Hoichoi now. Did he receive a different kind of feedback once the film started streaming? "It also broke a basic notion for me that people have different mindsets about what people look for in movies and on OTT. Cheeni was a small film that people watched in theatres — where apparently people only come for big-scale movies — and the fact that it performed well on OTT confirmed that these beliefs — that OTT is meant for dark  material — are just myths. But nothing makes me happier then when a random young girl or a boy comes and tells me that they liked Cheeni and felt it was a movie about them and their moms. There lies the real success of the film," smiles Mainak.
Pictures: Pabitra Das