'Supernatural' enters final season
'I think we're going to go out at the right time' — Jensen 'Dean' Ackles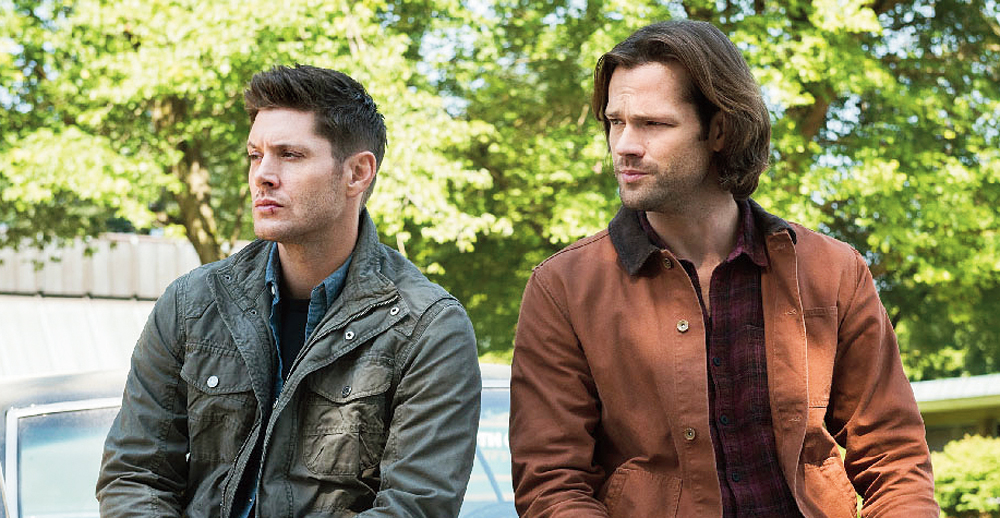 ---
---
The exhilarating and terrifying journey of the Winchester brothers continues as Supernatural enters its final season. Sam (Jared Padalecki) and Dean (Jensen Ackles) have spent their lives on the road, battling every kind of supernatural threat. Over the years, after countless bloody adventures, they have faced vampires, ghosts, demons, shapeshifters, angels and fallen gods, even as they cruise into Season 15 (starting on Saturday at 9pm on AXN). A chat with Jensen Ackles.
How involved did you want to be in terms of the character arc of Sam and Dean Winchester in the final season of Supernatural?
I think it was less about having involvement in the arc and more about, 'Let's figure out where we're going to end up'. How we get there is up to the writers. They can figure that out, but we were interested in the ending. When we went to see the writers in LA about a month-and-a-half before we started to shoot the final season, they had a pitch for what they thought the ending of the show should be. It was intense to have a discussion with everybody who crafts the show, but I had trouble with the ending. For some reason, it didn't go down easy with me.
About a week later, I was like, 'Man, why am I having so much trouble digesting this?' So I called an old friend and I told him what the plan was, and I said I needed some clarity. He gave it to me. After that, I called (executive producer) Bob Berens and I talked to him a little bit about it, and he gave me some more clarity. Now, I'm actually pumped up about it. I think the ending is going to be great. I think it's going to be very emotional.
How are you going to handle your last day on set?
I believe we're already planning to schedule the final scene and the final day of production. I believe it will be an added day, just for that one scene. It's going to be really, really tough to hang those keys up.
Is there a sense of sadness on set knowing that you're filming the final season?
That hasn't really kicked in yet. Right now, it's business as usual. We're back in. I think one person said, 'Oh, it's the last first day'. I was like, 'Shut up. We've got nine more months on the show. We will be sick of each other by the end of the season!'
What did you think of the fan reaction to the news that season 15 was going to be the final season of Supernatural?
I've been really, really stoked at how the fans are digesting the news. It's bittersweet. Of course, there are people who say, 'Oh, I don't want it to end'. Listen, I get it… but the show can't last forever. I didn't want us to stick around for so long that the show started to suffer. I don't want to be in the car when it runs out of gas. I think we're going to go out at the right time because I think 15 is a good number. There will be 327 episodes by the end of season 15.
How did it feel on set during the first day of the final season?
I wish I could say there was some sort of big emotional stir, but I was directing the first episode, so I had a lot more on my plate than just coming in and playing Dean. I can play Dean in my sleep because I understand him so well now. Not because I'm phoning it in, but because I can literally snap into Dean very easily.
Has that changed over the years?
Recently, a reporter asked me, 'How hard are the emotional scenes to get through?' I was like, 'Early on, they could be a little tough. Maybe I'd have to think about something in my personal life to get me to a really emotional place for Dean'. I don't have to do that anymore because if I think about the fact that Dean is losing his father figure… that gets me emotional because I love this character so much. I know he's not real, but he's the best imaginary friend I've ever had. Walking on to the set for the first day of the final season, I was strictly in director mode, which is a completely different headspace for me. It's very different to when I show up and play Dean.
Do you feel like Dean has crept into your personality and will always be a part of you?
I used aspects of my own personality to create Dean, so Dean has always been a part of me. There is a lot of overlap and it's great to be able to play somebody like that because I can be bold when Jensen wants to be timid. I can also be funny when Jensen can't think of a joke. It's the best of both worlds, so he is certainly a part of me.
In the early years of the show, you would use your hiatus to work on movie projects. Why did that stop? And are you going to return to movies now that the show is coming to an end?
I decided I was never doing that again during the hiatus… especially when my family started to expand. In the hiatus, I realised that I wanted to have a little bit of time at home to recharge and get ready for the next season. But now that I don't have another season to get recharged for, I don't know what's going to happen. I do know that I told my wife, 'Well, it looks like we can go on that long vacation we've always wanted to go on. We can take some time off'. Her response was, 'You're not taking time off. You're going to go right back into it'. I was like, 'Into what?' And she responded, 'Into whatever it is. We'll figure that out'.
10 reasons why Supernatural has endured through seasons

Despite the fact that Supernatural focuses on the Winchester brothers' — Dean (Jensen Ackles) and Sam (Jared Padalecki) — efforts to kill demons and save the world, the show is actually about sibling love and the unbreakable bond between the two.
The show's mythology unfurled over the first five seasons, but Supernatural didn't stop just there. The series expanded in subsequent seasons, introducing newer demons, hunters, warring factions of angels and a whole new smorgasbord of monsters, keeping the interest (more or less) alive.
But even if parts of the show are complex, it never alienates the viewer, with the monster-of-the week episodes keeping fans hooked.
The show's fandom has grown through the years. Die-hard fans have Supernatural moods, motifs and moments at the tips of their fingers. Want to know how strong this fandom is? Well, Supernatural beat 63 other series to win Entertainment Weekly's fall TV cover competition in 2016.
Even when they are annihilating demons by the dozen, Jensen Ackles and Jared Padalecki don't stop being eye candy. The show has some of the best- looking men on TV, including Misha Collins, who plays Castiel.
Dean and Sam are demon hunters who often acquire superhuman abilities but the best thing about their portrayal is that they are normal boys — complete with vulnerabilities — who fight evil.
Petrol head alert! Dean's 1967 Chevrolet Impala is much a part of the show as its characters and has been on many adventures. Called Baby, the jet-black ride has a boot filled with Dean and Sam's 'demon slaying' weapons. Baby was even the star of an episode — named what else but 'Baby' — in Season 11 where every scene was filmed inside the Impala.
Despite its narrative ups and downs, Supernatural has been consistently scary through the seasons. The show strikes a fine balance between fear and funny. The one we have laughed through the most has been the Season 6 episode called 'The French Mistake' in which Dean and Sam are transported to an alternate reality where they are Hollywood actors named Jensen Ackles and Jared Padalecki who star on a TV show called Supernatural!
Dean has great taste in music — mostly inheriting it from his dad John (played by Jeffrey Dean Morgan). Fans of the show are spoilt for choice with some classic rock staples playing out, including Kansas' Carry on Wayward Son, which has kind of become the show's unofficial theme song.
The chemistry between the principal cast — on screen and off it — is what makes the show so popular. Through the course of 15 seasons, Jensen and Jared have been groomsmen at each others' weddings, vacationed together and even celebrate the birthday parties of their kids in a joint bash. In 2015, Misha Collins and Jensen Ackles even won the Teen Choice Award for Choice TV Chemistry.