Vikrant Massey is on the wish list of all leading film-makers today
We trace the journey of this Versova boy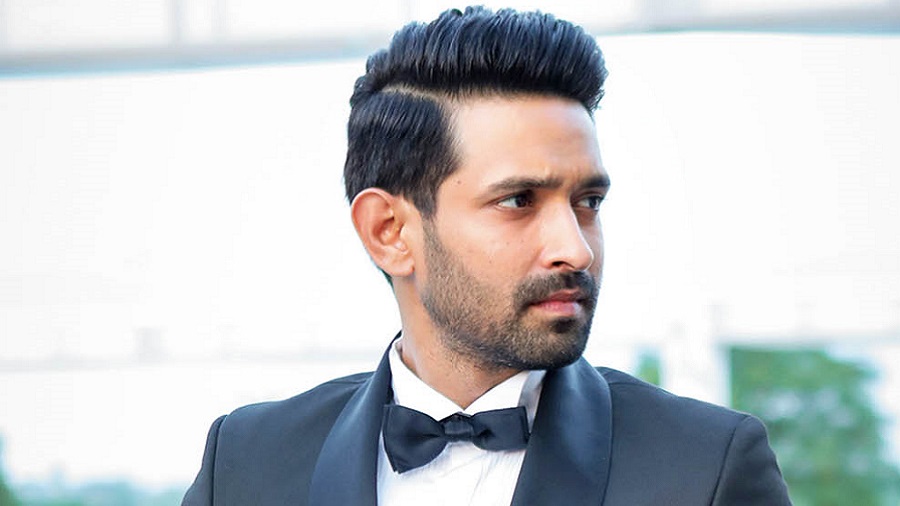 ---
---
Vikrant Massey. Over the last few years, this name has increasingly begun to spell both quality and credibility. The actor is today a name that's on the wish list of almost every film-maker. Starting off on television, Vikrant, 33, made the leap to films quite early, standing out in parts that may not have been more than a few minutes in terms of running time but were high on impact.
Vikrant, who's had success across mediums, is that rare breed who doesn't shun the relatively smaller parts even when he's now transitioned to lead roles. What also works for him — besides his hunger to make every part his own and do socially relevant cinema that resonates with the times we live in — is the fact that he's able to perfectly reflect intense emotions on a vulnerable visage.
It was the 2017 film A Death in the Gunj, where he delivered a gut-punch as the quiet but searing Shutu, that thrust him into the reckoning as one of the most promising actors of the times. Since then, Vikrant has left a mark in everything that he's taken up. It's his mastery over his craft that makes you feel that he can be a gun-toting gangster in Mirzapur as much as he can be the quiet pillar of strength in Chhapaak.
Year 2020 may have put paid to the plans of many, but just in the last one month, Vikrant has had three releases, in Cargo, Dolly Kitty Aur Woh Chamakte Sitare and Ginny Weds Sunny. So what lies at the root of the Vikrant Massey success story? The Telegraph caught up with the man himself (who doesn't think he's successful, yet) for a freewheeling chat.

At a time when the world is largely on pause, you've had three releases in about a month. Are you planning to corner all the Fridays out there, at least this year?
(Laughs) It's a humbling feeling. I couldn't have asked for more. The last seven months have been difficult for all of us, across the globe. So for me, to be able to do something which I really love, which is tell stories and act and entertain, during this stressful time, has been the silver lining. Of course, I haven't shot in the last few months, but my releases have pretty much timed themselves during this period, enabling me to entertain. I feel happy.

Your latest release is Ginny Weds Sunny that dropped on October 9. It has song, dance, romance and heightened emotions. In simpler terms, it's unlike a Vikrant Massey film. Was the need to tell the world, 'Hey, I can do this and do it well' that prompted you to make this film?
Partly, yes. But the larger idea was to give a break to myself. There have been lighter scripts floating around for years, but I didn't think that was the right time to pick them up. But for sometime now, since 2017 especially, since A Death in the Gunj, I had continued doing a lot of intense stuff, things that occupied my mind much more than they should have. I was very, very exhausted. So it was a very conscious decision on my part to select a script where I am not getting work-related stress home. Such a script also gives me the opportunity to be more spontaneous as an actor and at the same time, showcase my skill set in this particular genre too.

Also, you get to dance! Whenever we have spoken, you've always rued the fact that despite being a trained dancer, you hadn't been able to dance on screen so far. And now in Saawan mein lag gayi aag you are in a sparkly jacket and gelled-up hair...
(Laughs) My initial thought was, 'I hope people don't find me awkward'. I didn't want people to find it funny. It was my first time dancing in front of the camera but dance is something I have always enjoyed. It's, of course, a different experience in front of the camera. But I couldn't have had it better. This is a song which has been a cult hit of sorts, I was getting to share screen space with the superstars (singers Mika, Badshah and Neha Kakkar) in this field and being choreographed by Ganesh Acharya masterji. It was very surreal, and I made the most of it. Contrary to my fear, people have been very kind, they've told me, 'It's visible that you are having fun'.
I have always done stuff which has been kind of alternate, for want of a better word. This film is an out-and-out commercial film, something that was a totally new set-up for me. Over the last 10 years, we have, as an industry, veered towards realism in our films. We don't really have those typically commercial Bollywood entertainers anymore, the kind which exemplifies what Hindi films are all about and which still makes us nostalgic. Aisi film banti nahin aajkal... bahut zyada realism aa gaya hain.

Growing up, were those the kind of films that hooked you in? I was reading somewhere that it was Maqbool that made you see cinema in a different light...
Maqbool made me want to be an actor, and films like Maqbool, which we, unfortunately, call alternate cinema. But as a cinema fan, it was always commercial Bollywood. Single-screen cinema is our staple diet, it has always been and it will always be. The number of films made in this genre may have reduced but it will never fade away.
Also, I have grown up in Versova (in Mumbai) and seen film shoots happening all the time right outside my window. I would be one of those kids standing on the road and watching Jackie Shroff doing an action sequence or Sanjay Dutt shaking a leg. It was magical for a young boy like me. I vividly remember Sanjay Dutt, with his long hair, shooting in Versova village. It was a night shoot... Versova village aur Yari Road ke sab ladke wahaan pe pahunch gaye thhe... I saw these huge lights, people were shouting on the mic... it all seemed so surreal. Now, when I think in retrospect, that could have been one of the reasons to take up acting. But as you said, Maqbool was the film that changed it for me. perceived a definite shift in Hindi cinema with that film.

Over the last two years, there's been a shift towards lead roles. Do you think that's been a long time coming or was it a carefully thought-out, natural progression?
This has been a natural, gradual progression. I would never sit back and say, 'Why did it not come earlier?' That's because somewhere down the line, I also wanted it to be that way. I have never been a fan of overnight success. I have always aspired to do things the so-called right way. It's always better to be in a position where people trust you to experiment. I wanted to have a certain body of work to back me up before I went out and started playing parts that I hadn't done before.

You have the unique ability to stand out even in smaller parts. Would you attribute it to your knack of picking the right roles or is it simply good acting?
I really don't know. I think this question should be directed to the directors and editors I have worked with... they are the ones who see my work up, close and personal. The only thing that I always ensure when I play any part is that whatever is written on paper is justified in front of the camera. So a lot of the credit then also goes to the writers for writing what they have written and the directors who have directed me in a particular way. I just feel that I am lucky to stand out in these smaller parts. I am old-school, I keep my basics simple, I prepare well enough to not turn up a sticky performance in front of the camera and also want to be consistent and instinctive with my performances. My approach is always the same, no matter what I do.

So, how do you choose your parts now?
There are more scripts coming in, definitely. The people who I have wanted to collaborate with for years are coming forward and now collaborating with me. The lead parts are coming in, and while that's exciting, it also translates to more responsibility. And since I now have a body of work, I can sit with my 'marksheet' in front of writers and approach them with more credibility. It's good to be in a position like this, but then again, you always have to acknowledge the fact that as actors, your fate changes from Friday to Friday. Not a lot actually depends on what you have done before, unfortunately. As far as choosing scripts is concerned, I don't read a script for a film in a different way than I would do for a web series. The larger idea is for the story to entice me.

Every film-maker you've worked with talks about how 'ego' is a word that never creeps into your attitude or your performances. Was doing a film like Chhapaak, that was frontlined by a female actor and hence wouldn't have been picked up by many leading male stars, an extension of that?
I do think of the part I am playing and my contribution to a film. But I never really think who is frontlining a film and whether my part is lesser or more. Till now, I have been able to only focus on the larger idea, which is to tell the stories that I want to be a part of, things that I, as Vikrant, want to say through my work. I want to be able to tell things through my work. Before Chhapaak, I also did the socially relevant Balika Vadhu... I was a small part of that show, but I did it because there was a larger idea behind it. As an independent creative artiste, I want to associate with work that's relevant. Cinema and society are interlinked and it's important for artistes to represent the times that they are living in. I am lucky I am getting the opportunity to do that.

Are you a studied or a spontaneous actor or is it a mix of both?
I think it's a mix of both. Very early on in my film career, I would over-rehearse. Vikramaditya Motwane, who directed me in Lootera, would keep telling me, 'I personally think you over-rehearse and you aren't spontaneous'. He told me this very important thing that will remain with me for the rest of my life, and that is, 'less is more'. I think I am learning as I go. It's not that I know everything... I am not a trained actor. I rely very heavily on my observational skills. I try and do parts that will break your defense mechanism, that will make you think or make you cry as an audience.

You earlier spoke of wanting to take a break from intense parts, at least sporadically. There have been quite a few in the last few years. Which part pushed and tested you the most?
A Death in the Gunj was one experience that even got my parents worried. The change of thought that made me eventually want to sign on a Ginny Weds Sunny actually started from there. A Death in the Gunj was too intense. I don't have the tendency to detach easily from the parts that I play. I do tend to get my work home. Since I am not a trained actor, I want to spend those extra hours in understanding things a little better. And my parents were really worried about how I became then. Shutu is someone who will stay with me for the rest of my life. That was probably the first time where I lay bare quite a bit of my vulnerabilities as Vikrant. Shutu was an amalgamation of Koko's (Konkona Sensharma, the film's director) thoughts and personality, as well as my experiences and my ideas about mental health.

How do you decode the Vikrant Massey success story? Do you think relatability is a big factor?
Firstly, thank you to everyone who thinks I am successful. I don't think so... I feel I am a long way away. Honestly, I don't think I am a case study yet. It makes me very uncomfortable when people say I am successful. I am still evolving, I am still discovering myself as a person and an actor. I think I need to be given a little more time (smiles).

The last time we had spoken, you had said that apart from your acting career, you would like to branch out and work in the sectors of sociology or education. Is that still part of the plan?
Absolutely! That's always been part of the plan. These are things which are very personal to me. Acting is just a part of me. Even now, I do whatever I can within my limited capacity and I hope that I am able to do more in the next couple of years.
In the career that he's had so far, Vikrant Massey has collaborated with a host of women film-makers. Two of them tell The Telegraph what makes him the actor that he is
Alankrita Shrivastava
(directed Vikrant in Lipstick Under My Burkha, Dolly Kitty Aur Woh Chamakte Sitare and Made in Heaven)
I have now worked with Vikrant thrice. And it is entirely my good fortune! If it were up to me, I would keep casting him. He is a director's delight. He gives everything of himself to the part he is playing. He is also very sensitive to the role that his character plays in the larger narrative. And he is, therefore, a very sharp and intelligent actor. He is also enormously generous and secure as an actor. He gives a lot of space to his co-actors and enables them to shine. For Made in Heaven, we shot just for a day (Vikrant featured in a cameo), but that one sequence between Karan (played by Arjun Mathur) and Nawab (played by Vikrant) is a scene that I love. And I think that that special appearance required such nuance and sensitivity. I don't think anyone else could have done it quite the same way. I hope in the future there is a film I make where I can cast Vikrant as the lead protagonist. That would do our collaboration justice. I am so glad he is being recognised for his talent.

Arati Kadav
(directed Vikrant in Cargo)
I cannot imagine Cargo without Vikrant. He is one of the most dedicated, hardworking actors I have worked with. He has been one of my most rewarding collaborations and I have learnt and enjoyed working with him a lot.
Even before the shoot, I was really impressed by his preparation and hard work. He diligently reads the script, underlining, making notes, asks for backstories, rehearses... and we have had very detailed discussions on his character and him, too, where he discussed what emotions he could bring from his own life. During the shoot too, whenever I entered his room, I saw him reading and making notes... very sweetly, he would be wearing his glasses, holding the script and a pencil, scribbling away on the margins.
What is remarkable about Vikrant is he is so consistent across takes, and even in emotional scenes where it is tough to get to a certain emotion again and again, he would get in the zone and be spot-on every time. For the first four days of the shoot, he was the only actor on set and it was such a unique experience for us... we were figuring the set, the rhythm and the film out together. Vikrant made the spaceship come alive with his imagination and his conviction. He is immensely talented beyond belief, hardworking and passionate in a way that is exemplary, and I am sure he is the superstar of the future. He is surely my superstar.
Top turns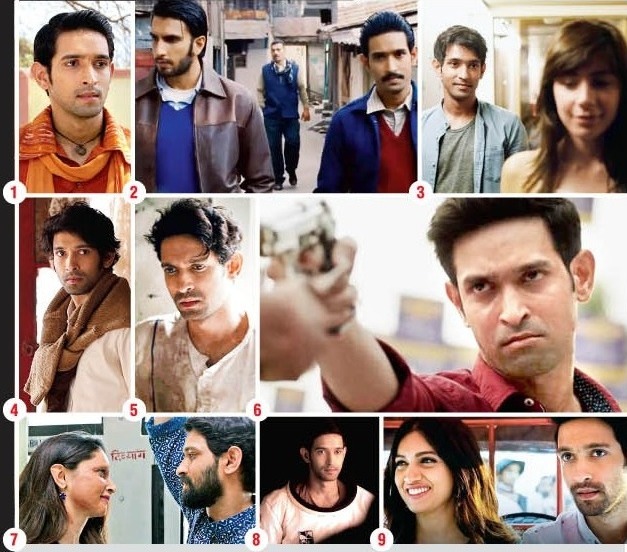 1. Balika Vadhu
Anandi and Jagya's may have been the more showy parts in this seminal TV show that shone the spotlight on child marriage, but there was no ignoring Shyam. Vikrant Massey made his presence felt in a relatively smaller part, that at once won him many fans and told us that this was an actor to watch out for.
2. Lootera
Vikrant has the uncanny ability to get noticed in a frame even when he's standing quietly in a corner. This was more than evident in Lootera, his big break in films. Vikramaditya Motwane's achingly beautiful adaptation of The Last Leaf had his Dev as the quiet witness to the growing love between Varun (Ranveer Singh) and Paakhi (Sonakshi Sinha). The role wasn't much, but Vikrant — that scene of him being shot in the alley was a punch in the gut — stood out.
3. Dil Dhadakne Do
The actor's foray into the glitzy world of big Bollywood (what can get bigger than an entire movie filmed on a luxury liner?) came via this star-studded Zoya Akhtar film. In a film that boasted the likes of Anil Kapoor, Ranveer Singh, Priyanka Chopra, Farhan Akhtar and Anushka Sharma, this was again a small part, but Rana's presence can't be undermined. The story goes that Zoya was actually so impressed by Vikrant that she promptly increased Rana's words and scenes.
4. A Death in the Gunj
The turn that made us sit up and take notice of Vikrant was in this slow-burn watch, that marked the directorial debut of Konkona Sensharma. As Shutu, an angst-ridden misfit in a world that doesn't treat him with acknowledgement or empathy, Vikrant crafted a profoundly moving performance. He laid bare innocence, sensitivity, vulnerability and torment, all the while challenging our traditional notions of masculinity, in a way that made it difficult to imagine anyone else playing that role.
5. Criminal Justice
As a young man framed for a murder he didn't commit and then having to steel himself to spend a few years in jail, Vikrant was superlative, bringing both vulnerability and volatility to the part. In a series that boasted actors like Jackie Shroff and Pankaj Tripathi, Vikrant made sure that just the camera lingering on his face told a story. Each time, every time.
6. Mirzapur
Who would have thought that a lanky lad like him could play a gun-wielding gangster with such power and panache? Vikrant played Bablu Pandit with an immense amount of credibility, showing the evolution of a wet-behind-the-ears young man to the brains behind every illegal business in the book.
7. Chhapaak
Deepika Padukone had the author-backed role, that of acid attack survivor Malti. But Chhapaak wouldn't have been half the film it turned out to be without Vikrant's Amol. The best thing is that Vikrant played Amol real, passive-aggressive, flawed to a fault and pessimistic to the core, giving us a character who was scratchy and infuriating, but oh-so-relatable.
8. Cargo
This Netflix film, that dropped last month, had the actor slipping into the role of a human/demon hybrid living for centuries on a spaceship and battling an existential crisis. So much of Prashastha, who is confined to one space for the whole film, was told through Vikrant's eyes.
9. Dolly Kitty Aur Woh Chamakte Sitare
His strength as an actor lies in the fact that he can convince you that he can be conniving as easily as he can be charming. In this Alankrita Shrivastava film, it was the women who held centrestage, but Vikrant quietly walked in and made many scenes
his own.