SRK is fun but Zero is not
Zero is an incoherent mess, redeemed only by a few moments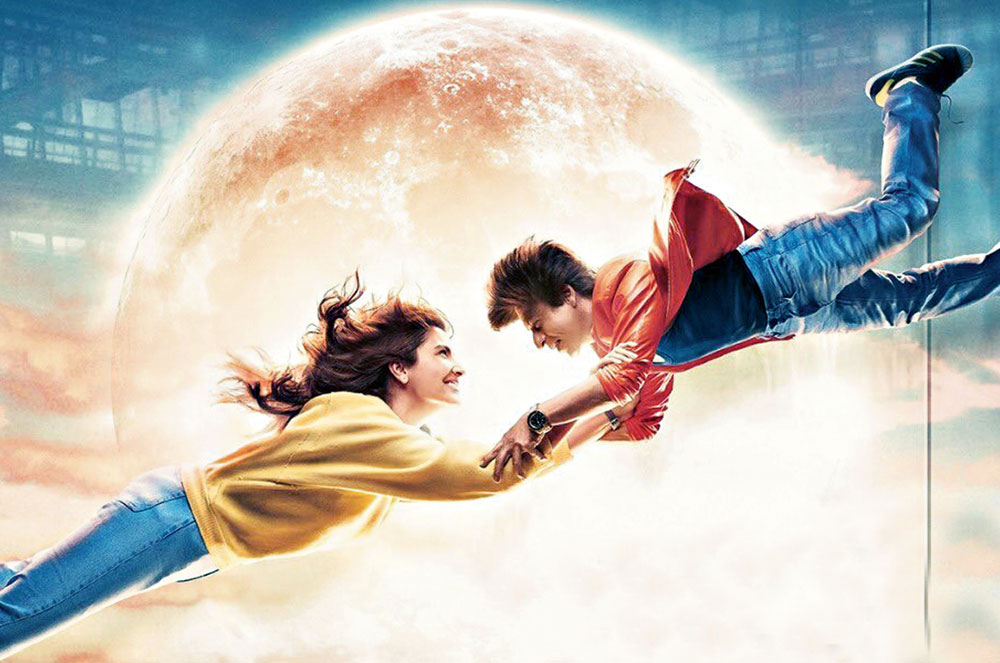 Shah Rukh Khan and Anushka Sharma in a scene from Zero
A still from the film
---
Published 21.12.18, 03:10 PM
|
---
There are two ways to deal with an infirmity — you either wallow in self-pity and allow your disability to weigh you down, or you turn it to your advantage, using it to project yourself as different and cock a snook at the world. In Zero, Bauua Singh (Shah Rukh Khan) chooses to do the latter and it is when he turns on that cockiness and charm that the film is most watchable. The rest of Zero doesn't measure up.
When a mainstream Hindi film led by a superstar attempts to focus on not one but a few physical challenges — dwarfism to cerebral palsy — you can't help but laud the effort, especially when the film is as commercial as any Khan vehicle can get.
But as Zero plods on for a butt-numbing 165 minutes, Bauua being vertically challenged becomes more of a gimmick than an important plot point or a source of conflict. So does Aafia's (Anushka Sharma) condition, whose inconsistent portrayal of a genius scientist afflicted by cerebral palsy brings the film down several notches.
In fact, the whole of Zero is one big fat gimmick. Salman Khan saunters in to judge a dance competition just because it puts the two Khans in a frame. In one scene, a whole lot of SRK's leading ladies are lined up in an Om Shanti Om-inspired parade. While it's fun to see Kajol and Rani Mukerji, real-life cousins but not the friendliest of co-stars, behave like long-lost pals and a glimpse of Sridevi in her last screen appearance, none of these moments contribute to the story.
Zero is a strange film. It attempts to tell a story rooted in middle-class reality and the pain and perils of love, something director Aanand L. Rai has done so well in many of his films. But it takes such improbable flights of fantasy — it starts from the busy bylanes of Meerut and ends up in Mars — that you don't feel for the characters or any of their conflicts. There's no easy way to say it — Zero is an incoherent mess, redeemed only by a few moments.
Which is a pity because the film starts off with a lot of promise. Despite some loopy sequences, most of the first half is flat-out fun, the highlight being a cowboy-style dream scene at the beginning that is sure to bring on the laughs. At the centre of that sequence is Bauua who stands at four feet-something but nurtures dreams that touch the skies.
Armed with a caustic tongue and quick wit, Bauua meets Aafia through a matrimonial site. He woos her, she staves him off, but eventually they discover companionship in each other. But before they can say 'I love you', Bauua and Aafia land up at the marriage mandap. Bauua, who fanboys over superstar Babita Kumari (Katrina Kaif), scoots without a word, leaving Aafia behind in her bridal finery and with resentment in her heart.
Along the way, Bauua becomes a part of Babita's entourage, realises Aafia's true love for him and volunteers to go on a one-man mission to Mars designed by Aafia, just to prove to her that he isn't running away this time around. A baby pops up somewhere, R. Madhavan plays an Elon Musk kind of a character and there's a mad dash on a wheelchair through the streets of New York. None of it makes sense after a point.
The idea on the part of Rai and writer Himanshu Sharma may have been to attempt an epic love story where two seemingly incomplete people come together to form a whole, but none of it feels authentic.
What also doesn't help is that the film consistently makes fun of the conditions it spotlights. "Tumhari akal tumhare height se bhi chhoti hai," Aafia tells Bauua even as he makes fun of her speech impairment. There are some winner lines, a few of them that initially make you laugh but soon become borderline offensive.
With his last couple of films, Shah Rukh has been trying to break out of his superstar image. In Zero, though, he's a hoot as Bauua, especially in that fun bit where he dances to the Shashi Kapoor hit Humko tum pe pyaar aaya, he keeps slipping into being the SRK we know. Some of it may be attributed to Bauua being a film buff and wanting to emulate his favourite stars, but there's too much of SRK here — trademark arm stretch to self-referential mentions like his dimples. But no one else could have pulled off the soulfully romantic Mere naam tu — the best number of the Ajay-Atul scored album — as well as the man who's personified romance does.
But in a film starring Shah Rukh and Anushka, it's Katrina Kaif who pulls off the best performance, playing to perfection an unhinged, alcoholic film star. Some of Babita's meltdown moments may belong more in a bad Madhur Bhandarkar film, but Katrina not only owns the character, she seems to be having a lot of fun playing her part too. Especially in the bits where her cheating actor boyfriend is called Kapoor. Now where have we heard that one before?