SRK celebrates his 53rd
With the trailer launch of Zero, his co-stars and some cake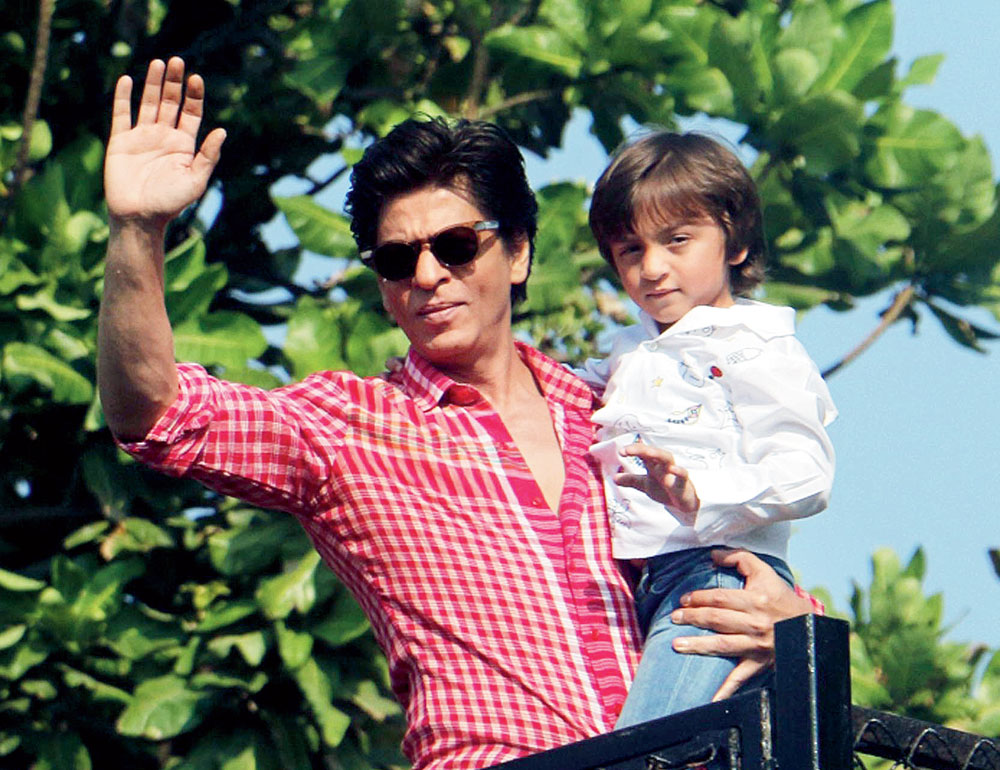 ---
Published 04.11.18, 01:18 PM
|
---
'Le aa apne teen Khan, yahin khada hoon meri jaan". This is Shah Rukh Khan's favourite dialogue, as his character Bauaa Singh from his December biggie Zero, and though SRK was the only Khan present at the trailer launch of Zero at a carnival-like celebration in Mumbai on Friday — which was King Khan's birthday — the presence of the other two Khans loomed large.
First was Salman, who Shah Rukh revealed had been offered the role of Bauaa, a vertically challenged man who sets out to change the world and finds love on the way. "Salman is such a nice person, so good at heart, that when he heard I had been offered the film, he called me and said, 'Tu karle'. He wanted to be part of the film, too, and he did a song for us," said Shah Rukh, dressed on-trend in a gamchha shirt and denims, dimples intact and eyes twinkling. The occasion was the launch of the trailer of the Aanand L. Rai-directed film at the giant IMAX screen at Carnival Cinemas in Wadala.
Salman's appearance in a cameo that was highlighted in a teaser unveiled on Id earlier this year broke the Internet.
The other Khan — Aamir — has also been vociferous in his support of Zero, tweeting about the trailer twice in a space of three days in a week where his own Diwali biggie Thugs of Hindostan is due for release. "Aamir is a friend of mine, the biggest star in the country, and we were sitting together and I showed him the trailer. He genuinely liked it," said SRK.
For Katrina, also dressed in an off-white sequinned number, the film was a challenge because it took her out of her comfort zone. "This is the first film where the director hasn't wanted Shah Rukh Khan to be Shah Rukh Khan, he hasn't wanted Anushka to be Anushka and he hasn't wanted Katrina to be Katrina. He's given us roles against type," smiled Kat.
Shah Rukh, who cut a cake with Team Zero and also met his fans at the venue, couldn't have been happier about ringing in his 53rd.
"I was just telling someone that the happiest person in the world is that man who owns nothing, because then he has nothing to lose. And I feel that I am the luckiest person alive because I don't own my birthday anymore. Everyone else celebrates it for me and that's such a lovely feeling," he smiled.
"I don't spend my birthday with my family, it's spent with my fans. Otherwise I do little else. But I make it a point to have a bath on my birthday! You guys know me, mere birthday ke ilaava main sirf jumme din nahaata hoon," laughed the man known for his funny bone.
So what did five-year-old AbRam gift daddy on his birthday? "He recycled an old Diwali gift and gave it to me. He thinks it's cool. I think AbRam's cool," laughed the doting dad.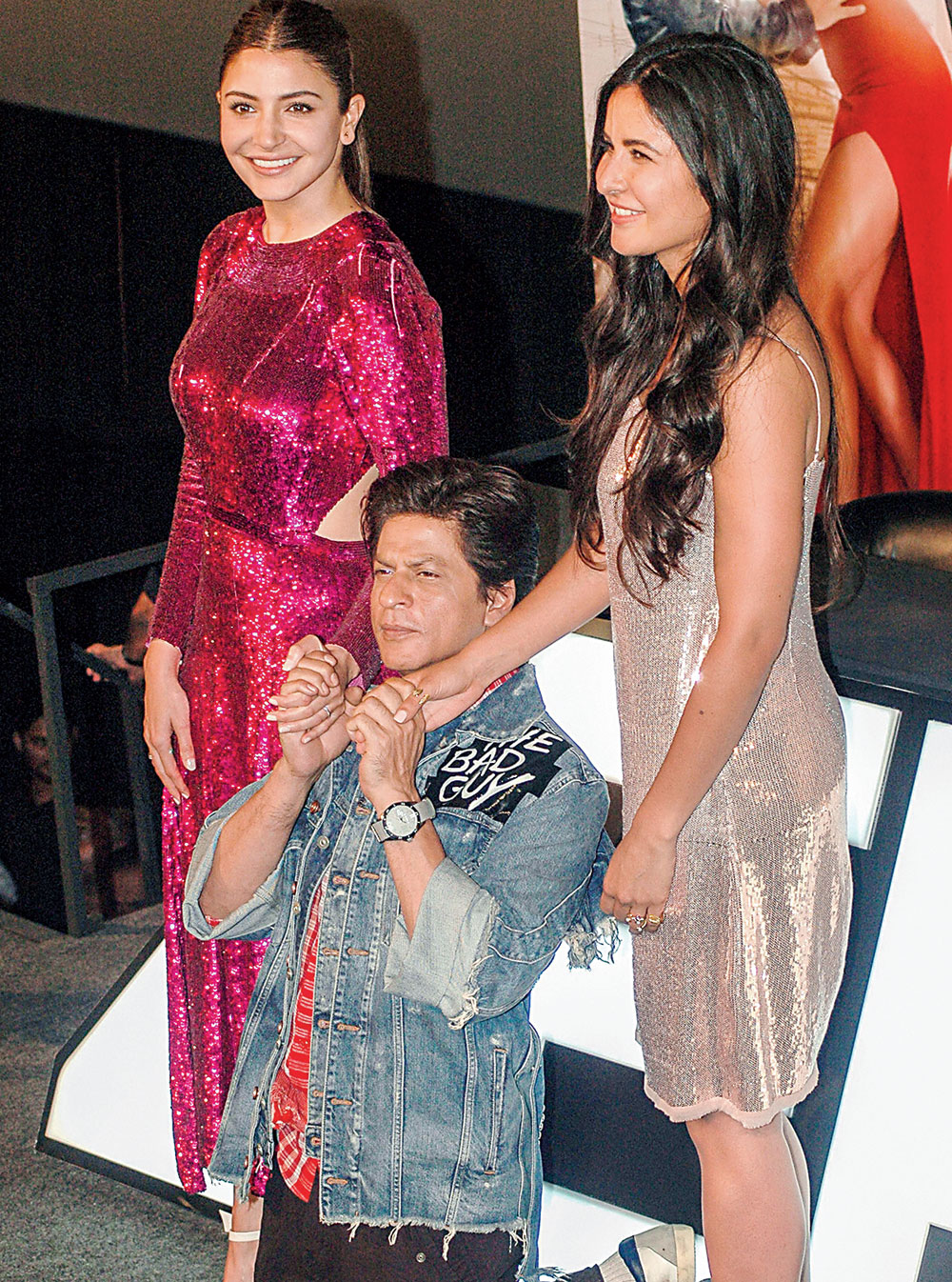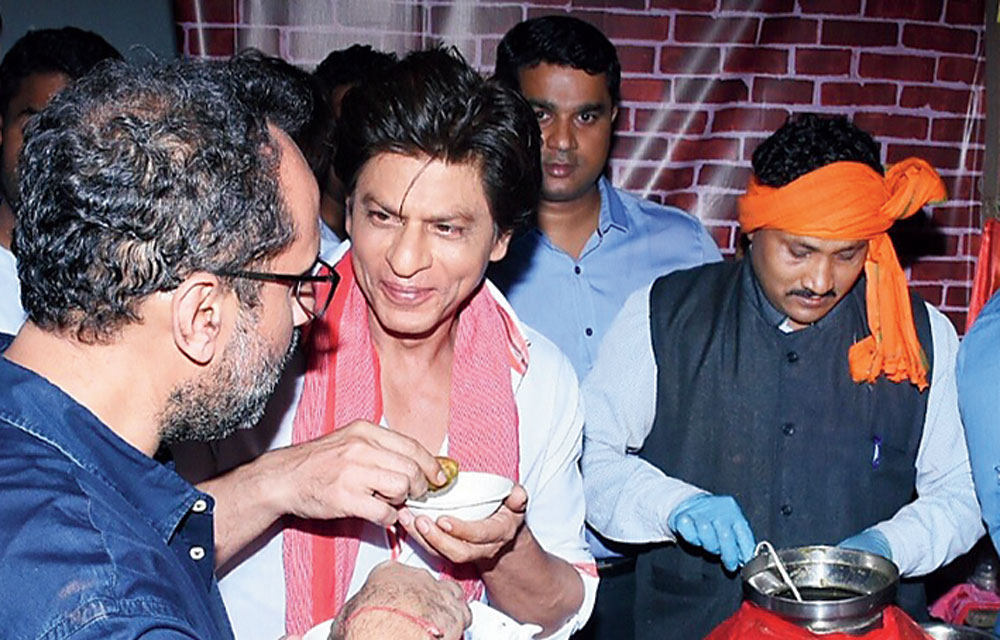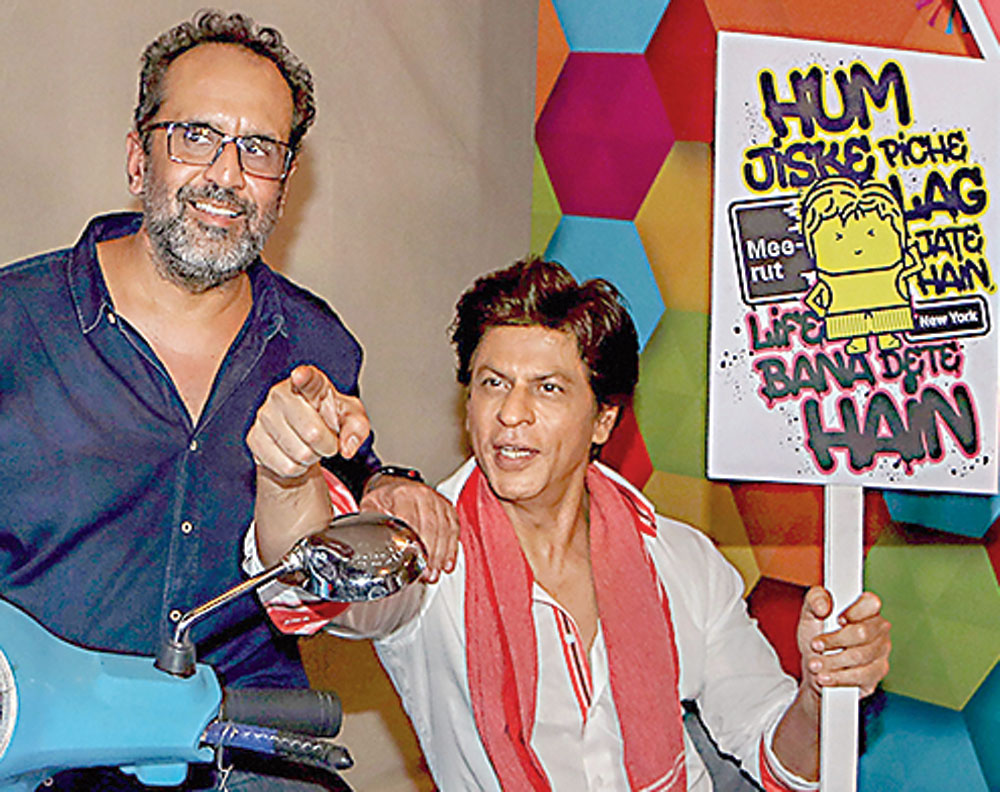 But why call the film Zero, that implies negativity and lack of value? "This is a story of triumph. We often disregard a lot of people and relationships because we think they are zero, but actually they have a lot of value. Bauaa is a man who not only fights society but also himself to become a winner in life," said director Aanand L. Rai.
"The film says that you can look at zero in two ways — you can look at it as hollow and incomplete, or you can look at it as completeness. We've treated it as something positive," added Shah Rukh.
So when was the last time the Bollywood Badshah felt like 'zero' aka a loser? "I feel like a loser every single day, and this is a genuine and honest answer. I think everyone feels like a zero at some point of time. I always feel I am not good enough. I always feel I need to be better. I genuinely believe I dance badly and that I don't have more than five expressions.
"The other day, I told my son AbRam to sit next to me and he completely ignored me and walked away. So I started thinking, 'Kya main achha baap nahin hoon? Kya main apne bachchon ko time nahin deta?' I felt like a loser then. You know what my wife (Gauri) told me? 'Arre, yeh baat nahin hai. Baaki do bachche bhi yeh samajhte hai!'"
Shah Rukh has almost always worked with his close friends. Director Rai wasn't a friend to start with, but working on Zero has made him a "brother", said the superstar.
Shah Rukh also recalled his first meeting with Rai and what made him decide to do the film. "When he first came to meet me at home, he asked me if there are golgappas, bhelpuri and sev puri at home. When I said I didn't, he said the next meeting had to be in his office and not at my home. It was then that I decided that iss aadmi ke saath picture karni hi hai!"
Anushka, looking striking in a magenta sequinned dress, also had kind words for Rai. "He's easy-going and never makes us feel we are making a film to change the world or anything. He's really made a genuine film."
And with good reason. The trailer of Zero, playing out at a little over three minutes, is a winner. SRK's Bauaa Singh takes centre stage, falling in love with Anushka Sharma's Aafia who suffers from cerebral palsy; he also comes as a shining light into the life of Katrina Kaif, who plays a conflicted alcoholic actress.
That Zero is a potential blockbuster was evident from the celebrations at the launch. The lobby of Carnival Cinemas had been converted to resemble a mini Meerut, Bauaa's hometown, with pani puri stalls, jalebi counters, a dhaba serving chaat and trinkets being sold from 'Bauaa ki dukaan'. Colourful rickshaws, a balloon shooting stall, a fortune teller and even a shop selling saris added to the mela milieu. The pop picks were a 'banta' soda stall and a Meerut paan counter. Just before the trailer launch, SRK made a pit stop, Aanand L. Rai in tow, to get his fill of pani puri.
Back at the launch, SRK, who turned 53 on Friday, was his usual fun self. He plucked Katrina's denim jacket off her back, which screamed 'The Bad Guy', and posed wearing it. And he made Anushka hide her face in her hands, with a veiled reference to her husband Virat Kohli. The context? When asked which Indian cricketer he wants to get out on a score of zero just so that it becomes publicity for Zero, the tongue-in-cheek SRK humour was back. Looking at Anushka on his left, Shah Rukh dimpled: "Do you see where I am sitting? If I dare say anything about the Indian cricket team, I will get a loud whack on my head! This is Mrs Cricketer!"